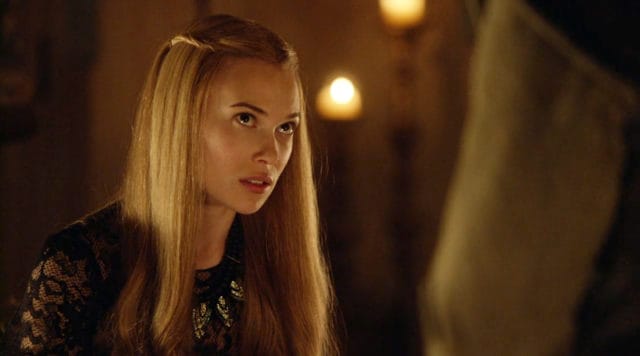 The TV series, Reign, is another show, along with Game of Thrones, that is set in a place and time when lands were ruled by kings and emperors. These types of shows are growing in popularity – primarily because they are well-written and the casting is absolutely Amazing. One young rising star that is definitely finding herself in her role as Greer of Kinross, in the Reign series, is Celina Sinden. The 30-year-old actress is living out her life's dreams at a rapid pace.
Relatively speaking Sinden is a newcomer to the acting world, and with her arrival in the realm of celebrity comes a lot of things that you are completely unaware of. That is part of the mystique of celebrities – those little hidden gems that only certain people are privy to. However, we decided to share five things you didn't know about Celina Sinden.
1. She is Married to Co-star Rossif Sutherland
How many people get to do what they absolutely love on an ongoing basis, and then get paid well for it? Well, if that is not good enough, she gets to spend time on the set with her husband Rossif Sutherland. The two started dating back and 2013, and the relationship has moved along rapidly with them recently getting married. Working in the same space with one another does not seem to be a problem for the couple, who seem to be living in paradise.
2. She Has Given Birth To Her First Child
As if their whirlwind love affair is not enough, Celina gave birth to the couple's first child in 2016. When the two first found out that Celina was pregnant, they were absolutely ecstatic. One source even characterized their state of mind as being over the moon, as far as excitement and happiness are concerned. Even the closest fans were kept in the dark about the pregnancy until it could no longer be hidden. It does not seem as if the pregnancy or birth has slowed either of them down, as far as their careers are concerned.
3. Celina Is British
Celina is a part of the latest British invasion. During the sixties, it was the invasion of British rock bands that made the headlines, with groups like the Beatles and the Rolling Stones leading the charge. Well, this time around, it is the invasion of British actors and actresses, and Celina Sinden is one more, in a long line, of British citizens who have decided to showcase their talents via the American film industry. It is not certain where Celina will take her career past her role on Reign, but her future definitely looks bright.
4. She is Emphatic About Her Body
One glimpse at Celina and one can't help but marvel at her beauty. She is absolutely gorgeous; however, her ability to awe the human eye does not stop with her face. She has a remarkable body, with an almost perfect physique – with measurements of 36-24-35. You would think that having recently given birth to a son would have had a negative impact on her body, but Celina works very hard to stay in shape.
5. She Recently Reached a $1 Million Net Worth
When someone thinks of actresses and actors in Hollywood, they almost automatically ascribe to them millionaire status, when the truth is that many live comfortable lives, but have a net worth of less than $1 million. Well, as it turns out, Celina has recently reached the $1 million mark, as far as net worth is concerned. With her beauty and talent, it is likely that her net worth will soar in the coming years.
Tell us what's wrong with this post? How could we improve it? :)
Let us improve this post!