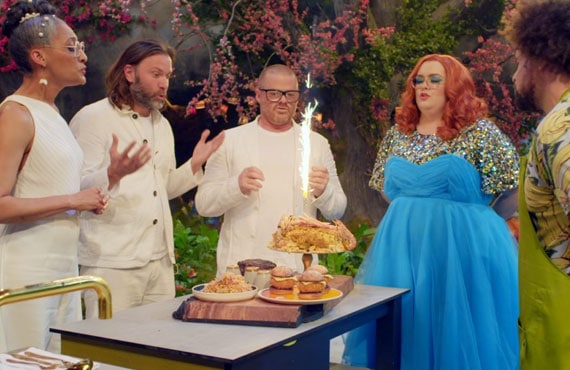 Just when you thought cooking competition shows couldn't possibly do anything new, here comes Crazy Delicious. The show has put a creative twist on the classic cooking show and it's proven to be a big hit. With each episode featuring a group of contestants who are tasked with putting together some unique meal options, the competition can get pretty fierce. However, the show's whimsical environment keeps the atmosphere fun and positive. If you love reality TV as much as you love food, there really isn't anything not to like about Crazy Delicious. Honestly, the biggest downside is that we don't get to actually eat all of the dishes prepared on the show. Keep reading for 10 things you didn't know about Netflix's new cooking competition show, Crazy Delicious.
1. The Show Premiered In The UK In January 2020
Crazy Delicious premiered on Netflix in the United States on June 24, 2020. However, it wasn't exactly a new show. It originally premiered in January of 2020 on Channel 4 and aired until February 25th. The show quickly became a huge hit in the UK, and its popularity has continued after its American release.
2. There Will Likely Be A Season 2
Crazy Delicious is already an international hit, and millions of people are intrigued by the show's unique and creative format. With that said, there's no surprise that lots of people are already asking about a second season. There is no official word on whether or not the show has been renewed, but the odds are looking pretty good.
3. The Set Is Edible
When the movie Willy Wonka and the Chocolate Factory was released in 1971, the idea of an edible world seemed completely farfetched. However, Crazy Delicious has been able to implement this concept into the real world. Almost everything on the set is edible, and fans are loving it.
4. The Chefs Aren't Professional
On most cooking competition shows, the chefs are people who are already well established in the cooking industry. That isn't the case on Crazy Delicious though. The contestants on the show are amateur chefs who do most of their cooking in their home kitchen.
5. The Show Was Originally Intended For A British Audience
Although the show appeals to people from all over the world, it was originally intended for British audiences. According to a press release for the show, "In a culture where many British families eat the same meals every week, this show aims to inspire viewers to turn everyday dishes into Crazy Delicious creations". While American families probably don't eat the same meal every week, we can still learn a thing or two on how to get a little more creative in the kitchen.
6. The Dishes Can Get Very Bizarre
Since the show is all about stepping outside of the box to create new dishes, you can guarantee that some of the concoctions are a little on the strange side. Contestants are asked to use all sorts of interesting ingredients that don't typically go together. But the good news is that things usually turn out great.
7. There's A Reason Why There's No Cash Prize
If there's one detail about Crazy Delicious that's a little disappointing, it's the prize. Most competition shows come with life changing prizes, but the winners on Crazy Delicious simply get a golden apple. However, there is a reason for this. Because the show was originally part of the BBC, contestants were not allowed to offer a cash prize. According to Distractify, "As the BBC is a publicly funded network, funded by taxpayers, they are unable to offer the big prizes of other channels that are funded by advertising". Additionally, cash prizes for cooking shows simply aren't as common in the British tradition.
8. The 'Food Gods' Are Really Food Geniuses
The judges on the show are referred to as 'Food gods'. While they aren't actually gods, they definitely know their stuff when it comes to cooking. The panel of judges is made up of Carla Hall, Niklas Ekstedt, and Heston Blumenthal. All three of them are professional chefs who have experience working with high-profile clientele.
9. There's A Comedic Element
Cooking is the focal point of the show, but there is still plenty of room for humor. The show's host is British actress and comedian, Jayde Adams. She has been working in the industry for nearly a decade and is well-known for her stand-up comedy and impersonations.
10. The Show's Format Could Change
If the show is brought back for another season, there is a chance we could see a change in the format. Nothing is set in stone, but it would be cool to see new elements added to the competitions. Adding a cash prize would also be a great way to make the show even more exciting.