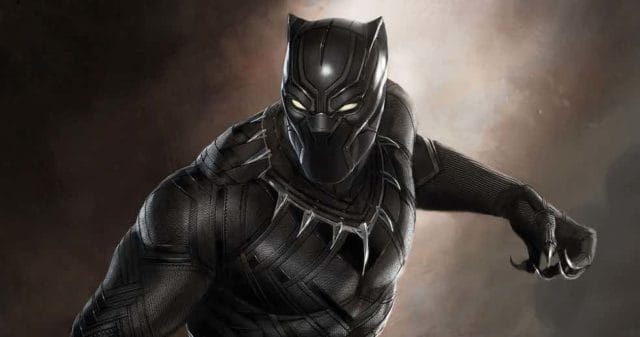 By now a lot of us have seen the Black Panther and have been duly impressed with the tech and the effects that are produced by it. The Black Panther's suit especially is something that is incredibly and impeccably designed and carries a lot more secrets than are revealed in the film. A lot of the secrets tend to appear in the comics and not the movie so it's easy to see why a lot of people might be wondering just what else the suit can do when they've already seen it perform wonders that allow the Black Panther to be such an awesome hero.
The heart-shaped herb makes him stronger and faster, but the suit makes him positively deadly.
10. The claws can cut through most any metal on a molecular level.
His claws are made of a material called anti-metal and exude something that's akin to fast-acting rust and acid that breaks down other metals very efficiently.
9. It has hologram projectors.
These spheres can be tossed and used to create duplicates of the Black Panther that come complete with heat signatures to fool machines as well.
8. It's got a built-in smartphone.
The suit uses a device called the Kimoyo card, which is a slim device the size of a credit car that serves the same function as Kimoyo beads that are worn by every Wakandan citizen.
7. It's passed from leader to leader.
The Black Panther is the leader of the country and their religion, so they serve double duty when acting as the ruler of Wakanda.
6. You have to be judged worthy to wear the suit.
The panther goddess Bast has to approve of the bearer, but pretty much anyone of royal blood can challenge the current leader for the title. So long as Bast approves the title can be passed.
5. Shuri wore the suit for a while.
Despite being the tech wizard in the movie there was a time in the comics when T'Challa was incapacitated and Shuri took up the mantle of Black Panther. She gave it back as soon as he was back to fighting form.
4. It can throw electrified nets.
These are small silver spheres that when tossed at an opponent can expand and envelop a person and pack a punch ten times that of a military grade taser. It's non-lethal but can incapacitate pretty much anyone.
3. It has cloaking technology.
The two modes of the suit's stealth mode are activated by thought and can either hide him completely or can emulate the look of street clothes so that T'Challa can walk around like normal.
2. It has a deflector shield.
More or less this is to prevent any damage from weapons fire or anything that might otherwise easily penetrate a human body.
1. The lenses allow the wearer to see in infrared.
He can see in infrared so if his enemy has a pulse he can detect them. It has also has enhanced night vision that makes his sight seem as clear as daylight even there's no light to be found.
If the bat suit costs millions or more think about what this would cost.