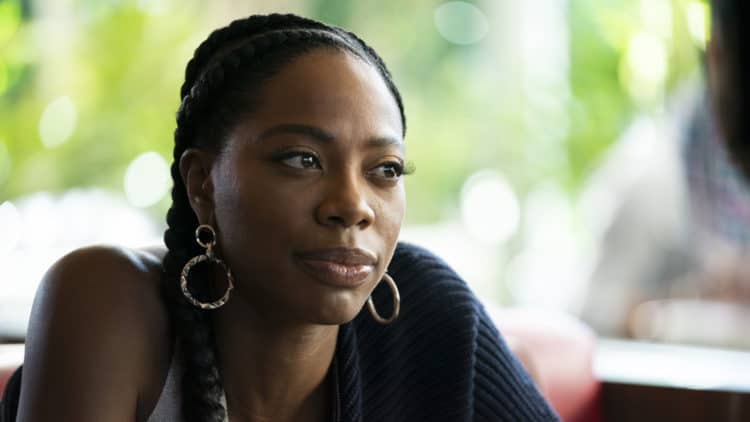 No main character is complete without a slightly opposite best friend to balance them out. That is exactly what Yvonne Orji's character, Molly, does for Issa on Insecure. As a successful lawyer, Molly's got it together when it comes to her professional life. Her personal life, on the other hand, is a completely different story. Fans are hoping that Molly will find balance in the show's upcoming season. Orji's portrayal of Molly hasn't only made the character larger than life, it's also taken Orji's career to new heights. Keep reading for 10 things you didn't know about Yvonne Orji.
1. She Has A Podcast
Podcast lovers will be excited to know that Yvonne Orji has a podcast with online personalty, Luvvie Ajayi, called Jesus and Jollof. Part of the podcast's name come from the popular Nigerian dish, jollof rice. According to the podcast's description, it is about "two proudly Nigerian women (who have no behavior) talking about the things they love, their stories, and life in general. Why "Jesus and Jollof?" Those are the two things they cannot do without."
2. She Does Comedy
When Yvonne Orji is playing Molly, she isn't just acting funny; she actually is funny. In fact, her plan was to be a comedian and not an actress. When she moved to New York several years ago, it was to pursue a career in comedy.
3. She Was Born In Nigeria
Yvonne was born in Port Harcourt, Nigeria and moved to the United States with her family when she was 6-year-old. Her family settled in Maryland where she was raised. She initially had some trouble adjusting and was bullied due to her thick Nigerian accent.
4. She's Saving Herself For Marriage
Her character on Insecure may be no stranger to having an eventful sex life, but in real life, Yvonne Orji can't relate. She is a virgin who plans on saving herself for marriage. Yvonne is devoutly religious and says she made this decision years ago. In an interview with Time, she shared, "Before any of [the fame] happened, I sat down with myself and with God and thought about when I make it, how do you want me to represent you while I'm here?"
5. She Was Going To Be A Doctor
Yvonne comes from a very strict and traditional Nigerian household which means there were a lot of high expectations placed on her. One of those expectations was for her to become a doctor. Not wanting to disappoint her parents, Yvonne pursued the idea of becoming a doctor for much of her life. However, she eventually realized that she had no desire to work in medicine as her career. After getting a master's degree in public health, she decided to move to New York and focus on comedy.
6. Her Most Prized Possession Is A Bible
With all the fame and success, many would guess that Yvonne Orji's most valuable possession is something she spent a lot money on. But her most prized possession is something that she didn't even pay for. The things she values most is the Bible she recieved when she became a born-again Christian.
7. Her Ideal Super Power Is Very Unique
If Yvonne Orji could have one super power, she already knows what it'd be. She said she'd like to "be a super-therapist. I'd sit all the world's villains down and get to the root of their problems. I don't think anyone is born bad–they just need someone to talk to. Or maybe they weren't hugged enough!"
8. She Talks To Herself
Although having conversations with yourself is usually a sign that there is an issue that needs to be addressed, it means something much different to Yvonne. She admits that she has "full-blown" conversations with herself and adds, "If I need to have a difficult chat with someone, I practice it out loud. And sometimes that happens when I'm in public and people look at me like, Is that lady going through something? So now I just put headphones on and pretend I'm on the phone."
9. She Got The Role On Insecure By Herself
Getting a main role in a TV show isn't easy, especially when you don't have an agent or a manager. Somehow, Yvonne managed to get the role as Molly without either of those things. She didn't even have any acting experience before Insecure. Yvonne says that saying yes to a serious of unrelated opportunities is what eventually led her to Insecure. In 2016, she came up with her own show idea for a sitcom called First Gen for which she wrote and filmed a pilot. The show never got picked up, but she was able to use the material as proof of her talents.
10. She Loves Massages
Everybody needs to unwind from time to time. As you can imagine, those times probably come a bit more often for someone with a schedule as hectics as Yvonne's. The actress enjoys getting deep tissue massages as a way to relax and de-stress after a busy day.
Tell us what's wrong with this post? How could we improve it? :)
Let us improve this post!