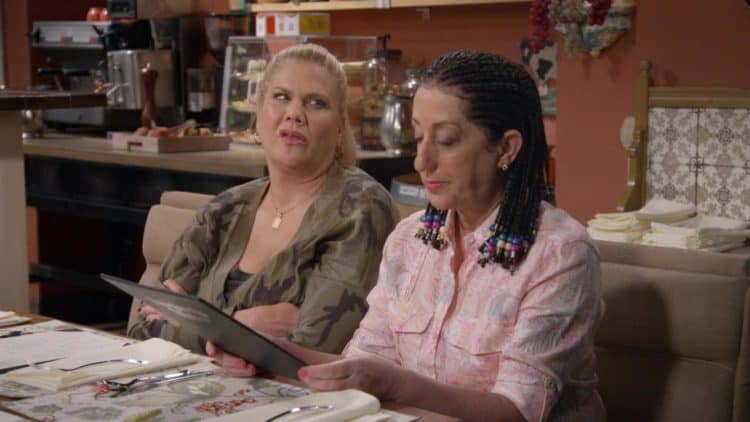 Beth Hall has been acting for quite some time now, however, she might go unnoticed as she is not your average actress. This 61-year-old is easily unrecognizable and it is difficult to pick her out from a large crowd. You might have seen her movies but would still ask Betty who? Regardless, she continues to shine her light with her newest role on the hit series MOM where she plays a supporting role of the character Wendy who is a very emotional person. You can catch her in action as she brings a fresher twist to friendship and real-life situations.
Beth Hall was born in 1958 in New Jersey into a family of 3. Her father was a standup comedian and as she says this helped lay the foundation for her in film and most especially comedy as she grew up watching her dad work his magic. Hall attended and graduated Rutgers University in New Jersey. She has been in acting for close to 20 years and has an impressive record. Some of her great works include playing Caroline on Mad Men where she was a recurring role, guest appearances in notable series such as Frasier, Parks, and Recreation, House, Murphy Brown just to name a few.
Here are 10 things you might not know about Beth Hall:
1. She plays poker
We all have our guilty pleasures which we like to indulge in and for Betty Hall, it is poker. According to Hidden Remote, she is a stellar poker player and her favorite hand is the pocket kings which seem to have been doing right by her. However, she says some wonderful things can happen with a 10 in hand. She prefers poker tournaments to cash games since they have a sequence that includes start, middle, and end. Her family is the reason why she loves poker as she grew up playing 5-card draws with her family.
2. She has an adopted daughter
Beth Hall has a 10-year-old daughter called Nina Jane with her husband Philip Hall. They adopted Nina Jane through the Foster Care System and she says the whole process has changed her outlook on life and given her meaning to it.
3. She used to be an antique dealer
Way before all the fame and fortune, Beth Hall used to be an antique dealer. She still dabbles in antique pieces since she feels connected to the pieces and participates in auctions. She calls it her side gig as she has a lot of experience in buying and selling of antique pieces.
4. She is a writer
If you ask Beth Hall, she will tell you she is not a writer. According to My Take on TV, she has a writing partner with whom she has written a short piece titled "Flea Market". The film is a comedic take on the everyday life of a person in a flea market and the activities in the market and others who come to the market to buy and sell. It is somewhat an account of her antique dealership.
5. She auditioned for another role on MOM
When she went to audition for a part in the hit series MOM, she auditioned for the role of Janice, a recovering alcoholic. Janice was a minute role in an alcoholics anonymous group (AA) meeting and her line was very simple. She'd only have to stand up and introduce herself. The producers of the show thought it just wasn't the right fit for her and she got cut every minute until she was cut off entirely. She was promised a return, which eventually happened later on as she returned as Wendy Harris.
6. Her character Wendy was not originally a series regular
After she was removed as Janice from the show, she was recalled back as Wendy Harris, a very emotional character who could cry on cue. As the show gained popularity, she was eventually cast a series regular and stars alongside Allison Janney, Anna Farris, and Mimi Kennedy.
7. She has a strict anti-drug use policy
Her character Wendy is a recovering alcoholic and drug who regularly attends AA meetings. In real life, however, Beth Hall has a very strict anti-drug use policy, one which she says poses a tough reference when she has to talk about her previous drug use on the show. She, however, feels it is a platform to address the dangers and effects that drug use has on society today.
8. She is a loner
Wendy Harris is a bit of an outsider among people and doesn't really relate well with others. Beth Hall insists she and Wendy are similar in that aspect as she herself has felt out of place for a long time in her life and felt as if she didn't fit in anywhere.
9. She started out as an improv artist.
It seems highly unlikely that any comedian worth their salt in Hollywood never had a stint in improv. Beth Hall's career began in New York with her doing sketch comedy, theatre, and improv. She moved later on to Los Angeles to try her hand at sitcoms then eventually get into Off-Broadway which seemed like a path almost everyone at the time was taking. Her expectations didn't, however, go as planned and as she jokes, it took her 25 years to break-even.
10. She loves reality TV
We all like to unwind once in a while or after a hard day at work and for Beth Hall, the best way is to indulge in reality TV. Her favorite reality show is The Real Housewives franchise which she gets to watch late in the night when everyone else is asleep.
Overall …
As is evident with Beth Hall, there is no timeline for success. She has managed to create her own path in a cutthroat industry where there are very limited roles for people in her age bracket and there is no stopping her anytime soon. We can only wish her all the best as she undertakes more and more projects to add to her resume.