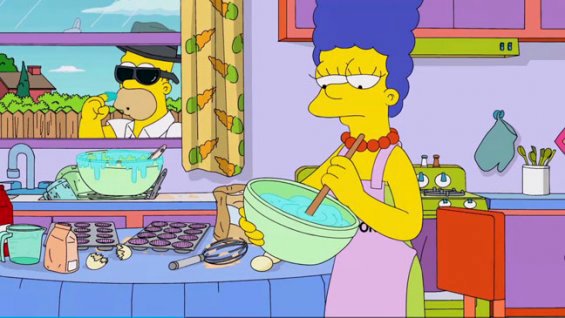 As kids we all likely put some fairly gross stuff in our mouths. We tried foods that didn't go with each other, we might have even dipped a vegetable or fruit in ketchup and called it good. Thankfully as we grow older our taste buds mature and we figure out that half the stuff we used to put in our mouths is just flat out disgusting and not in any way appealing. But then you get to adulthood and you hit an experimental phase where you think that certain foods might just go with one another in a way that defies normal convention.
Seriously, even if they do it on Chopped, leave it alone. Unless you're a cook the chances are your balancing act will fail.
5. Moon Waffles – The Simpsons
Most of the ingredients in this dish seem like they'd be okay together. You might need to buy a new waffle-maker when it's done due to the caramels sizzling and running all over the place, but right up until you add that big, heavy lump of butter it's not that bad. Then you the first bite of the hard, cold stick of margarine in the middle of the waffle and, unless you're Homer Simpson, you will likely need to spit the whole thing out on the double. Butter isn't really a filling unless it's melted into the dish somehow, and chewing on a hard, cold stick of butter just doesn't sound that appealing.
4. The Seven-Layer Salad – How I Met Your Mother
It's really strange how a dish can come together and actually taste good. It looks absolutely godawful when it's being made, and it sounds as though it's going to be a stomach-churning mixture once it's ingested, but in truth the only sweet element in the dish serves as kind of a balance point that might actually work if you enjoy sweetness with your veggies. The chips and funyuns add a nice crunchy, salty layer that….you stopped listening after gummy bears didn't you? Oh well, it looks gross, but it actually tastes okay.
3. Milk Steak with Jellybeans – It's Always Sunny In Philadelphia
If it sounds gross then you might not want to even look at it. Hard milk with a barely cooked steak and jelly beans. It sounds like a delicacy from some hellish circus where the clowns turn into horrifying monsters when the lights go down. Not only is the steak covered in a hard film of milk, but rainbow effect caused by the juices of the steak make this look like a sugar-lover's worst nightmare. Stay away from this one, just stay away.
2. Peanut Butter and Clam Pizza – Teenage Mutant Ninja Turtles
Believe it or not this is kind of tame for a Ninja Turtle delicacy. The kind of things they used to put on pizza would make a sewer rat vomit, no offense to their sensei. But upon cooking up this dish it was a little surprising to note that the clams didn't add their own flavor to the pizza and the peanut butter actually balanced it out. Surprising but true, the dish was actually not that bad. It definitely beat out the milk steak for flavor and even appearance.
1. Rachel's English Trifle – Friends
This looked like such a wonderful desert until you get to the one ingredient for which their is no viable defense. Beef does not belong with sweet things, there I said it. It might be able to be paired with sugary confections in some way, but not like this. The cream, the sugar, and the ladyfingers are all easy to pair with one another, and the onions and the peas could even integrate, but then you'd get a mouthful of the beef, and it would be ruined. Blah, just blah.
There are a lot of gross foods that TV decides to come up with that a lot of people would actually try as you can see. What are some others that you might be brave enough to try?
Save