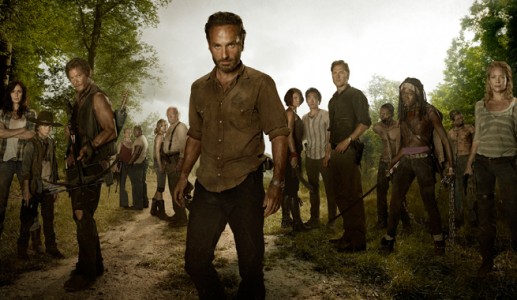 When it comes to The Walking Dead there are a few days of the year that are always the worst. Those days are the midseason finale and the actual finale. If that means that the best days are the premiere and the mid-season premiere of The Walking Dead, then be prepared for a good day! The mid-season premiere is coming and if the Super Bowl commercial was any indication of what's to come, you can expect a war.
The Walking Dead will return to AMC on Sunday, February 12 at 9 p.m. ET. While they are being pretty quiet about what you can expect, you can bet you won't want to miss this episode! If you're not going to be home or you're a cord cutter looking to watch the show online, you've got some options. There are five easy ways that you can watch The Walking Dead midseason premiere. And while one of them may require a cable login, the others do not.
1. Watch the Next Day on AMC's Website or App
AMC offers full episodes usually the day after they air on TV. Unfortunately, you usually need a cable login to watch them. They do sometimes offer the first episode of the season to everyone, so it's possible that the mid-season may be available with no login, but we won't know until it's available.
2. Stream Live on Sling TV
Sling TV offers three packages, but the first one, Sling Orange, offers AMC and several other channels for $20. Of course, if you sign up now, you'll have the free trial when The Walking Dead airs. The trial lasts a week and cancelling is as easy as clicking a button. Sling TV works on mobile devices and most streaming devices, gaming consoles, and smart TVs.
3. Stream Live on DIRECTV NOW
If you've recently cut the cord, there's a good chance that DIRECTV NOW will remind you the most of a cable setup. AMC is available in the $35/month package. That said, they also offer a free trial, so you can test out the worthiness of DIRECTV NOW by how enjoyable it is to watch TWD with the service! You can watch online or with a variety of streaming devices. DIRECTV NOW does not currently work on Roku.
4. Stream Live or DVR It on PlayStation Vue
Sony fans and PlayStation users might prefer to use PlayStation Vue. Packages start at $30 and include several channels including AMC. Like the other streaming options, they also offer a free trial. On the downside, they are the only service to include mobile restrictions, so if you're planning to watch TWD out of your house, this method would not work.
5. Buy It on Amazon
With Amazon Instant Video you'll be able to buy The Walking Dead is SD or HD, the day after it airs on TV. Amazon offers season passes, which give you each episode at a discounted price, or you can buy single episodes. These episodes can be watched online through the Amazon website, gaming consoles, and streaming devices.
That's all there is to it! You have all the tools you need to watch The Walking Dead online this weekend.
Save
Tell us what's wrong with this post? How could we improve it? :)
Let us improve this post!