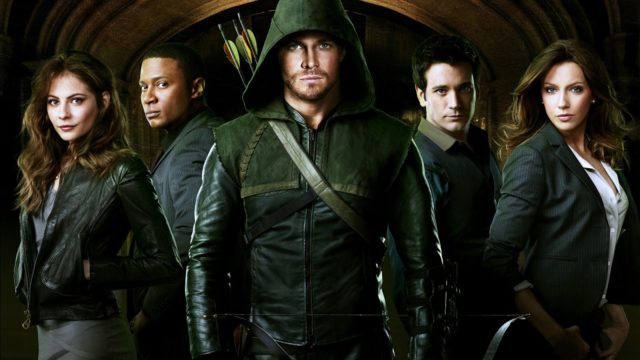 Even if you are not an avid TV watcher you would have figured out by now that comic books are taking the television by storm. There are shows after shows of superheroes and other comic book inspired characters that are the current flavor of the realm of television and I am not complaining. Do you want to know why? because, they are superbly brilliant. There is something of about watching the characters jump out of a comic and come to its own on screen that really makes me want to top up my popcorn and reach for those old comfy bed socks every night.
Here are some of those amazingly scripted and stellar characters that are in rage on our screens at the moment:
Daredevil
Now who didn't fall in love with the dark brooding and blind Matt Murdoch (Charlie Cox) in 2015? He owns the title 'the man without fear'. Despite his blindness, Matt navigates his way around the depraved neighborhood of Hell's Kitchen believing in the tiny sliver of good he senses is still present lurking in the shadows, and he is ready to wipe the scum and criminal infestation out of his corner of the world. I must say, Netflix.. You did well with your first ever Marvel venture!
The show received much critical appreciation and birthed a loyal fan following for the characters of the series. Every role was so well thought of especially in season1, that we were almost empathizing with the villain(s) at some point. The script was cleverly written and the stunts are claimed to be the most impressive fight choreography on TV to date.
Season 2 also had a few great portrayals and characters, like Jessica Jones, Luke Cage and Iron Fist and especially The Punisher (Jon Bernthal) .Although it lacked the punch and faltered in the latter part of the season unlike the first season.
There are talks of a season 3, but it will be after The Defenders reach our screens this August, which will have the entire team, Daredevil, Jessica Jones, Luke Cage, and many more, in it
Fisk
Wilson Fisk is the villain in Season 1 of Daredevil. This one deserves a special mention as he captured my attention and impressed me beyond words
Being the crime boss of New York City and the most feared villains in the Marvel Universe, Fisk's persona would dominate the screen and frighten as well as enthral the audience at the same time. His vulnerability and deep rooted torment was so well portrayed by Vincent D'Onofrio who truly immersed himself in this role, making us believe that he was the imposing, threatening a yet fragile criminal, Wilson Fisk, a relatable but psychologically tormented villain.
The Walking Dead
The show is based on a comic book series of the same name by Robert Kirkman, Tony Moore, and Charlie Adlard. The premise is set in the post apocalyptic America which is ravaged and desolate. The sheriff's deputy Rick Grimes (Andrew Lincoln) wakes up from a coma only to find himself in a world infested by zombies. He sets out to find his family and together with a band of survivors navigates through blood and gore, and the rest is what unfolds in 8 seasons and counting.
This show has hit the jackpot and has become one of the most popular shows on television to date. The major contributing factors to this is that main characters give us stellar performances, and have the viewers lapping up the plots and twists in the series, believing yet again in the age old battle between good and evil.
Jessica Jones
This was Netflix's second venture (the first being, Daredevil) into a comic book based show and it delivered yet again. This was a show that was different yet addictive at the same time. Jessica Jones showed the viewers that a female protagonist can be deep and mysterious yet pack a punch and be intriguing and romantic all at the same time. (women, what can I say?). What makes this series so interesting is that the hero is trying very hard not to be one. She just wants to live her life and be left alone. She is also not looking to be happy or have a good time. It's just a very raw and convincing performance by Krysten Ritter who wants to survive and makes it worth the binge watching
We are looking forward to seeing more of her and Luke Cage and wait expectantly to watch what will transpire between them in the series, The Defenders.
Arrow
The character is based on the DC comic character Green Arrow. The story circles around Oliver Green (Stephen Amell), an entitled billionaire who is feared dead after being lost at sea. Several years later he returns, a changed man who has mended his presumptuous ways and set to rid his city of crime as he secretly dons a costume and arms himself with a bow and arrow.
The series has been received with high praise for the initial seasons and some criticism as well especially for the later ones. Season 5 is said to remedy the confusing and patchiness of the other seasons and has found its mojo again by delivering clear and meaty story lines thus promising that Arrow will be one among the best comic books series still on the air.
These characters and shows are just the tip of the iceberg.TV shows that are based off of comic books have an open and wide market. Each of these shows boast of great casting and have talented and dedicated supporting actors that add to and shape the stories into what they are, when we watch it on our screens. And with the diverse characters they play its seems like there is something for everyone.