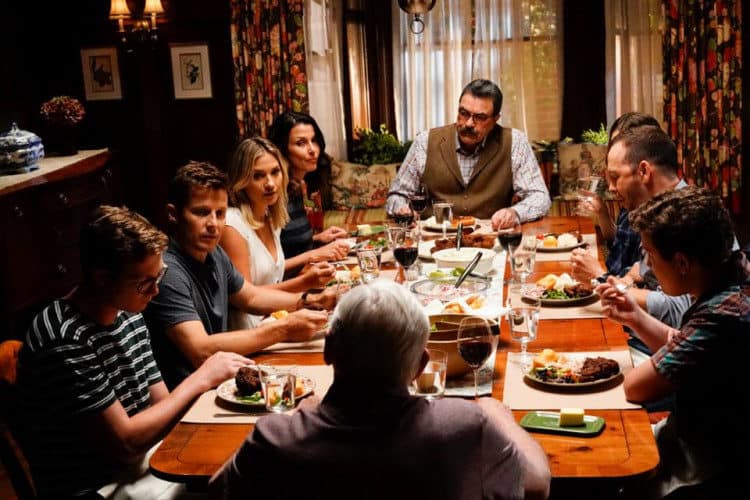 Most viewers will find it hard to believe CBS's Blue Bloods is now in its tenth season. Considering its been running for a considerable nine years, the show has lost none of its freshness or vitality, thanks largely to the efforts of its extremely talented cast. While the lineup has seen some changes over the years (who can forget the abrupt departure of Jennifer Esposito in season 3, or Amy Carson's shock exit after season 7?), it doesn't look like we're in for too many surprises in season 10- at least as far as the cast are concerned (the storylines, meanwhile, are probably going to be as thrillingly unexpected as ever). Find out who's who in Blue Bloods Season 10 with our rundown of the show's key players.
Tom Selleck as Frank Reagan
Heading up the Reagan clan as New York Police Commissioner Frank Reagan is everyone's favorite 80s heartthrob, Tom Selleck. The famously mustachioed hero of Magnum P.I. set pulses racing back in the day thanks to his roles in Three Men and a Baby, The Rockford Files, Friends and The Closer. Oddly enough given his status, he once turned down the lead role of Mitch Buchannon in Baywatch out of fear of being typecast as a sex symbol. The part eventually went to David Hasselhoff, who apparently had no such worries.
Donnie Wahlberg as Danny Reagan
Back as the oldest Reagan brother is former New Kid on the Block sensation, Donnie Wahlberg. Known as something of a party animal in his youth (he came close to facing 20 years in prison in the early 1990s after a drunken escapade involving matches, groupies, and a gallon or so of vodka at the historic Seelbach Hotel in Louisville, Kentucky, ended in a charge of first degree arson), these days Wahlberg has mended his ways and enjoys the quiet life with his kids and wife, Jenny McCarthy. In addition to his second career as an actor, he still occasionally gigs with New Kids on The Block, with the band's last album, Thankful, dropping in 2017.
Bridget Moynahan as Erin Reagan
Single mom Bridget Moynahan is a key part of the Reagan family dynamic, battling to raise her child alone while keeping her hot-headed siblings in line. Offscreen, Moynahan is married to businessman Andrew Frankel, having previously been involved in a highly publicized relationship with footballing legend, Tom Brady. Other than Blue Bloods, her list of screen credits include all three John Wick movies, Eli Stone, Sex and the City, and Midnight Sun.
Will Estes as Jamie Reagan
Last season we saw Jamie Reagan finally make it down the aisle after a long, tumultuous relationship with girlfriend Eddie. Unfortunately, we caught only the very briefest of glimpses of the ceremony itself- something which left fans more than a little frustrated, as Country Living reported at the time. Prior to Blue Bloods, Estes was best known as Will Malloy in Reunion, and legendary writer Jack Kerouac in the 2007 short film Luz Del Mundo.
Vanessa Ray as Eddie Janko
The well-meaning but sometimes controversial character of Eddie Janko is played with aplomb by the 38-year-old actress Vanesa Ray. After starting her career on Broadway as Crissy in Hair, Ray made her screen debut in The Sparky Chronicles: The Map. (2003). From there, she enjoyed recurring roles as Terri Ciccone in As the World Turns, Tessa Marchetti in Damages, Jenny Griffith in Suits, and, perhaps most famously, as CeCe Drake / Charlotte DiLaurentis in Pretty Little Liars. Offscreen, Ray has been happily married to Landon Beard since June 2015. Her previous relationship with actor Derek James Baynham ended in 2009 after 6 years of matrimony. She now splits her time between Los Angles and New York, where the majority of filming for Blue Bloods takes place.
Len Cariou as Henry Reagan
Henry Reagan served as the Chief of Police before Frank took his place, and these days contents himself with imparting words of wisdom to the family at their weekly dinners. The actor who plays Henry, Len Cariou, has been in the industry for years, having made his first appearance on stage in 1959 in a production of Damn Yankees at Rainbow Stage in Winnipeg. As one of the primary actors and directors at the Tyrone Guthrie Theatre in Minneapolis in the 1960s, he became renowned for his masterful interpretation of various Shakespearian plays. His first starring film role, meanwhile, was so well received it earned him his first Tony nomination, along with a Theatre World Award. Since then, he's led numerous regional theatre productions, TV shows, and film features, with highlights including the role of Judd Fitzgerald in Brotherhood (2006- 2007), Louis Tobin in Damages (2010), Michael Hagarty / Monsignore O'Shaugnessy in Murder, She Wrote (1985 -1992), Ray Nichols in About Schnidt (2002), and Sweeney Todd in the original cast of Sweeney Todd: The Demon Barber of Fleet Street ( a part that won him a Tony Award for Best Actor in a Musical).
Sami Gayle as Nicky Reagan-Boyle
Since the show began, Sami Gayle's character of Nicky Reagan-Boyle has enjoyed an ever more prominent role, something that's expected to continue as we progress into season 10. The 23-year old actress began her career opposite Patty LuPone in the off-Broadway production of Gypsy. Since then, she's been seen in Royal Pains (2011), As The Worlds Turns (2009-2010), a series that, coincidently enough, also featured her fellow Blue Bloods cast member, Vanessa Ray, Detachment (2011), Vampire Academy (2014), and the Netflix film, Candy Jar (2018). As a fun fact from Live Ramp Up notes, Gayle has nationally ranked in the Public Forum Debate and is one of the top debaters in the US.
Marisa Ramirez as Maria Baez
Danny's partner in crime (and some suspect/ hope, future love interest) Maria Baez is played by 42 year old Marisa Ramirez, an actress previously famed for her performance as Detective Lina Flores in Lifetime's Against the Wall, supermodel Gia Campbell on General Hospital, and Jabot Cosmetics public relations consultant Carmen Mesta on The Young and the Restless.
Tell us what's wrong with this post? How could we improve it? :)
Let us improve this post!