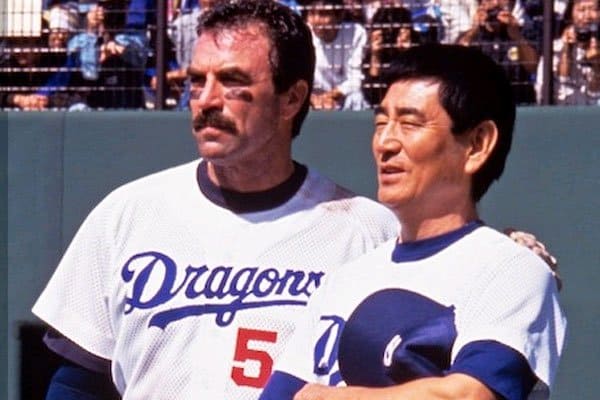 Tom Selleck has been and still is a great actor and his legacy has been made throughout the years in a big way. From TV to movies he's been the kind of guy that men want to be like and women just want to be with, or at least admire from a distance. His charm and good looks have availed him quite a bit throughout his life since he was a model at one point and was quite popular. He's also an educated man that was active in sports at one time as he played basketball for the USC Trojans. Throughout his life Selleck has been an all-around kind of star that has done a lot of action movies but has also dialed it back to do comedy and drama as well. So far in his life just about everything he's done has gained some sort of attention, even when he started doing movies that went straight to DVD.
Here are a few of the best movies from his career.
5. Her Alibi
When you fall in love with a beautiful woman that you don't know a lot about it might be better to do a background check and dig up whatever you can on her rather than just take her word that she's a real catch. It's great when you connect with someone but when things keep happening that could be construed as either very unlucky or perhaps disastrous on a scale of being premeditated then you might want to rethink the relationship and possibly consider staying away or confronting her about her motives. It would certainly clear up any misconceptions that might be harbored by anyone.
4. Quigley Down Under
Quigley is a man that can kill you from a distance or from up close, it's just that he prefers his rifle. When he's hired out to eradicate a bunch of Aborigines however he refuses and crosses the wrong man. Being put in the wild without any means of survival however doesn't stop him as he takes steps to getting what he needs and eventually heads on back to confront the man that tried to kill him, aiming to put things right and get a little payback. When all is said and done he's the one standing, which is amusing since he never said he didn't use a revolver, but those that watched him shoot just assumed it.
3. Mr. Baseball
It's never a good thing for a pro ballplayer when they get let go by their team in favor of new talent. But being shipped off to a Japanese team where he looms over them as a giant, Selleck can't help but be deeply offended as he's now in a country where he doesn't know the lay of the land, he's made to feel like an outsider, and his team is, well, not exactly what he was hoping for. Throughout baseball movies there's always some adversity, but the idea of making a guy go halfway around the world to play a game he loves for a country he has no connection to seems a little unusual.
2. An Innocent Man
There's not much chance of beating a rap that's made by dirty cops that have made it a habit of putting people away when they see the need. But being framed for attacking police when he came out of his bathroom with a hair dryer in his hand is something that few men would ever stand for. Plus, putting him away for an extended period, long enough that he had to learn how to survive and even how to kill, would make any person want a little bit of revenge when they finally got out. Of course despite all that his time on the inside didn't make him a killer, it just made him a much tougher person.
1. Three Men and a Baby
Contrary to popular belief, parenting is not second nature to those that have no experience with it. When three bachelors that live together find a baby on their doorstep they have a few choices on what to do with her, but among them the one they were hoping to not entertain would have been taking her in and disrupting their lives. Still, they do it all the same and are soon inducted into the role of fatherhood as they come to find out just how hard it is to take care of a child and figure out how much time and responsibility it takes to make sure that they're well-cared for and kept safe. Ah the joys of parenthood.
Tom Selleck is by far one of the better actors in Hollywood and yet he kind of gets shuffled around in the mix from time to time it seems. This could be due to the fact that he had a solid run and did win several awards, but somehow became a legend before his career had really run out of steam. That's just one theory of course.Three Men and a Baby
Tell us what's wrong with this post? How could we improve it? :)
Let us improve this post!