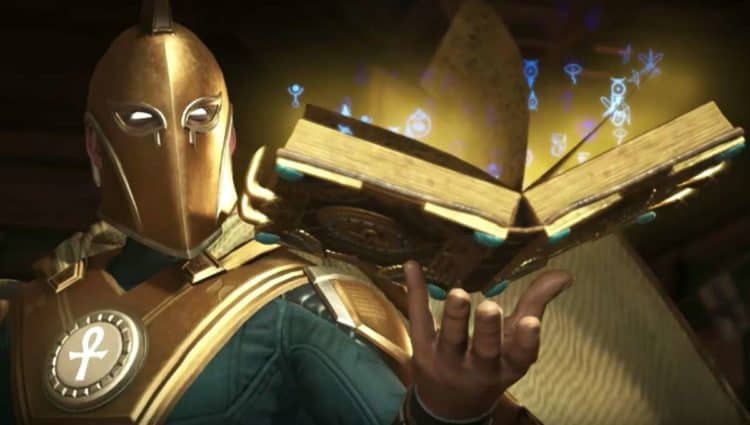 Getting the right character for any role is kind of crucial in a movie since this can help set the tone or it can prove to be all kinds of awkward if the actor selected doesn't have what it takes to complete the role in question. When it was announced that Pierce Brosnan was being given the role of Doctor Fate for the upcoming Black Adam movie it's very easy to think that some folks might have been impressed, and some might have wondered what had prompted such a decision. Brosnan is a great actor and has been an action star in the past as well, but thinking that he could possibly hang in there with the likes of Dwayne Johnson, even with the backup of a few other heroes, is hard to imagine. In terms of acting there's no issue, but in pitting Fate up against Adam, well, perhaps we'll be more impressed when the movie hits the big screen.
Here are five predictions for Doctor Fate's big-screen debut.
5. There will be people griping about the CGI outfit no matter how good it looks.
This is kind of a given since so many people are going to be analyzing this movie up and down before it ever hits the theater. Those who enjoy good CGI and are constantly on the lookout for less than stellar attempts are usually the first to pipe up and tend to be louder than most. But the fact is that Brosnan is going to be wearing a motion capture suit, so his entire getup will be CGI. A lot of folks think that the practical thing to do would be to make the actual costume, but perhaps the thinking is that the costume wouldn't sit or move correctly when placed on Brosnan's body.
4. Doctor Fate won't be an active combatant and will keep his distance.
In the DC universe, Doctor Fate is an incredibly powerful magic user, but against Black Adam, it does feel that a distance will be maintained since Adam is such a physical combatant. This means that the likes of Hawkman and Atom Smasher and Cyclone will have to step in and accept assistance from Fate as he keeps his distance. Plus, Fate might be the brains of the operation. Those that know DC and these characters the best will undoubtedly have more to say about this as things continue to progress, but in any regard, many magic-users tend to stay back more often rather than wading into a brawl, unless there's no other choice.
3. Black Adam could still be too strong for Doctor Fate to take alone.
Even with the tremendous amount of power at his disposal, it does feel that Fate won't be enough to take down or even hamper Adam all that much. If anything, it does feel as though his role will be different than the other heroes in a big way. Trying to take on Black Adam alone feels like it would be a horrible idea unless Fate knows nothing about Adam and is bound to think that he's another individual that can be taken down by the magic he wields. Black Adam is a character that can take on some of the most powerful superheroes in existence, and while Fate is no slouch, his power might not be enough. It kind of depends on how powerful the movie makes both hero and villain.
2. It feels as though Dr. Fate's timeline will be moved up, or altered somehow.
This is going to be interesting to see since Fate's timeline begins nearly a century ago, meaning that if the movie does take place in the current era, that his life has been extended for a while. Once again, this is where being a DC fan comes in handy since it can explain the timeline in a useful way and can connect the different characters, and tell how long they've existed in their current forms. But it does feel as though things will be ironed out in a way that fans and other viewers will be able to follow.
1. It's very easy to wonder if Brosnan will have to pass the mantle on if Doctor Fate is meant to continue in the DC universe.
This has more to do with the fact that Brosnan is getting older and is bound to only have a couple of movies in him when it comes to the DC universe. I could be wrong, but we aren't in the 90s any longer when Brosnan could still play the part of an active individual, meaning that Doctor Fate will become someone who stays in the background and offers assistance, or will begin training an apprentice at some point to take over. This might not be the case, but one can't rule it entirely.
Doctor Fate could be a great addition to the DC movie universe.
Tell us what's wrong with this post? How could we improve it? :)
Let us improve this post!