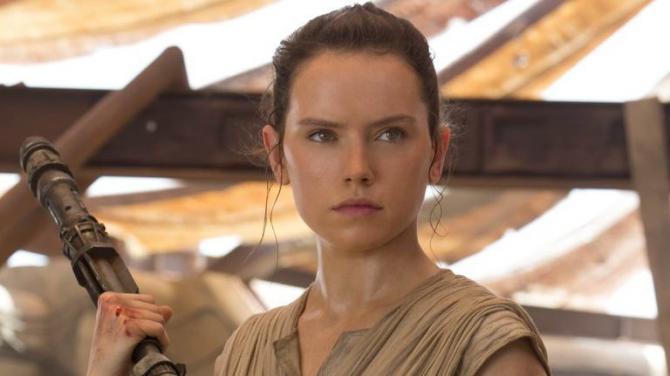 When you pass along a theory as Jon Fuge of MovieWeb has it's understood that people are going to feel one way about it or the other and when it happens to include Star Wars and the current hero, Rey, you can bet that some people are really going to come unhinged. That would be especially true the moment that some people learn that this theory is that Rey is stuck in a time loop, and that she and Shmi Skywalker are one and the same person. Yeah, you read that right, there's no trickery here other the brain teasers that people are pumping out quicker than fans can bring themselves to react at times. This theory however seems to suggest that every Star Wars trilogy thus far has been part of one big time loop, and that at the end of this current movie we could see Rey shacked up on Tattooine, somehow a slave to Watto, and impregnated by the midichlorians thanks the creepy old man Palpatine who would somehow be able to manipulate the timeline as it's already been seen possible to do in Star Wars: Rebels. The fact that time travel is a possibility does seem to be interesting enough, but it's also something that could really muddy the waters if it was used too frequently or, in this case, used to try and wrap up an entire story in a very lazy and lackadaisical manner.
Yeah, that's right, I said it, LAZY. Letting go of the fact that one of my favorite stories of all time, The Dark Tower by Stephen King, ended in roughly the same fashion, or continued, or…oh nevermind, it's still extremely lazy to put a theory like this forward. Not only does it wrap everything up with a neat little bow for those that are so butthurt that they can't even begin to handle the idea of what might come, it acts as a massive deus ex machina that would save the filmmaker a serious amount of backlash that's already being primed and ready to hurl. Don't doubt that fans and fanboys are already loading up for next month since quite honestly this has become something that is simply expected ever since The Force Awakens released in 2015. Heck, it's been that way since the prequels were released since some of the most technical-minded fanboys had massive issues when it came to the first three movies. The reaction that this theory is going to garner from those that can quote every movie and give you the serial number of every vehicle is likely to be something akin to a whiny child and that of an over-excited nerd that just HAS to set things right by saying how this is not possible, would fly in the face of several other theories, and might eventually destroy the franchise. Emily Irish of Medium has more to say on this matter.
Sigh.
As a big Star Wars fan it's not hard to be embarrassed at times by those that take things just a tad bit too far, but it's also easy to agree that this is, hopefully, not the way to conclude a story that really needs an epic and fitting climax that can finally give some hope that Star Wars might actually have a future in the coming years. Why is it lazy you ask? Well, that's simple really, as it would mask the lack of continuity throughout the movies, could explain why the EU is no longer canon, and could simply explain away every last little foible that Disney has been allowed to create throughout the last several years. In other words, this kind of theory is a huge chance for Disney to avoid apologizing for trashing a franchise that was doing just fine before it came along. This would allow the Mouse House to effectively sew up the current trilogy and many others by being able to claim that everything, EVERYTHING that's happened in Star Wars has done so by some strange design. But honestly it still wouldn't work since it would admit that despite being a master planner, Palpatine is still kind of inept when it comes to factoring in certain variables since not only did he kind of screw the pooch when it came to realizing whether or not Darth Vader would turn on him, he also could have made things so much simpler by manipulating the timelines in a way that would allow his Empire to rise and his will to be realized in a way that would minimize resistance and therefore kind of negate the whole idea that Star Wars could have ever been what it is now. Thankfully that's a theory and not likely to be the way the movie ends, because otherwise the storm of criticism that is no doubt coming would be more akin to a world-ending event that might bury the franchise altogether.