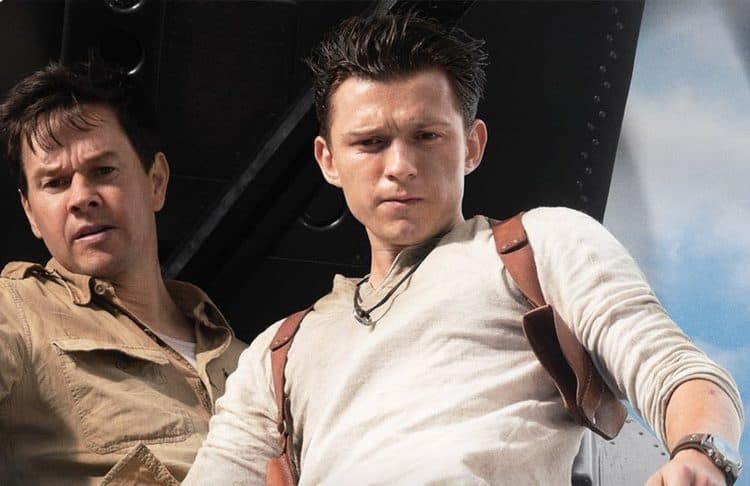 It's refreshing to see Tom Holland not in a Spider-Man suit, and that's exactly what Uncharted offers. The game-based movie is a heist-adventure flick featuring the talents of Holland, Mark Wahlberg, and Antonio Banderas. The plot of the movie, per Rotten Tomatoes, is as follows: "Street-smart thief Nathan Drake (Tom Holland) is recruited by seasoned treasure hunter Victor "Sully" Sullivan (Mark Wahlberg) to recover a fortune lost by Ferdinand Magellan 500 years ago. What starts as a heist job for the duo becomes a globe-trotting, white-knuckle race to reach the prize before the ruthless Moncada (Antonio Banderas), who believes he and his family are the rightful heirs. If Nate and Sully can decipher the clues and solve one of the world's oldest mysteries, they stand to find $5 billion in treasure and perhaps even Nate's long-lost brother…but only if they can learn to work together." While Uncharted only received lukewarm response from both critics and regular audiences, it sparked a renewed interest in other movies with similar globe-trotting, adventuristic plotlines. If you have an Uncharted hangover, here are a few movies to watch to get the mood going.
Jungle Cruise
Jungle Cruise is an action-adventure movie headlined by Dwayne Johnson and Emily Blunt. The movie focuses on a wild adventure along the Amazon river, made complicated by supernatural forces that get in our heroes' way. Aside from The Rock and Emily Blunt, Jack Whitehall, Edgar Ramirez, Paul Giamatti, and Oscar-nominated Jesse Plemons, playing the villainous Prince Joachim, appear in the movie. While most casual moviegoers enjoyed the movie's edge-of-your-seat adventures, critics were not as pleased. The AV Club wrote about the movie: "The general sexlessness of the Disney machine can make even the most chaste underwater exchanges of oxygen look downright heated. Just imagine if any of the sorta-flirtatious patter had the zing of a screwball pairing! (Or even the sweetly corny affection of The African Queen, which despite Katharine Hepburn is not exactly a source of delightful banter.) Absent cleverness, Collet-Serra offers some comfort for weary eyes, like the flashes of silent black-and-white footage of the stars shot with Lily's newfangled movie camera." If you're not looking for something particularly hall-of-fame worthy, however, and are just finding something to keep the mood of Uncharted going, Jungle Cruise is a must-add to your movie list.
Now You See Me
Now You See Me is a heist movie starring an ensemble cast, including Jesse Eisenberg, Mark Ruffalo, Woody Harrelson, Isla Fisher, Dave Franco, Melanie Laurent, Michael Caine, and Morga Freeman. Bedazzling audiences with its use of magic and sleight-of-hand, Now You See Me is an exciting movie with surprising twists. A review for Bowling Green Daily News described the movie as "An engaging little summer caper. With a talented cast and a twisty bit of storytelling, this is an adequate bit of entertainment that is enjoyable in the moment — even if it is rather implausible if you think about it." The movie was marked with a bit of controversy that started with an interview that Eisenberg had with blogger Romina Puga. Puga had accused the actor of being "rude" during the interview for the movie's promotion, according to Mic.
Red Notice
A blockbuster hit from Netflix, Red Notice is another heist movie that stars The Rock alongside Wonder Woman actress Gal Gadot and Deadpool actor Ryan Reynolds. The movie follows a typical cop-after-thief plot with an around-the-world trip to make the story more exciting as well as a surprise twist at the end. Panned by critics but loved by audiences, Red Notice stands at 36 percent rotten on Rotten Tomatoes. The Ringer wrote about the movie: "Theres a cold, almost algorithmic quality to the film and its performances, to the extent that calling Red Notice an original conceit feels disingenuous." Still, if you're on the lookout for similarly exciting movies as Uncharted, you can't miss out on Red Notice.
Lara Croft: Tomb Raider
Based on the hit game, Tomb Raider stars Angelina Jolie as the titular character, an adventurer in search of mysterious artifacts. The movie also features Jolie's dad, actor Jon Voight, as well as Iain Glen, Noah Taylor, and pre-Bond Daniel Craig. Lara Croft: Tomb Raider is a cool movie to watch if you aren't able to move on from the thrill of Uncharted yet. While critics didn't show the movie some love during its premiere, audiences enjoyed it. One of the few positive reviews for the movie, from The Herald Sun, wrote: "Angelina Jolie underscores Lara's genuinely aggressive appetite for destruction with a sweet, reserved composure that grows on you throughout." A fun fact about the movie: Jolie almost rejected the role when it was pitched to her, according to Collider. "I said, 'I really didn't feel like that character suited me.' I actually didn't at first want to do it; I said no. But they said you can travel the world and train with the British Military and so I had three months of seeing what I could do. And I would encourage anybody to do that. Sign up for as much as you can, give yourself a few months, push yourself to the limit and see, 'What can I do?' And you find that there's a lot you didn't know and some crazy, weird things you can do or you're capable of, so I love it." Good thing she changed her mind, as Lara Croft would be Angeline Jolie's most iconic roles in her career.
Indiana Jones and the Last Crusade
Last on the list is Indiana Jones and the Last Crusade. In fact, any movie in the Indiana Jones franchise would be suitable for this list, but the Last Crusade gets a little bit too close to the plot of Uncharted. Indiana Jones and the Last Crusade is the last of the 20th century Indiana Jones films; a sequel, Indiana Jones and the Kingdom of the Crystal Skull, would premiere in 2008, a good 19 years after the Last Crusade. Critics were happy with this Indiana Jones installment, writing: "Lighter and more comedic than its predecessor, Indiana Jones and the Last Crusade returns the series to the brisk serial adventure of Raiders, while adding a dynamite double act between Harrison Ford and Sean Connery." It's a must-watch if you are still in the mood for action-adventure flicks after Uncharted.
Tell us what's wrong with this post? How could we improve it? :)
Let us improve this post!