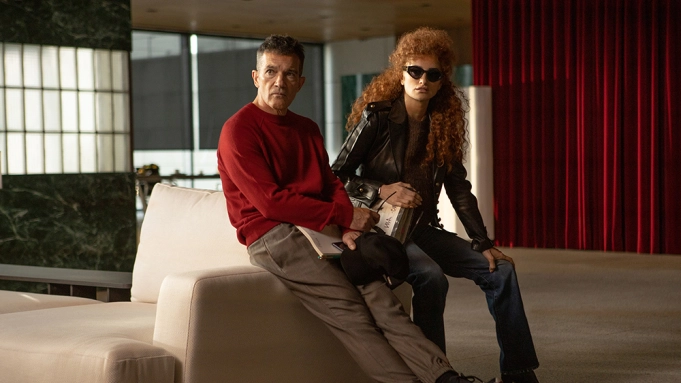 Official Competition is a 2021 Spanish-Argentine comedy film directed by Gastón Duprat & Mariano Cohn. It stars Antonio Banderas, Penélope Cruz, and Oscar Martínez. The plot follows a wealthy businessman who hires a director to produce the brilliant art film that he envisions to be his crowning legacy. Official Competition was screened in the main competition section at the 77th Venice International Film Festival and was released on June 17, 2022. The New Yorker published a review of the film and wrote, "Many viewers will be taken aback by the unexpected timbre of this film. It is sparsely populated, often shrinking into a chamber piece, with Lola, Félix, and Iván squaring (or triangulating) off against one another. And check out the chamber: a vast and cavernous modern construction, in which humans are easily dwarfed by the walls and the windows." If you enjoyed watching the satire film that includes insights into acting, directing, and the creative process in film, here are five movies we recommend watching.
The Unbearable Weight of Massive Talent
The Unbearable Weight of Massive Talent is a 2022 American action comedy film directed by Tom Gormican and starring Nicolas Cage. The film follows Cage as he tries to land a role in a Quentin Tarantino film while simultaneously dealing with personal and financial problems. The Unbearable Weight of Massive Talent was originally pitched as a documentary about Cage, but Gormican instead decided to make it a fictionalized account of the actor's life. Despite its title, the film is not actually about Cage's weight; rather, it refers to the burdens that Cage feels he must bear in order to be a successful actor. With its mix of action, comedy, and drama, The Unbearable Weight of Massive Talent is sure to be an entertaining ride just like Official Competition. The Guardian published a review of the film and wrote, "there's an affable appeal to the picture that disarms the more self-satisfied tendencies of the writing, and which stems from the chemistry between Cage and Pascal. Come for the industry satire, stay for the endearingly goofy buddy movie."
Barton Fink
Although darker than Official Competition, the 1991 American period black comedy psychological thriller film Barton Fink written, produced, edited, and directed by the Coen brothers also looks into the creative process of making a film. Set in 1941, it stars John Turturro in the title role as a young New York City playwright. The plot follows Barton as he is assigned to write a screenplay for a B-movie while struggling with writer's block. The Coens won the Palm d'Or at the 1991 Cannes Film Festival, as well as Best Original Screenplay at both the Academy Awards and the Golden Globes. Barton Fink was nominated for three additional Academy Awards: Best Actor (Turturro), Best Director and Best Picture. In a review by Rolling Stone, they wrote, "Barton Fink is an easy work to overintellectualize. It's also, with the benefit of hindsight, possible to see it as a bit of turning point for the Coens, whose first three films were riffs on mid-20th century narrative types — film noir, screwball comedies, gangster pictures — and whose fourth film would question the very system that gave us those works."
Hail, Caesar!
Another satire film is the 2016 comedy film Hail, Caesar! written, produced, edited, and directed by the brothers Joel and Ethan Coen film. It is a satire of Hollywood in the 1950s, with particular emphasis on the studio system and its production of musicals and epics. The film stars Josh Brolin, George Clooney, Alden Ehrenreich, Ralph Fiennes, Jonah Hill, Scarlett Johansson, Frances McDormand, Tilda Swinton, and Channing Tatum with Michael Gambon as the narrator. The plot follows Hollywood fixer Eddie Mannix (Brolin) who tries to discover what happened to Baird Whitlock (Clooney), a major star who has gone missing during the shooting of a big-budget film. Hail, Caesar! was nominated for two Academy Awards: Best Production Design and Best Costume Design. The New York Times published a review of the film saying, "In its shape, "Hail, Caesar!" at times brings to mind one of those old plot-free film revues that featured a grab bag of studio talent performing in strung-together musical, comic and dramatic scenes."
State and Main
Also, a film that narrates a story of what goes behind the scenes, the movie State and Main is about a Hollywood film crew that descends upon the small town of Waterford, Vermont to shoot a big-budget movie. The town is soon turned upside down by the presence of the Hollywood people. The town's residents are either thrilled by the attention or appalled by the disruptions. As tempers flare and egos clash, the movie's producer attempts to keep things on track long enough to get the film made. However, it soon becomes clear that there may be more at stake than just a movie. Reelviews praised the film's humor and entertainment value and wrote, "It's highly watchable, and, at times, humorously compelling. The film probably doesn't deserve the large crowds and long lines it generated at film festivals, but, in the more comfortable venue of a local theater, it offers two hours' diverting entertainment."
What Just Happened
Quite similar to Official Competition, the film What Just Happened is a biting satire of Hollywood that is both funny and insightful. It is a must-see for any fan of Hollywood movies. De Niro stars as Ben, a Hollywood producer trying to get his latest movie off the ground. The film follows Ben as he deals with difficult actors, armies of studio executives, and his own personal demons. De Niro gives a brilliant performance as a man who is desperately trying to cling to his power and prestige, even as the industry he loves starts to crumble around him. The supporting cast is equally excellent, and the film has an unforgettable ending. In a review by Common Sense Media, they wrote, "What Just Happened? may be a little "inside" for mass appeal, but anyone curious about how movies actually get made — and, for that matter, unmade — will enjoy it." The New York Times also published a review giving emphasis on the film's use of self-mockery and wrote, "The kind of self-flattering entertainment-industry self-mockery that "What Just Happened" offers has become a staple of the entertainment industry, animating everything from "Entourage" and "Curb Your Enthusiasm" to "Tropic Thunder."
Tell us what's wrong with this post? How could we improve it? :)
Let us improve this post!