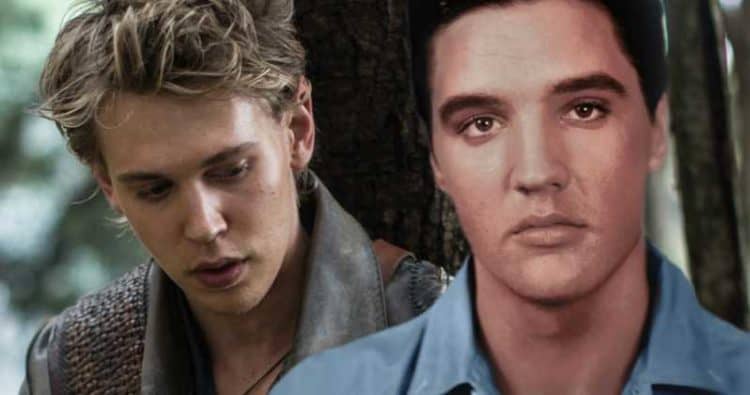 The biographical musical drama film Elvis premiered at the 2022 Cannes Film Festival on May 25, 2022, and will soon hit theaters in a few days. It is directed by Baz Luhrmann, who co-wrote the screenplay with Sam Bromell, Craig Pearce, and Jeremy Doner, from a story by Luhrmann and Doner. It stars Austin Butler as Elvis Presley, with Tom Hanks, Helen Thomson, Richard Roxburgh, Olivia DeJonge, Luke Bracey, Natasha Bassett, David Wenham, Kelvin Harrison Jr., Xavier Samuel, and Kodi Smit-McPhee in supporting roles. The film chronicles the rise of Presley from his humble beginnings in Tupelo, Mississippi to his international stardom as "The King of Rock and Roll" and centers on his relationship with his notorious manager. USA Today published a review of the film and gave particular praise to Butler's performance saying, "with Butler's stellar portrayal, it's never dull, and more enjoyable than not. The musical numbers are often dazzling, boosted by Luhrmann's inimitable style. And the plot (for better and for worse) covers a ton of Presley's life." Empire also reviewed Elvis and wrote, "This is everything you might expect of a Baz Luhrmann biopic. It's brash, loud, maximalist, and certainly never boring, but also keeps its subject at a distance, enthralled by his glamour not his soul." When you're done watching Elvis and you're looking for other biopics of music icons, here are five biopics we recommend watching.
Rocketman
Rocketman follows Elton John's early days as a prodigy at the Royal Academy of Music, his partnership with Taupin, and his rise to international stardom. The film is told through John's own words and features some of his most popular songs, including "Rocket Man", "Bennie and the Jets", and "Crocodile Rock". Egerton's performance as John was praised by critics, with many deeming it one of the best portrayals of a musician on film. The film was a box office success, grossing over $200 million worldwide, and received positive reviews from critics, who praised its direction, screenplay, music, and Egerton's performance. The Guardian commended the film's take on retelling Elton John's story and wrote, "What the movie made an honest job of, was conveying the meaning of the song itself: the rocket pilot who is afraid and lonely and for whom the apparently mind-blowing business of space travel is all in a day's work. Rocketman is an honest, heartfelt tribute to Elton John's music and his public image."
Bohemian Rhapsody
Bohemian Rhapsody is a 2018 biographical musical drama film directed by Bryan Singer from a screenplay by Anthony McCarten, and produced by Graham King and Queen manager Jim Beach. The film tells the story of the life of Freddie Mercury, the lead singer of the British rock band Queen, from their formation in 1970 until their 1985 performance at Live Aid at Wembley Stadium. The film stars Rami Malek as Mercury, with Lucy Boynton, Gwilym Lee, Ben Hardy, Joe Mazzello, Aidan Gillen, Tom Hollander, and Mike Myers in supporting roles. It received generally positive reviews from critics; most praised Malek's performance, the musical sequences, direction, costume design, make-up, and production values but criticized the pacing and accuracy of the biographical aspects of the film. Bohemian Rhapsody won four Academy Awards for Best Actor (Malek), Best Film Editing, Best Sound Editing and Best Sound Mixing. The New Yorker reviewed the film and wrote about the film focusing on Mercury himself rather than his music saying, "The movie "Bohemian Rhapsody" makes the case that Mercury is more interesting than his music—and, by extension, that popularity itself, the ability to become a mainstream star and hitmaker, is itself no fluke or by-product but a conscious creation and a mark of genius."
Get On Up
The 2014 American biographical musical drama film Get On Up chronicles the rise of James Brown from his poverty-stricken childhood to his status as the "Godfather of Soul." The film was directed by Tate Taylor with a screenplay by Jez and John-Henry Butterworth and produced by Brian Grazer, Mick Jagger, Taylor, and Victoria Pearman. The film stars Chadwick Boseman as Brown, Nelsan Ellis as Bobby Byrd, Dan Aykroyd as Ben Bart, Viola Davis as Susie Brown, Craig Robinson as Maceo Parker, and Octavia Spencer as Aunt Honey. The film follows Brown's career from his early days as a struggling musician to his eventual success with hits like "Please, Please, Please" and "I Got You (I Feel Good)." Along the way, Brown faces several challenges, including racial prejudice and personal demons. However, he remains determined to succeed, eventually becoming one of the most influential musicians of his generation. Get on Up is an inspiring story of one man's quest for stardom and a fitting tribute to the Godfather of Soul. Rolling Stone praised Boseman for his portrayal of Brown and wrote, "And when Boseman shows us Brown doing his thing onstage, the movie comes alive. Boseman mostly moves his lips to Brown's vocals on classics such as "Please, Please, Please," "Night Train," "Papa's Got a Brand New Bag" and "Try Me," but there's no denying how the spirit moves him. And us."
Respect
Respect is a 2021 American biographical musical drama film directed by Liesl Tommy (in her feature directorial debut), written by Tracey Scott Wilson, Callie Khouri, and is based on the life of American singer Aretha Franklin. The film stars Jennifer Hudson as Franklin, with Forest Whitaker, Marlon Wayans, Audra McDonald, Marc Maron, Tituss Burgess, and Mary J. Blige in supporting roles. The film follows the first three decades of Franklin's life centering on her experiences of success as a recording artist as well as her personal life which was complicated by her relationship with her father and her husband. Despite these challenges, Aretha continues to develop her talent and becomes one of the most successful singers of all time. Respect is a moving and inspiring film that celebrates the life of a music icon. The New York Times published a review of the film saying, "Respect" succeeds in doing exactly what is expected of it. You may argue with this or that filmmaking choice and regret its overly smooth edges, but it does give you a sense of Franklin as a historical figure, a crossover success story and a full-throttle, fur-draped diva."
Ray
Ray is a 2004 American biographical musical drama film focusing on 30 years in the life of rhythm and blues musician Ray Charles. The independently produced film was co-produced and directed by Taylor Hackford, and written by James L. White from a story by Hackford and White. It stars Jamie Foxx in the title role, along with Kerry Washington, Clifton Powell, Harry Lennix, Terrence Howard, Larenz Tate, Richard Schiff and Regina King in supporting roles. The film chronicles Ray Charles' rise to fame, from his humble beginnings in the South to his eventual breakout as one of the most popular and influential musicians of his generation. It also touches on the darker side of his life. Ray is ultimately a celebration of Charles' extraordinary talent and resilience. Jamie Foxx's performance in the title role earned him an Academy Award for Best Actor, making him the first black actor to win the award in over 40 years. The film itself was also nominated for multiple Oscars, including Best Picture. The Hollywood Reporter pointed out the film's best aspect saying, "The very best thing about Ray is how it dramatizes Ray's musical influences, the changes in his style and audience reaction to these developments."
Tell us what's wrong with this post? How could we improve it? :)
Let us improve this post!