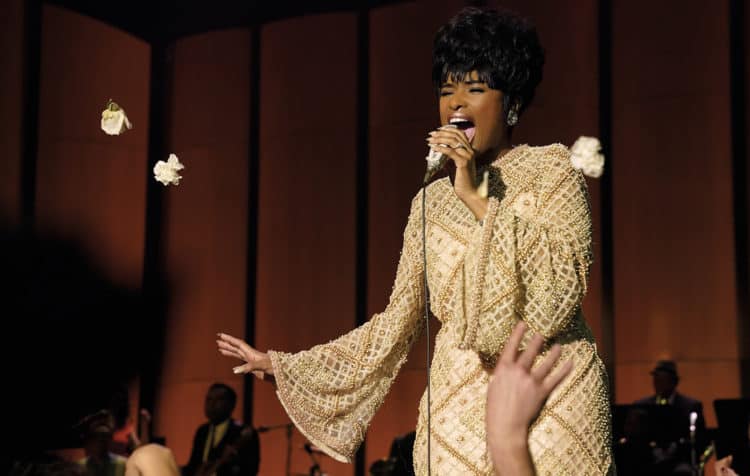 The world first met and fell in love with Jennifer Hudson when she auditioned for the third season of American Idol in 2003. Asked whether she thought she'd be the next idol, Jennifer shot a quick 'Yes, I do' at Judge Randy Jackson, adding a nod to his question on being 'the best we could find in America'. Jennifer proceeded to sing Aretha Franklin's Grammy-award winning rendition of 'Share Your Love With Me'. A 21-year -year-old Hudson blew the judges away, and earned her spot on Idols, eventually placing seventh. Though she wasn't that season's Idol, her appearance on the show triggered what would be a long-lasting career in showbiz.
In 2005, Hudson landed her big break when she was cast in Dreamgirls alongside multiple Grammy award winner Beyonce, comedian Eddie Murphy, and Jamie Foxx. As Effie White, Hudson earned herself a noteworthy fanbase, following her performance of 'And I Am Telling You I'm Not Going' that was spectacular at best. The New York Times reviewer A.O. Scott wrote of Hudson's performance: " That song has been this musical's calling card since the first Broadway production 25 years ago, but to see Ms. Hudson tear into it on-screen nonetheless brings the goose-bumped thrill of witnessing something new, even historic."
After wrapping up Dreamgirls, and stepping into an even greater audience than the one she had before, Hudson has been in more films and bagged more roles than we can count. She's also appeared as a judge on several singing competitions including The X Factor and The Voice. In addition to having three studio albums, she has an Academy and Golden Globe Award and has crowned it all with an induction into the Hollywood Walk of Fame. All of the highs and lows of her career have led her to this very moment; paying respect to the very first person who got her started: Aretha Franklin.
The Queen Of Soul's Legacy
Before she became one of the greatest music artists of the 20th Century, Aretha Franklin was just a little girl with a popular father. After her mother, with whom her father had separated, passed away when she was 10, Aretha took interest in music. Hers was a craft that began in the church, with her performing at 'gospel caravans.' Her father became her manager, and eventually got her the first record deal of her career. Even at a young age, Aretha's talent was undeniable, and music legend Quincy Jones knows this too well, as jazz vocalist Dinah Washington let him know she was next in line.
Washington's prediction came to pass. Aretha Franklin moved to New York and transitioned to making popular music. She secured a recording deal with Columbia that saw her release her first secular album, Aretha: With The Ray Bryant Combo. Through the album, she got her first Billboard Hot 100 entry, 'Won't Be Long'. After her time at Columbia ended, she went on to work with Atlantic Records, releasing some of her most popular hits to date, and ultimately becoming a success. By the time of her death, Aretha had 112 Billboard Hot 100 entries to show for her time in the music industry, and a Grammy Living Legend Honor to go with it.
In 2011, Aretha Franklin, through a telegram sent to Wendy Williams, revealed who she'd like to play her in a biopic. "I would've liked Halle Berry to portray the older Aretha in the upcoming biopic of my life." Aretha wrote. "She was my first choice. Everything is subject to negotiation, and she shouldn't underestimate her own talent. There are a number of other leading ladies out there that can definitely handle the role. I never expected Halle to sing. She's an actress, not a singer. Many actors have portrayed vocalists by lip-synching to artists' original records." However, by virtue of Halle Berry declining the role based on the simple fact that she cannot sing, Jennifer Hudson's dream came true.
Starring In Aretha Franklin's Biopic, 'Respect'
The making of Respect begins two or so years after Hudson won an Academy Award for her role in Dreamgirls. Hudson met Aretha in New York. The pair sat down, and before they could converse any further, Franklin said, "You're gonna win an Oscar for playing me, right?" Hudson was taken aback and tongue-tied for a moment until she managed a " Ma'am…I can try." In an interview with Access, Hudson revealed that she was happy to have been chosen to play Aretha. " I just want to honor her legacy and make her proud in the best way possible. I'm still in awe to this day."
Respect is set to be released on the 13th of August. It stars Jennifer Hudson as Aretha, Forest Whittaker as her father C.L.Franklin, Marlon Wayans as Ted White, Audra McDonald as Barbara Franklin, Marc Maron as Jerry Wexler, Tituss Burgess as James Cleveland, Saycon Sengbloh as Erma Franklin, Hailey Kilgore as Carolyn Franklin, Tate Donovan as John Hammond, Mary J. Blige as Dinah Washington, Kelvin Hair as Sam Cooke, Heather Headley as Clara Ward, and Lodric D. Collins as Smokey Robinson. The film was produced on a $55 million budget and directed by Liesl Tommy.
In an MVAAFF panel discussion, Tommy revealed that she grew up listening to Aretha Franklin's music. " She was just a part of my little artistic self. Sometimes you just know that something's meant to be. I felt so clear about what my vision for the film was, that it gave me a kind of strange confidence. I loved her so much, that I felt like I couldn't fail." Just like Jennifer, working on Respect was a dream come true, and serendipity at its best. Whether both of them bag an Academy Award or not, they have simply done their part by honoring The Queen of Soul. It took more years than it was supposed to, so much that Aretha is not here to witness this for herself, but wherever heaven is, she knows this was worth the wait, and an Academy Award is in the offing.
Tell us what's wrong with this post? How could we improve it? :)
Let us improve this post!