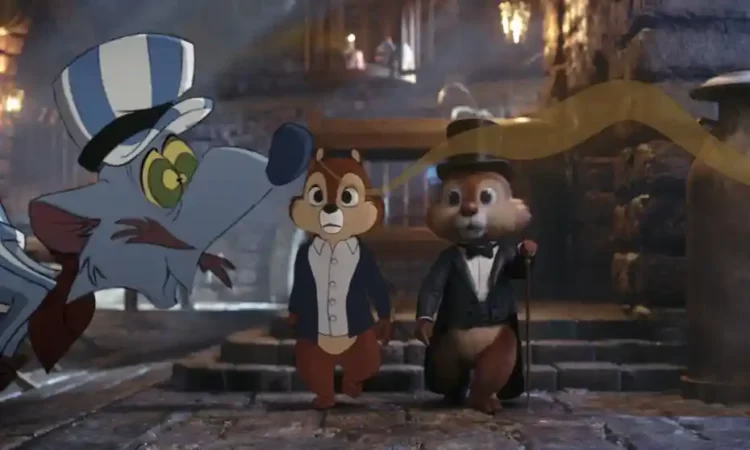 Chip 'n Dale: Rescue Rangers premiered in Orlando last May 16, 2022, and was released through the streaming service Disney+as an original Disney+ film last May 20. The live-action /animated action-adventure comedy film is based on the Chip and Dale animated TV series and is directed by Akiva Schaffer and written by Dan Gregor and Doug Mand. The film features the voices of John Mulaney and Andy Samberg as Chip and Dale respectively. The film also features Will Arnett, Eric Bana, Keegan-Michael Key, Seth Rogen, J.K. Simmons, and KiKi Layne. Set in a world where cartoon characters and humans exist together, the film follows estranged friends Chip and Dale, 30 years later. When one of their friends mysteriously disappears, they are brought together and are forced to work together to save their friend. The film has received favorable views so far and particular praise for its animation and the performances of Samberg and Mulaney. In a review published by The Guardian, they praised the film's scene details saying, "What's most surprising about a mostly rather surprising film is just how intricate the world-building is, director Akiva Schaffer, of Lonely Island fame, and Crazy Ex-Girlfriend writers Dan Gregor and Doug Mand, putting far more thought and effort into the specifics of one scene that most mainstream film-makers would put into their entire movie." If you're done watching Chip 'n Dale: Rescue Rangers, here are five movies we recommend watching that also involve great animation styles and storylines.
Pokemon Detective Pikachu
Just like Chip 'n Dale: Rescue Rangers, the 2019 American mystery film Pokémon Detective Pikachu also involves a mystery to be solved. The film is based on the Pokemon franchise and loosely based on the 2016 video game Detective Pikachu. It is directed by Rob Letterman from a screenplay by Letterman, Dan Hernandez, Benji Samit, and Derek Connolly, from a story by Hernandez, Samit, and Nicole Perlman. The film features the voice of Ryan Reynolds as Pikachu and also stars Justice Smith, Kathryn Newton, Suki Waterhouse, Omar Chaparro, Chris Geere, Ken Watanabe, and Bill Nighy. The film follows Tim Goodman, a young Pokemon trainer, and Pikachu who work together in solving the mysterious disappearance of Tim's father. The film received mixed reviews but was a commercial success nonetheless. The Verge published a review of the film and wrote, "The film embraces the inherent goofiness of a world full of pocket monsters and leans into the absurdity of that world instead of trying to normalize it or turn Pokémon into some huge, significant metaphor."
Sonic the Hedgehog
The 2020 live-action-adventure comedy film Sonic the Hedgehog, based on a videogame of the same name, is another fun film to watch that offers a lot of laughs and great action sequences. The film was directed by Jeff Fowler, in his feature directorial debut, and written by Pat Casey and Josh Miller. It features the voice of Ben Schwartz as Sonic and also stars James Marsden, Tika Sumpter, and Jim Carrey. The film follows a blue hedgehog with supersonic speed who has found Earth as his new home. When mad scientist Dr. Robotnik (Jim Carrey) searches for Sonic in order to use him for his evil plans, Sonic teams up with town sheriff, Tome Wachowski (James Marsden) to help him. In a review by Common Sense Media, they praised Jim Carrey's performance as the film's supervillain saying, "Watching Carrey is an absolute delight; his comedic genius exudes more wattage than Sonic's moments of heated emotion — and Sonic's outbursts cause power outages….Carrey's performance helps take Sonic the Hedgehog to levels of laughing you never expected."
The Lego Movie
The 2014 computer-animated adventure comedy film The Lego Movie might share some similar humor with Chip'n Dale: Rescue Rangers so you're more likely to enjoy this film if you like the latter film. The Lego Movie was written and directed by Phil Lord and Christopher Miller from a story by Lord, Miller, and Dan and Kevin Hageman and features the voices of Chris Pratt, Will Ferrell, Elizabeth Banks, Will Arnett, Nick Offerman, Alison Brie, Charlie Day, Liam Neeson, and Morgan Freeman. Set in the Lego universe, the film centers on an ordinary construction worker named Emmet who is recruited by a resistance group trying to save the lego world from an evil businessman. The film was a commercial success and earned a nomination for Best Original Song at the 87th Academy Awards. Three more films followed the Lego Movie franchise after its success: The Lego Batman Movie (2017), The Lego Ninjago Movie (2017), and The Lego Movie 2: The Second Part (2019). In a review by The Hollywood Reporter, they wrote, "Not only do Master Builders Lord & Miller, who crafted the script from a story by Dan Hageman & Kevin Hageman (Hotel Transylvania) manage keep all those careening bricks in the air with crack comic precision, they sneak in an affecting third act reveal that's absolutely in lockstep with the venerable brand's creative spirit."
Who Framed Roger Rabbit
The 1988 American live-action/animated comedy-mystery film Who Framed Roger Rabbit, also set in a world where cartoons and humans co-exist, closely resembles Chip 'n Dale: Rescue Rangers. The film was directed by Robert Zemeckis and loosely based on Gary K. Wolf's 1981 novel Who Censored Roger Rabbit? The film stars Bob Hoskins, Christopher Lloyd, Charles Fleischer, Stubby Kaye, and Joanna Cassidy. The film is set in1974 and follows Eddie Valiant, a human private investigator who helps toon Roger Rabbit prove his innocence after being framed for a murder. The film received relatively positive reviews and became one of the highest-grossing films of the year during its release. It earned three Academy Awards including Best Film Editing, Best Sound Effects Editing, and Best Visual Effects. When the film celebrated its 30 years, The Guardian published an article saying, "Who Framed Roger Rabbit? still stands out as bracingly, remarkably strange for a multimillion-dollar product released under Disney's auspices through their Touchstone Pictures division."
Spider-Man: Into the Spider-Verse
Speaking of combining different animation styles, the 2018 8 American computer-animated superhero film Spider-Man: Into the Spider-Verse follows Miles Morales, a new Spider-Man who joins forces with other Spider-heroes from parallel universes to save his world from a villain named Kingpin. The film was directed by Bob Persichetti, Peter Ramsey, and Rodney Rothman from a screenplay by Phil Lord and Rothman. It features the voices of Shameik Moore, Jake Johnson, Hailee Steinfeld, Mahershala Ali, Brian Tyree Henry, Lily Tomlin, Luna Lauren Vélez, John Mulaney, Kimiko Glenn, Nicolas Cage, and Liev Schreiber. The film received positive reviews from critics and won Best Animated Feature at the 91st Academy Awards, 76th Golden Globe Awards, 72nd British Academy Film Awards, and the 46th Annie Awards. The New York Times praised the film in their review saying, "The story is clever and just complicated enough, moving quickly through silly bits, pausing for moments of heart-tugging sentiment, and losing itself in wild creative mischief. It is referential (and reverential) enough to Marvel traditions to please the geek armies, and perfectly accessible to new recruits or part-time warriors."
Tell us what's wrong with this post? How could we improve it? :)
Let us improve this post!