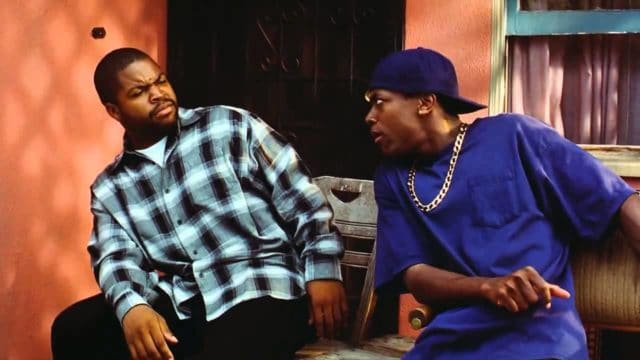 They're the ones that the other person can't always stand but that they can reasonably depend upon when the time is right. Best friends don't have to have your back all the time, just so long as you can rely on them when you really need them. In the movies, best friends could also be your worst enemy at times, but that's usually okay because eventually they wind up needing the person they antagonized as much as that person needs them. It's a vicious, hilarious cycle that doesn't end in the films, or in real life.
Here's just a few "best friends" that people might remember fondly.
Smokey – Friday
Smokey is that best friend that's funnier than all hell but knows how to do one thing just right. He knows how to get his friends into trouble. He's funnier than most people and doesn't have a problem speaking his mind, but it's his mouth that tends to get him into trouble and alienate him from his friends now and again. Thankfully he's always there to, well, um, he's always there at least, even when you wish he'd go home.
O-Dog – Menace II Society
This guy is funny in a very dangerous way. If he wasn't so trigger happy he might be fine as a wise-cracking friend that will always have your back and never dime you out. O-Dog thankfully isn't a snitch or a wimp, but it's that continual attitude that might get him and his friends into trouble on a continual basis. His youth is definitely a part of why he's so volatile as well, as he seems to be the type to think he's going to live forever.
Ace Levy – Starship Troopers
Ever meet that jerk that just won't leave you alone until you finally concede that he might be a good guy to have in your corner? That's Ace. He's not much of a leader but at least he admits it. He's the guy you want at your back when the walls start crawling and closing in, largely because despite not being a leader he's the guy that will stand his ground with you when everything seems hopeless.
Chucky – Good Will Hunting
Best friends are usually the troublemakers in the relationship, well at least sometimes. They get you into trouble, they encourage trouble, and sometimes they depend on you to get them out of trouble. Chucky is the kind of guy that would walk through fire for his best friends, and that's usually the best type to have. He wants nothing but the best for his friends and would do anything to make it happen.
Sidney Dean – White Men Can't Jump
Ever notice how no one can trash talk to you like a best friend? They know what gets to you and sometimes it happens even before you become friends. Sidney and Billy might not start out all that friendly but as the film rolls on they begin to realize that no matter what they're both compatible in ways they hadn't banked on in the beginning, despite the fact that Billy runs his mouth a little too much.
Best friends in the movies are just flat out funny. In real life it's not much different thankfully.