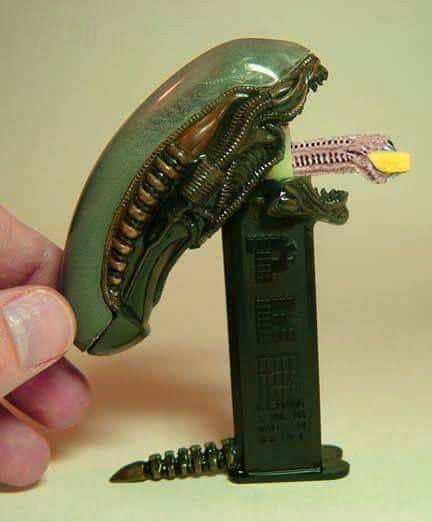 I've always been pretty impressed with my four-year-old son's Pez dispenser collection. It features virtually all of the Disney characters and some dispensers from his favorite kids shows on television. However, I have a strong suspicion that if I brought him home this Alien Xenomorph Pez dispenser he'd be less than thrilled. For the record this photo is not doctored in any way. This is a real creation, it's just not for sale.
Peter "Rat D" Davidson has created the ultimate PEZ dispenser because nothing says sweet treat more than a terrifying extraterrestrial with a drooling, razor-sharp maw. The details of Davidson's design are fantastic and true to artist H.R. Giger's work for the 1979 Ridley Scott film. It appears that the creation was not produced for purchase, but we'd if this ever went on the market I'd be a buyer. Candy encased in a biomechanical, bloodthirsty alien just tastes better, don't you think?
Plus I may be going out on a limb here but I think untouched and unopened Pez dispensers could have some serious value in about 20 years. It's a shame all the ones my son has are opened and used but mark my words, these are going to be collectibles someday. I have no doubt in my mind.
Tell us what's wrong with this post? How could we improve it? :)
Let us improve this post!