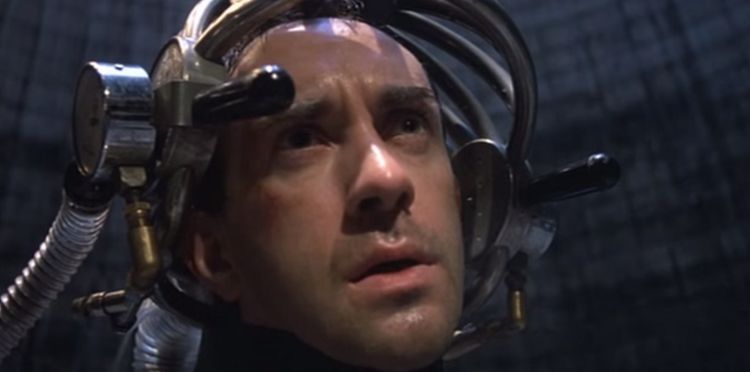 As anyone who has applied to get married, waited at the DMV, struggled with getting health insurance, filed a long visa form, or moved to another country knows, bureaucracy can be a complete pain in the ass. The mixture of rigid governmental regulations combined with human error can be a deadly cocktail that gets in the way of wanting to move on and have a happy life.
For many people the mere thought of long trips to scanning shops, dealing with faulty printers, and having to post multiple pieces of paper, only to wait weeks or months on end on for an answer, can fill them with utter dread. This can be even worse when the decision at the end of it has the potential to be a negative one.
This has long been a topic in both fiction in cinema, artists looking at the ways bureaucracy can create a type of nightmare state. To celebrate this theme we have created a list of five great films that detail the unique horror that bureaucracy can bring. Spanning from steampunk portrayals of a world teeming under unnecessary work to heartbreaking portrayals of systems breaking down to one man's journey to do good despite endless rules and regulations, we have a full list for you to read below. Don't agree with what we have picked? Believe that we missed out on a true masterpiece of the genre? Please let us know what you think in the comment section below.
Brazil
A steampunk update of 1984, Terry Gilliam's Brazil plunges us into a completely bizarro world. Johnathan Pryce plays Sam Lowry, who works in a soul-destroying job while fantasising about being a warrior. His office job is given a retro-future update, with whirring mechanical machines dictating the outcomes of people's lives. For example, when one breaks down as the result of a fly getting into it, a man is put to death.
Sam Lowry attempts to break free of these constraints when he comes into contact with the woman of his dreams, but these aims are constantly thwarted by a totalitarian state that seems to know his every move. Here Gilliam ramps up the absolute absurdity at the heart of bureaucratic nations, acknowledging the ways it can be used as a tool to administer control. Although baffling critics upon its release, it has soon grown to be a true cult classic.
The Trial
One cannot discuss bureaucracy in fiction without mentioning the work of Franz Kafka. The Czech author worked in insurance the majority of his life, his personal experience giving way to a uniquely pessimistic vision. He is best known for The Trial which begins with Josef K. being arrested. What for, we never know.
In Orson Welles' striking, noirish version, the streets of the unnamed city – although filmed in Zagreb, Dubrovnik, Rome and Milan – tower over and constantly oppress Josef K., excellently portrayed by a paranoid Gregory Peck. In its adaptation of the classic text, the film shows how bureaucracy can easily pave the way towards fascism, creating a world where no man can ever feel truly free.
The Death of Mr Lazarescu
Bureaucracy takes place not just in the realm of dystopia but is also a problem that plagues the modern world, never bettered than in the slow and painful portrayal of one man's long death in The Death of Mr Lazerescu. It starts with the old man, brilliantly played by Ioan Fiscuteanu, calling for an ambulance that seemingly never arrives, leading to a long and protracted experience completely indicting the failures of the Romanian health service to actually speed up the process and provide the care he deserves.
The film that put the Romanian New Wave on the map, it gave birth to a variety of films that looked at corruption and institutional failure, often tied up with the maddening complexities of bureaucratic systems. We would recommend classics such as Police, Adjective and 4 Months, 3 Weeks and 2 Days for further masterpieces from the Eastern European nation.
Never Rarely Sometimes Always
Detailing in heartbreaking pace the steps that one girl goes to get an abortion, Never Rarely Sometimes Always, which debuted earlier this year at the Sundance Film Festival, already feels like a classic of the genre. It tells the story of a seventeen-year-old girl from Pennsylvania, who, upon believing that she might be pregnant, visits a local clinic. Here she learns that she is unable to have an abortion without the consent of her parents, prompting her to make the long journey to New York, which has far more liberal laws. But in New York, there are additional complications involving the signing of forms, answering endless, intimate questions and potentially dangerous waiting times.
The result is a scathing indictment of a system, ruled by religious fundamentalism, that leads certain states in the USA to be able to rollback abortion rights. It shows that while an outright ban isn't in place (yet) there are still sneaky ways that individual states can make the process a whole lot harder. One expects that once it is released in North America it will spark a necessary debate about women's rights to control their own bodies.
Ikiru
Even the most stone hearted bureaucrats can have a change of heart. This is the story of Ikiru, which starts with an application by the local area to have a new play-park in the center of town. Our protagonist states that it is simply impossible, given the sheer amount of permits that the application has to go through in order to be approved. Yet, after receiving information that he is suffering from a terminal disease, he decides to commit everything he has to make sure that the park is built.
The only film on this list to have a true happy ending, it shows that with the right intentions even the worst systems can be changed from within. Akira Kurosawa, perhaps better known for his samurai films and action adventures, creates his most intimate and personal work here, applying a simple classical style to accompany such a beautiful story.