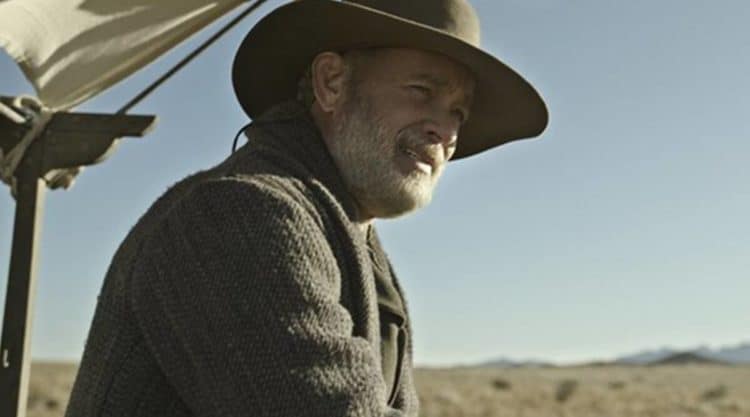 Even the most die-hard fans of a star often do not realize their favorite celebrity is related to another major star. Take Riley Keough, for example. Her name is everywhere now because she's been cast as Daisy Jones in the miniseries adaptation of the book Daisy Jones and the Six. People know her for her famous work and talent, but it's shocking how many people have no idea she is the granddaughter of famed musician Elvis Presley. It makes us wonder how many other celebrities are related to someone quite famous and we don't know. Which of our favorite stars are related to other famous stars?
Abraham Lincoln is Tom Hanks' Cousin
The third cousin, four times removed, we should add. They're not exactly close. Number one, their relative distance on the family tree is impressive. Number two, Abraham Lincoln both lived and died a *few* years before his young cousin was born. What's fascinating about this story is that Abraham has many indirect relatives still living, but his direct lineage died out in 1984. The tragedy was a big thing in his family. His mother passed away, his sister passed away, and he only had one child of his own who became an adult. He did have three grandchildren but only a few great-grandchildren. His family suffered tremendously in their lives, but the extended family lives on. One fun fact you should know – Tom Hanks turned down the role of Abraham Lincoln in the movie (Daniel Day-Lewis played the famed president). Despite being family, he knew at the moment that he was just too short to play the famously tall former president.
Al Roker is Lenny Kravitz's Cousin
Can you see the family resemblance? These two are first cousins, once removed. In all honesty, we have no idea what it means to be removed. We aren't looking it up for fear of too much confusion and a headache. However, we know their grandfathers were cousins in the regular 'we are just cousins, and no one is removed' manner. If we do the math, each of their great-grandparents was a sibling. Lenny's mother is Roxie Roker (see, this is where their names go together). She was a secretary at NBC when she met Lenny's father. She would later become one of the beloved stars of the sitcom "The Jeffersons," and the family tree is extensive.
Chuck Schumer is Amy Schumer's Cousin
She's a famous comedian and actress, and he is a Democratic Senator from New York. Do we wonder which one the family is prouder of? She's famous for being among the raunchiest and most controversial comedians based on many things she has to say, and he's known for his controversial political opinions. However, the two routinely refer to one another and seem to be on good terms. To be direct, Chuck is her own father's cousin. This makes them first cousins, once removed. Again with the removed stuff.
Brady is Snoop Dogg's Cousin
Talent does run in that family, does it not? She's a famous musician and singer, and he is a famous rapper. Honestly, they're both exceptionally talented. We need to go a little deeper into his family lineage, though, because Snoop Dogg is related to everyone. Not really, but it seems. He's also the cousin of Ray J. Ray J is famous for being a musician, being Brandy's brother, and being the guy in that one famous video with Kim Kardashian. You know the one. The late Nate Dogg is also his cousin. So is Daz Dillinger. The family tree in that family is a large one.
Stanley Tucci is Emily Blunt's Brother-in-Law
The one counts because no one is removed, and it's easy. These two are in-laws by marriage. Stanley Tucci is married to Felicity. Felicity is Emily Blunt's sister. Felicity married Tucci in 2012, just two years after Emily married John Krasinski. They have a talented family, and we are here for it. Tucci and Blunt are super close. They worked together on The Devil Wears Prada (2006) and are great friends. Blunt went so far as to one time say, "He's authentic and irreverent in the best way ever. He just gets life, and I worship the guy". She has lovely things to say about her sister's husband, including that he is a much nicer person after some caffeine, an excellent cook, and has a good time.