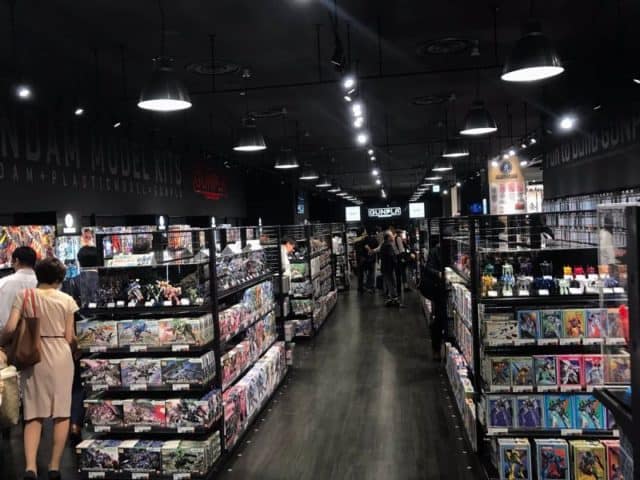 If you're a lover of all things Gundam than this could be for you. Tokyo will be featuring the opening of one of the largest Gundam stores very soon. The store will feature around 2,000 Gundam goods for sale and another 1,500 on display. This is apparently the largest selection of Gundam merchandise in the world at this point. There are other locations in South Korea and Taiwan, but they are slightly smaller in size.
The store will be packed to the gills with merchandise and will also be divided into three distinct sections that will cater to the customers.
The Shop Zone
This is where all the merchandise will be located and the customers can browse at their leisure as they look over the thousands of pieces of merchandise in an effort to find out just what they want. Retail prices are bound to vary so it could be a costly trip for anyone that proves to be too indecisive. However, there are so many choices that the Gundam enthusiast will no doubt be able to spend a lot of time browsing the shelves again and again as they wish.
The Builder's Zone
Since Gundam merchandise is built largely around the intricate models this zone will be crucial to many buyers. It will feature master builders that have logged untold hours creating the impressive Gundam characters and can give tips and pointers on how best to construct your model. With the amount of detail that goes into each piece it would be worth the time of any customer to at least pay attention and listen to the builders as they dole out the wisdom they've gained through experience.
The Factory Zone
This is where customers will be able to see how the Gundam merchandise is manufactured and what goes into the creation of each piece. Buyers will get to see a much more detailed process of how their favorite models are constructed and what kind of time and effort goes into each design. In this manner it is easier to get a better idea of just how much work it takes to create this favored pastime.
Obviously if you're not into models or toys you won't be too enticed by this news but the majority of those out there that are into this type of thing will no doubt be wondering just how they can get their hands on the store's merchandise and what it costs to get a round trip ticket to Tokyo. While it's most likely very possible to obtain the merchandise from the store via the internet a lot of purists would no doubt want to visit the store just to say they'd been there and, of course, to share in the experience.
Gundam actually first came out in 1979, but it's popularity in the US didn't really take off right away. In the last few decades however it has been rising quite steadily as people have taken note of the popular brand and have fully embraced it. To date Gundam has gained a great deal of popularity in the US.
Save