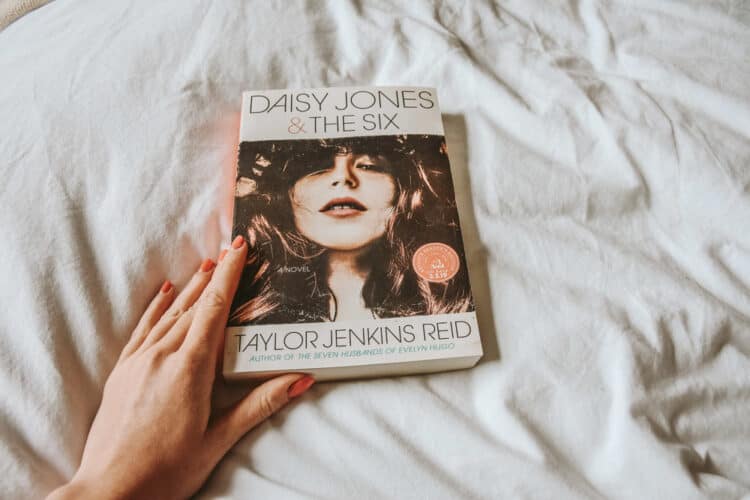 Amazon Prime Video is set to drop a miniseries based on a highly popular book. In development at Amazon, Daisy Jones & The Six is a new drama series from Reese Witherspoon's Hello Sunshine and Amazon Studios. The project is based on the New York Times best-selling novel of the same name by Taylor Jenkins Reid. Set in the 1970s Los Angeles music scene, the show follows the rise of a fictional rock band from the perspectives of its members. The story explores the dynamics of love, fame, and creativity against a backdrop of sex, drugs, and rock 'n roll. The show is written by Scott Neustadter and Michael H. Weber. Both of them previously collaborated on projects like 500 Days of Summer and The Pink Panther 2. They also received an Academy Award for Best Adapted Screenplay for the hit movie The Disaster Artist. Daisy Jones & The Six features an impressive list of cast members. If you want to learn more about the actors set to appear in this show, read ahead. Here are the cast members of the upcoming Amazon Prime Video drama miniseries Daisy Jones & The Six.
Riley Keough
Riley Keough is an American model and actress. She is set to star as the titular character Daisy Jones in the upcoming series Daisy Jones & The Six. She is the daughter of Lisa Marie Presley and Danny Keough, and the granddaughter of Elvis Presley. Keough has appeared in a number of films, including Mad Max: Fury Road, The Girlfriend Experience, Logan Lucky, and Under the Silver Lake. Keough's latest movie is a biopic about her grandfather, Elvis Presley, titled Elvis & Nixon. When asked by Interview Magazine what her parents thought about her acting career, this is what Keough had to say: "They've been pretty cool about it, especially since I turned 25 this year. I do remember them having a chat with me when I was, like, 14, saying, "Acting is a heartbreaking industry, and we don't think you should do that." So I was like, "Yeah, all right, I'll just be a model then and make some money." And they were like, "No, no, no, acting is great!" They were very open to the idea of me doing whatever I wanted to do. I was one of those kids who thought I could be the president of England when I grew up if I wanted to. Then I started acting and realized life is hard and people are mean. And there's no president of England and I'm not British."
Camila Morrone
Camila Morrone is set to star in the upcoming series Daisy Jones & The Six as Camila Dunne. Camila Morrone is an Argentinian-American actress and model. She began her career modeling at the age of 15, and has since gone on to appear in a number of movies and television shows. Camila has also appeared in a number of independent films, and has received critical praise for her work in these projects. Some of the projects she's appeared in include Valley Girl, Mickey and the Bear, and Death Wish. In addition to her acting career, Camila is also a successful model, and has appeared in campaigns for major brands such as Guess and Calvin Klein. She is currently dating actor Leonardo DiCaprio, and the two are often seen attending red carpet events together. Daisy Jones & The Six is Morrone's second TV project, following a guest appearance in the show Love Advent.
Sam Claflin
Sam Claflin will be playing the role of Billy Dune in Daisy Jones & The Six. He is a British actor who has appeared in a number of films, including The Hunger Games, Pirates of the Caribbean: On Stranger Tides, and Snow White and the Huntsman. Claflin began his acting career with small roles on television, but he soon made the transition to film. Since then, he has gone on to appear in a number of successful films, both in leading and supporting roles. In addition to his work in film, Claflin has also had roles in a number of stage productions. He is currently married to actress Laura Haddock, with whom he has two children.
Suki Waterhouse
Suki Waterhouse is a rising star in Hollywood, and she is set to portray Karen Sirko in Daisy Jones & The Six. The British actress and model has appeared in a number of recent movies, including The Divergent Series: Insurgent and Pride and Prejudice and Zombies. Waterhouse has also graced the cover of magazines like Vogue, Harper's Bazaar, and Elle. With her fresh face and natural beauty, it's easy to see why she is becoming one of Hollywood's most sought-after actresses. In addition to her acting chops, Waterhouse is also an accomplished photographer. She has shot campaigns for various major brands. Her more recent movies include The Broken Hearts Gallery, Seance, Daliland, and Persuasion, the last two of which are currently in post-production.
Josh Whitehouse
Josh Whitehouse is an up-and-coming actor who has already made a name for himself in Hollywood. He will be playing the role of Eddie Roundtree in the upcoming series Daisy Jones & The Six. Whitehouse got his start in the industry with a role in the 2014 film Northern Soul. Since then, he has gone on to appear in a number of films, including Modern Life is Rubbish and The Knight Before Christmas. Most recently, Whitehouse appeared in the TV show Rhyme Time Town. Whitehouse is also a musician. He plays with a band called More Like Trees. In an interview with Film Doctor, Whitehouse talked about his music, specifically his album Don't Disturb the Garden. "Music has always been a very personal passion as mine. I moved to London in 2008 to pursue a career in music with the band but since finding acting, in 2010, I've been able to give less and less time to performing with them. However, in between every job I have been coming home with new inspiration and this album is the result of two years of me using any time I had available between jobs to record ideas and enjoy making music with my friends and family. The album is fast paced like our first one, but I like to think that we have progressed with our writing style slightly in a new direction which I intend to do again with a next record which I'm already working on."
Other cast members
Other cast members include Nabiyah Be as Simone Jackson, Will Harrison as Graham Dunne, Sebastian Chacon as Warren Rhodes, Tom Wright as Teddy, Jacqueline Obradors as Lucia, and Timothy Olyphant as Rod.
Tell us what's wrong with this post? How could we improve it? :)
Let us improve this post!