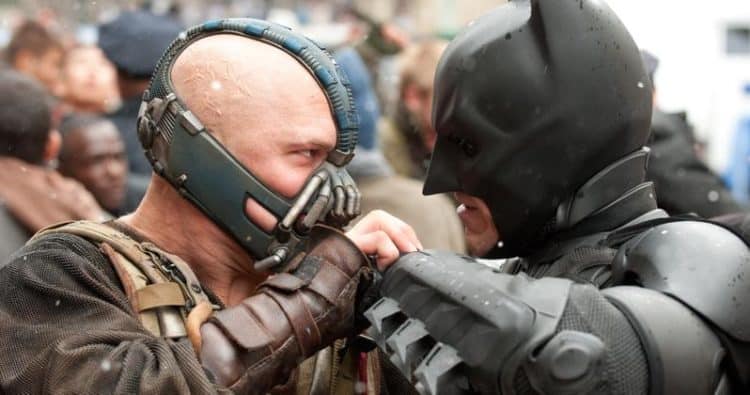 Fighting intense Anti-Semitic bullying is challenging. But a new car getting stolen the same day you buy can be just as intense. David S. Goyer one day went home a happy man; he drove home when he received his check for Death Warrant (1990). His fulfilled dream didn't last long. Unfortunately, the car was stolen the same day he took it home. But that did not stop him from becoming the man he is today-an an iconic writer and producer. For him to achieve so much, it has taken positive energy. He is honest and believes in what works for the story. Once he focuses on an idea, say a comic book, he doesn't change the goals into something else, citing it won't work. Check out what makes Goyer the man to watch.
Batman Unburied
Unburied is a psychological thriller that takes us on a new journey deep into the mind of Bruce Wayne. Viewers meet Bruce Wayne, a forensic pathologist who works in Gotham Hospital, and his role is to examine the victims of The Harvester. The introduction of new but dark twists and turns reveals several classic Batman Super-Villains. Harvester is a dangerous serial killer attacking Gotham's citizens. Besides facing his mental demons, as a Superhero, Batman has to save the citizens of Gotham. Spotify announced that the only DC podcast they will play would be Batman Unburied. DC Chief Creative Officer (Jim Lee) and Goyer have teamed up for future projects. Stay tuned for the Batman podcast, which is a win for Goyer.
The Falcon and The Winter Soldier
After leading a successful rescue mission of hostages who pirates have held, Steve Rogers meets Nick Fury. Nick is upset that Natasha Romanoff differs from his opinion. And he is not ready to trust anybody else. Through his anger, he discloses "Operation Insight," a top-secret project from SHIELD. They have a plan which, according to them, is for the good of the world. So, three aircraft carriers are set to be launched into space. All three are linked by a satellite in what they term to protect the planet. An attempt by Winter Soldier to destroy the plan sends Nicks to Steve's apartment, where he delivers flash memories to him. Later, Steve learns that SHIELD has been compromised with HYDRA as Nick is killed. Secretary Alexander Pierce now wants to know why Nick visited Steve's, which he declines to tell him. Natasha, Steve, and Sam team up to investigate who killed Nick. They hope to reveal the truth.
Assassination Nation (2018)
Social media faux is taking over the world. Meet a chauvinist, an 18-years girl who dares the principal. In a world filled with four mean and wild girls who care less whether their attitude will hurt anyone. Lily, a high-school senior with her sports kiddies' arm, floats and socks that she wears for no reason. She is summoned to the principal's office due to her pornographic class drawings. And if you think she minds, she doesn't. She explains the world doesn't recognize feminine ladies who want to use art to express themselves. Then she tells her principal (Colman Domingo) the number of naked selfies you take to get one right. He is left with no other choice but to let her go with a stern warning, insinuating she is a genius beyond her years. Lily is not wrong; it's the toxic social media era that sets high standards for people. And in a bid to catch up with others, Lily is doing what she can.
Goyen has brought to light what happens when the dark secrets are exposed. Just as the film continues, Lily soon lands in trouble after her sexting messages with an anonymous but shady guy (Daddy) are hacked. It becomes such an ordeal for the Salem Village, where all the texts and personal details are shared online. The girls find themselves in trouble where they fight for their lives against an armed mob. That's how the world is today, and Goyen is giving a life lesson in such a compelling way.
Flashforward TV Series (2009–2010)
In Flashforward TV Series, the FBI is set to investigate a mysterious blackout that has occurred. It has affected each person. For approximately 2 minutes and 17 seconds, every person on earth blacks out. At the same time! The individuals later awaken with a short insight into their future. Throughout the blackout, every person gets a glimpse of how their future will be in the coming six months. The cause of the mystery is unknown, and that's what the FBI is supposed to dig out and get hold of what happened. It's a global blackout and whether the future foreseen is simply flashes or actual events is not yet known. Maybe it highlights what's to come with no assurance as to whether or not it could happen again. The show has attracted millions of viewers in 100 countries broadcasted, especially in the US.
The Dark Knight Rises (2012)
Eight years after the reign of Batman, a cat woman will later help him save Gotham city from a brutal terrorist. Bane, the guerrilla terrorist, is determined to destroy the city. Despite Batman's tarnished reputation after the events of The Dark Knight (2008), he feels pressured to assist the police force. His failure occurred when he took the rap for Dent's crimes The Dark Knight (2008). Bane plans to take over the city and reveal the identity of Harvey Dent. And the police are struggling to stop Bane's plans for the city. There is hope that Selina Kyle, an elusive jewel thief, can stop Bane. The challenge is to understand whose side is she support, Banes' or Batman's? That can only be Goyer's doing to keep you yearning for more. Goyer is not yet done with his moves, and he doesn't shy away. He is known for even turning his way out of TV shows and movies if he feels it's worth it. For example, Goyer killed a feature in the film adaptation of Neil Gaiman's Sandman. Warner Bros had contracted him to develop the film. The adaptation failed to respect Neil's original work. So, they killed it. Be ready to stagger and be bawled like a baby at the end of every movie.