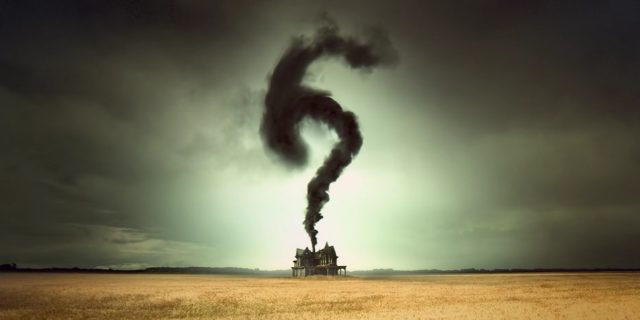 American Horror Story puts out so many possible clues during its seasonal episodes that it is difficult to know what is a true teaser and what is just playing with our minds. The series' creators and producers, Ryan Murphy and Brad Falchuk, are known to keep information on new seasons secret. After all, American Horror Story is meant to shock. Fans of the show, however, are always trying to figure out the clues and connections between the seasons. Season 6 left fans wondering what is up for Season 7. The series has been renewed, but Season 7 will not begin until sometime in the Fall of 2017 leaving fans to speculate all they want in the meantime.
American Horror Story serves up complex plots with intricate connections. The series is meant to scare as much as it is to interest its audience. Each season takes place in a different time period and location. The first season, Murder House, takes place in Los Angeles, California in 2011. It follows the lives of a family living in a house haunted by its dead former residents. The second season, Asylum, takes place at Briarcliff, an Asylum in Massachusetts in 1964 following the staff and criminally insane patients. The third season, Coven, follows a group of witches and their enemies in New Orleans, Louisiana in 2013. Freak Show follows the lives of "Circus Freaks" in 1952 Jupiter, Florida. The fifth season, Hotel, takes place in a supernatural hotel in 2015. This past season, Roanoke, features a paranormal documentary within the show about a couple who experienced horrific experiences in an isolated farmhouse they lived in Roanoke, Virginia in 2016.
American Horror Story airs on FX and features 3 actors in all of the seasons. Other actors appear in several seasons. Fans have posted many theories throughout American Horror Story's run. The one theory that is certainly true is that the seasons are all connected in some way. Watching American Horror Story is like trying to solve a puzzle with plenty of surprise twists.
Here are 5 American Horror Story fan stories that we can believe.
The seasons are interconnected
It is not far fetched for fans to try to connect the seasons of American Horror Story. The previous seasons have proven to intertwine. There also appear to be cryptic clues throughout a season leading to the next season. Some fans conjecture that Seasons 6 through 10 will in some way rehash Seasons 1 through 5.
American Horror Story has consistently shown connections within seasons and between seasons. Fans of the series have found many clues to the next season that have proven true. Whatever Season 7 has in store for fans of the program, it will certainly connect with prior seasons and maybe answer some vexing questions.
Season 7 will involve water
In the last scene of Season 6, the camera focuses on a small model ship crashing to the floor. Could this indicate that Season 7 will involve water and/or a ship? Following the end of Season 6, an FX social media account aired a cryptic video. The video show waves on the ocean. The words "the monsters are gone" appear followed by "sweet dreams".
One fan theory circulating speculates that next season will involve the sea monster, "Cthulhu". The theory refers to H.P. Lovecraft's fiction stories about Cthulhu, a sea monster that sleeps and dreams in an under- water city. While asleep, Cthulhu has the ability to communicate with humans and drive them insane. While we cannot be sure if Cthulhu plays a part in Season 7, it is very possible the season will involve water. A sea monster messing with human minds is plausible for a television series like American Horror Story.
Season 7 will continue the story of Roanoke
American Horror Story: Roanoke was cut short with only 10 episodes. It left fans feeling like there were many unanswered questions. The season began with a documentary titled "My Roanoke Nightmare" that airs on television and follows the horror a couple experienced living in an isolated farmhouse. Even the actors depicting the "true" people from the documentary became involved in the mysteries of the haunted home and woods in Roanoke, Virginia. The area is based on that of an actual colony of European settlers from England that settled on Roanoke Island during the 16th century. When a ship returned with supplies, the colony had mysteriously vanished. The "Lost Colony" is a theme of Season 7.
The latest fan theory is that Season 7 will revisit Roanoke to solve the unanswered questions. It has been hinted that the storyline would continue as a narrative, unlike the documentary theme of Season 6. This theory makes sense. Season 6 brought in television interviewer Lana Winters who was featured in Season2 . Her story intertwined with the story of Matt, Shelby and Lee in Roanoke.
Season 7 will re-visit Asylum
The character of Lana Winters is prominent in Season 2's Asylum and integral in the ending of Season 6's Roanoke. Fans are theorizing that next season will have ties to Asylum. One theory is that Season 7 will take place in a setting similar to Asylum but with different characters and a different storyline.
The Lana Winters connection with Seasons 6 and 7 is interesting. Season 7 is likely to re-connect with at least 1 of the past seasons. Why not Asylum? Asylum also involved alien abduction which several fans believe will be involved in Season 7.
Season 7 will involve aliens and battlefields
Fans are theorizing that Season 7 will involve aliens. The alien theme was present in Season 2's Asylum when Kit was abducted by aliens. Asylum took place in the 1950's when conspiracy theories about the military's mysterious "Area 51" in the southwestern United States involved aliens. Again, the return of Lana Winters in Season 6 is interesting because it refers back to that time period. Another theory is that the characters from Season 4's Freak Show could be used for experiments in Area 51.
Some fans noticed some possible clues throughout Season 6 involving the military and battlefields. In one scene, Lee, Matt, Shelby and Flora watch television in a hotel in a reenactment scene for the documentary. There is a brief shot of the American flag on the moon. The Confederate flag is in a prominent place in the Polk barn in Roanoke. Dylan, an actor in the reenactment scenes of the documentary mentioned time in Afghanistan. There could likely be some connection with the military, patriotism and battle in Area 51.