We're getting pretty close to the premiere of American Horror Story's sixth season, and, for what seems like the longest we've gone without any real reveals, we still have no idea what the plot of the season will be.
Yesterday, we finally got the smallest inkling of a plot when three short teasers were released on social media. The teasers are as vague as ever (something the series is known for), but one in particular has some major implications.
Of the three teasers, one shows us a peek of a bassinet underneath the number "six." Suddenly, a demonic-looking hand reaches you to grab, implying that a baby or child will play a role in the story (something that had been previously stated by series creator Ryan Murphy). We also know from interviews with Murphy that the connections between the seasons will become more and more obvious as the series goes on.
So, where are any loose ends regarding children that could help connect this season with what came before?
Murder House, the show's very first season.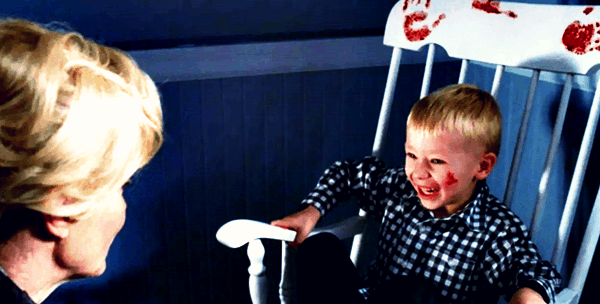 If you'll think back, the plot of the series' first outing kicked into gear once it was revealed that Vivian Harmon (Connie Britton) was pregnant with the child of the deceased Tate (Evan Peters). The medium Billie Dean Howard, played by Sarah Paulson (who, remember, showed up in the finale of Hotel), believed this child to be the Antichrist, and the season ended with the child, Michael, having just killed his nanny before being found by his grandmother, Constance (Jessica Lange). While it was initially believed that these seasons would be strictly anthological and unconnected, we know now that the interconnectedness is more important than we realized.
Could this child be the child implied to be at the heart of season 6? The three teasers also imply a "666" motif, so could we be looking at a story of the little Antichrist child?
Right now, we just can't be sure. No matter what, though, all will be revealed when American Horror Story returns for its sixth season on September 14.
What do you think about this theory? What are your expectations for the season? Let us know your thoughts in the comments down below!
[Photo Credit: FX]