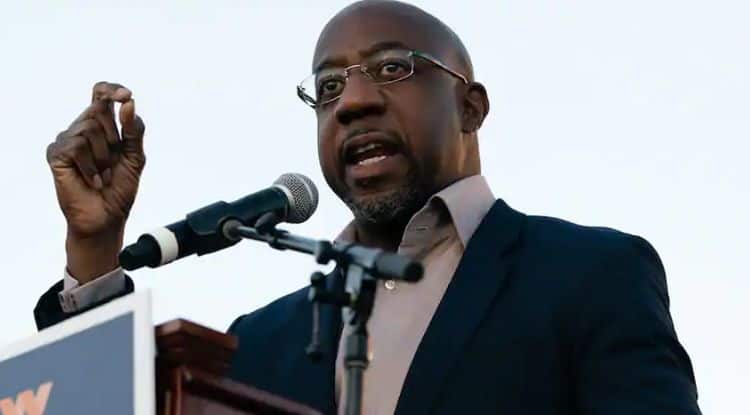 If anyone has lived a life worth turning into a movie, it's Raphael Wornock. Born in Savannah and raised in low income housing, Raphael has been defying the odds for his entire life. He attended Morehouse College in Atlanta. After earning his bachelor's degree, he went on to graduate school, eventually earned his PhD, and became a minister. Now, he's looking to embark on a new journey in the political field. As a candidate in the Georgia Senate race, Raphael is hoping to bring change to the state. His story has become so widely known that people in other part of the countries have started rooting for him. No matter how the election turns out, Raphael's story has what it takes to make it to Hollywood. Keep reading to see our pick for the five actors who should play Raphael Warnock in a movie.
1. Michael B. Jordan
Over the last few years of his career, Michael B. Jordan has shown the world that he is unstoppable. No matter what kind of film he's in, he always puts on an amazing show. His portrayal of attorney Bryan Stevenson in the 2019 film Just Mercy showed that he has what it takes to carry a biopic and re-tell a sensitive story. There's no doubt that Michael has what it takes to bring Raphael's story to life on the big screen. The fact that he also has some experience as a producer means that he maybe able to lend some insight behind the scenes as well.
2. Anthony Mackie
Anthony Mackie is an undeniably talented actor. From playing Papa Doc in 8 Mile to Falcon in the Marvel Comic Universe, he has shown tremendous growth over the years and he brings something special to every role he plays. He brings a certain level of seriousness to his work that could really be a great match for playing Raphael Warnock. On top of that, Mackie's southern upbringing gives him a relatable perspective on what it may have been like for Raphael growing up in the south. It's somewhat surprising that Anthony hasn't won any major awards yet, but a role like this could be his opportunity to content for an Academy Award.
3. Aldris Hodge
Aldris Hodge has been in the industry for the last 25 years, but it wasn't until recently that he started getting wide spread attention. At this point his career, most of his popular roles have been on the small screen, but he does have a good amount of film experience. Some of the movies he's been in include A Good Day to Die Hard, Straight Outta Compton, and Jack Reacher: Never Go Back. Although he's already well on his way to establishing himself as a rising star, playing someone like Raphael Warnock would solidify to the world just how talented Aldris really is. Aldris is another actor who has southern roots which could definitely come in handy when getting into character.
4. Kofi Siriboe
Kofi Siriboi has fewer acting credits than anyone else on this list, but that doesn't mean he's the lease qualified for the role. Instead, it means he has the most to prove which could potentially make him the best person for the job. Kofi is best-known for his role as Ralph Angel Bordelon in the popular own series Queen Sugar. At this point in his career, he hasn't had any signifiant film roles but playing Raphael Warnock would change that instantly. Plus, I'm sure his fans would love to se him get the opportunity to start in a big movie. Kofi's quiet confidence would bring something unique to Raphael's story and it would be a great test for his acting abilities.
5. Donald Glover
Donald Glover might seem like a random pick for this list, but hear me out. Most of his roles have been on the comedic side and he's also spent a good portion of his career in the entertainment industry rapping under the name Childish Gambino. He also spent some time DJing and producing under the state name MC D. Glover isn't someone who most people would consider a serious actor, but if there's one thing we know about Donald it's that he can do anything he puts his mind to. Playing someone like Raphael Warnock would let people see just how talented Donald really is. It would also be his first time portraying a real life character. Additionally, he has a bachelor's degree in dramatic writing from New York University which means he could probably contribute to the script as well.
Tell us what's wrong with this post? How could we improve it? :)
Let us improve this post!