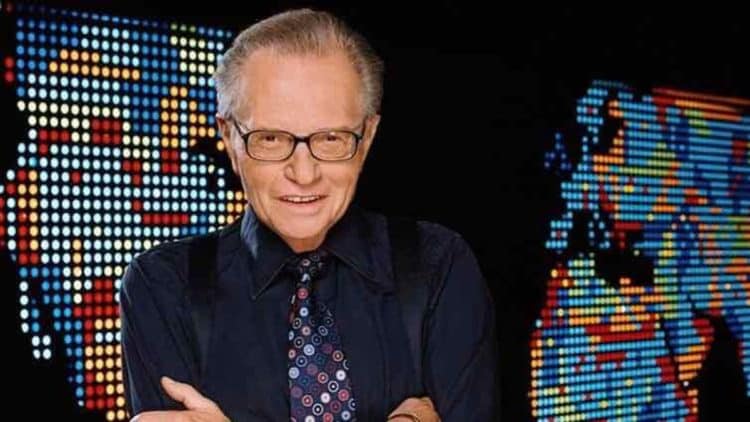 There's probably no other interviewer more famous (or infamous) than Larry King. King, who died earlier this in January at the age of 87, defined TV and radio interviews, influencing hundreds of younger behind-the-desk personalities and creating a name for himself as one of the most esteemed TV personalities in history. Having started his career in the '50s, King worked his way up, eventually snagging interviews with high-profile celebrities such as Vladimir Putin, Hillary Clinton, and George W. Bush. According to the BBC, Larry King has conducted at least 50,000 interviews throughout his illustrious career. Discussing the legacy of Larry King, CNN founder Ted Turner said: "If anyone asked me what are my greatest career achievements in life, one is the creation of CNN, and the other is hiring Larry King. Like so many who worked with and knew Larry, he was a consummate professional, an amazing mentor to many and a good friend to all. The world has lost a true legend." If movie execs decided to celebrate Larry King's life and work through a biopic, here are a few casting suggestions to help them determine the best actor to play Larry King on screen.
Gary Oldman
If a potential Larry King biopic will be focusing on the legendary interviewer's later life, Gary Oldman would be the perfect actor to portray him. Oldman is a veteran of biopics, having played challenging real-life characters on screen. His take on portraying real people have often paid off, however. The actor won an Academy Award for Best Actor for his portrayal of British Prime Minister Winston Churchill in The Darkest Hour. Oldman has also portrayed screenwriter Herman Manciewicz on Mank and lawyer Jurgen Mossack on Laundromat. With these under his repertoire, we can be sure that Larry King's legacy is in good hands if ever Gary Oldman portrays him on screen.
Dave Franco
Another actor who should portray Larry King in a hypothetical biopic is Dave Franco. The young actor has successfully separated his image from his controversial sibling, James Franco, and carved a space for himself in Hollywood as one of its most bankable stars. Franco would be perfect casting in a potential Larry King biopic. For one, King and Franco are around the same height. Franco has also had an extensive list of projects that have managed to showcase his acting prowess, including a couple of biopics that prove his ability to portray real-life people in front of the camera. Franco played the legendary actor Montgomery Clift in Zeroville. He also portrayed actor Greg Sestero in The Disaster Artist, a biopic that features the making of the widely panned movie The Room.
Christopher Mintz-Plasse
While Christopher Mintz-Plasse hasn't yet been given a lot of opportunities to play characters in biopics, he'd still be a good choice to portray Larry king on screen. It helps that Mintz-Plasse wears glasses, and looks very good in it, creating an automatic resemblance between him and Larry King. They're also the same height, which should help Christopher Mintz-Plasse adjust very comfortably into the role. Mintz-Plasse has mostly appeared in comedy shows, which would benefit him, as Larry King was also known for his humor and comedic timing. The actor has appeared in movies like Promising Young Woman, Get A Job, the Neighbors movies, and Pitch Perfect.
Elijah Wood
Elijah Wood should be able to nail playing Larry King in front of the camera, given his extensive filmography. Without even mentioning the Lord of the Rings movies, which inarguably are his most popular projects, Wood has appeared in various popular projects, including No Man of God, Come to Daddy, I Don't Feel At Home In This World Anymore, and Open Windows. He hasn't had a lot of opportunities to headline biopics, but Wood should be able to portray Larry King on screen despite this. The few biopics he worked in include playing Canadian poet John Malcolm Brinnin in Set Fire To The Stars and novelist Jonathan Safran Foer in Everything is Illuminated. On embodying new roles, Elijah Wood had this to say, according to The Talks. "I think my process is more or less the same with every film, but it shifts and changes depending on what is required. It's hard to articulate, because it's not something I ever really lay out structurally. I guess it's just reading the script a lot, getting a strong sense of who the character is, and finding that character in different ways. And it's not always the same! I think a sense of preparedness is pretty paramount. I always want to come prepared with dialogue locked so that's not something I have to worry about on the day." He added, "I take everything as seriously as the next thing. I don't differentiate or have a level of commitment based on the kind of project that it is. I believe that there's an equal measure in one role versus another role. I don't know that I could ever say I did one thing more, that I brought one character to life more than another character because the level of commitment is the same."
Leonardo DiCaprio
To truly honor the everlasting legacy of Larry King, a true-blue Hollywood superstar should be able to play him. Of all the A-listers who could potentially portray him, Leonardy DiCaprio is perhaps the most appropriate one. DiCaprio is a master portrayer of real-life personalities, so portraying Larry King should be a breeze for this Oscar-winning actor. DiCaprio portrayed frontiersman Hugh Glass in The Revenant, for which he won an Academy Award for Best Actor. He also played Jordan Belfort in The Wolf of Wall Street, FBI director J. Edgar Hoover in J. Edgar, businessman Howard Hughes in The Aviator, and ex-convict Frank Abagnale Jr. in Catch Me If You Can. Leonardo DiCaprio is notoriously choosy with the roles he takes on. According to USA Today, "DiCaprio has a reputation as one of the most selective actors in the industry, and he doesn't so much audition for a role as grill a director like a recruit at a job interview." But given Larry King's legacy, playing the interviewer on screen should be a tempting prospect for the Oscar-winning actor if ever the opportunity lands on his agent's desk.
Tell us what's wrong with this post? How could we improve it? :)
Let us improve this post!