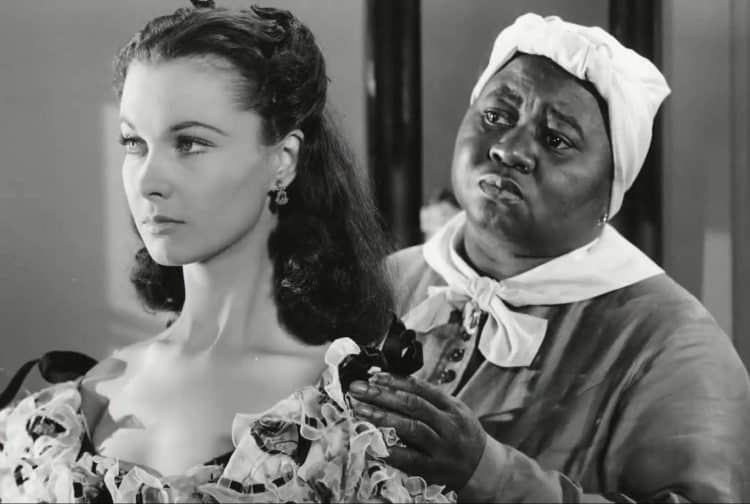 Legendary actress Hattie McDaniel was the first African American actor to win an Oscar, snagging the award in 1939 for her role as Mammy in Gone With The Wind. At a time when racism and prejudice were strife in Hollywood, with blackface still a common form of entertainment, Hattie McDaniel was able to carve a place for herself as one of the most esteemed actresses of her time. Entertainment Weekly wrote about Hattie McDaniel's legacy in 2018, taking note of her historic firsts but also reminding us of the controversies that involved the characters she was cast to play. "Black audiences criticized her for perpetuating negative stereotypes, and white filmmakers cast her only in domestic-servant roles. "I'd rather play a maid than be a maid," she famously told her critics, but by the time of her death in 1952, she was a polarizing figure, forever associated with Mammy, Scarlett O'Hara's feisty house slave." Regardless of people's thoughts on McDaniel's ultimate legacy, her life deserves to be memorialized in a proper biopic. In fact, one is already in the works, an indie film that is set to star Raven Goodwin, according to Deadline. If movie execs decided to develop a major studio biopic about the actress, here are a few casting suggestions to portray the legendary Academy-Award-winning actress.
Viola Davis
Who better to portray an Academy-Award-winning actress than an Academy-Award-winning actress. Viola Davis is a multi-award-winning entertainer, having earned herself an Oscar, an Emmy, and two Tony awards. For her role in Fences, Viola Davis won a Best Supporting Actress trophy from the Oscars. She's also appeared in critically acclaimed shows, such as How To Get Away With Murder, for which she won an Emmy for Best Actress, making history as the first African American woman to have won the award. Davis has appeared in a biopic before, which should make playing McDaniel on screen a breeze. She portrayed blues singer Ma Rainey in Ma Rainey's Black Bottom, a role that earned her critical acclaim. She is set to play First Lady Michelle Obama in an upcoming miniseries titled The First Lady.
Octavia Spencer
Another actress that would portray Hattie McDaniel well on screen is Octavia Spencer. Spencer, herself an Academy Award winner, received the award for her role in The Help, costarring Jessica Chastain and Viola Davis. She's also been nominated for the same award in the 2017 movie Hidden Figures and 2018's The Shape of Water. Spencer has played roles in blockbusters films, including Zootopia and Instant Family. She is set to appear in an upcoming Christmas-themed musical titled Spirited, starring alongside Ryan Reynolds and Will Ferrell. Spencer has some experience playing real-life characters in front of the camera. For Hidden Figures, in which she was nominated for an Oscar, she portrayed mathematician Dorothy Vaughan. She also played self-made millionaire Madam C.J. Walker in the limited series Self Made, receiving an Emmy nomination for the role. In an interview with Variety, Octavia Spencer talked about being offered "maid" roles after her appearance in The Help, an experience that is similar to McDaniel's after she won the Oscars in Gone With The Wind. "The archetypes that they really want to see — a woman of zaftig stature and a cute, little Cheshire cat grin — is the nurturer or the sassy whatever," Spencer said.
Queen Latifah
There's a significant height difference between Queen Latifah and Hattie McDaniel, but Queen Latifah's acting chops simply can't be ignored, making her a leading contender for a potential Hattie McDaniel biopic. Her acting range has been on display for years, appearing in movies from both ends of the spectrum, from silly comedies like Scary Movie 3 to more thought-provoking ones like Stranger Than Fiction. Queen Latifah has some biopic experience too, portraying blues singer Bessie Smith in Bessie. Fun fact: Queen Latifah did play Hattie McDaniel, although in a miniseries, Hollywood. It would be nice to actually see her play the actress on the big screen in a movie backed by a major studio. On playing the actress, Latifah had the following to say, according to Variety. "Her story is an important story and unfortunately her story is not a unique story. There are so many actors of color that were treated so disrespectfully in her time and faced so many challenges," Latifah explained. "Hattie McDaniel was gifted, but she was relegated to certain types of roles and when you have to decide between putting food on a table or playing a certain role, it is very difficult to make those decisions. And that's the position a lot of Black actors were put in at that time … and that's still been happening. It's been happening up through the '80s and '90s for sure —you know, play a rapist in this role, play the mugger in this role, play the murderer in this role, or nothing at all."
Jennifer Hudson
Jennifer Hudson's portrayal of singer Aretha Franklin in the movie Respect inspired us to include her on this list. The actress' take on the legendary singer was widely praised, even though the movie itself wasn't as well received. This speaks volumes about Hudson's ability to portray real-life people on screen, which should put Hattie McDaniel's legacy in good hands if ever her life story lands on Hudson's agent's desk. Prior to playing Franklin on-screen, Hudson has also played Winnie Mandela, wife of Nelson Mandela, in the movie Winnie Mandela, co-starring Terrence Howard and Wendy Crewson.
Gabrielle Union
Last on the list is Gabrielle Union. The actress first gained recognition for her appearances in TV shows, including 7th Heaven. She then made a name for herself playing supporting roles in teen movies She's All That and 10 Things I Hate About You. She gained international recognition for her starring role in Bring It On. Union has since moved on to more serious roles, having appeared in Birth of a Nation and Sleepless. She is set to appear in a remake of Cheaper By The Dozen, alongside Zach Braff. While Union doesn't have a lot of experience playing roles in biopics, taking on Hattie McDaniel on screen in a hypothetical biopic might be what brings her career to a whole new level.
Tell us what's wrong with this post? How could we improve it? :)
Let us improve this post!