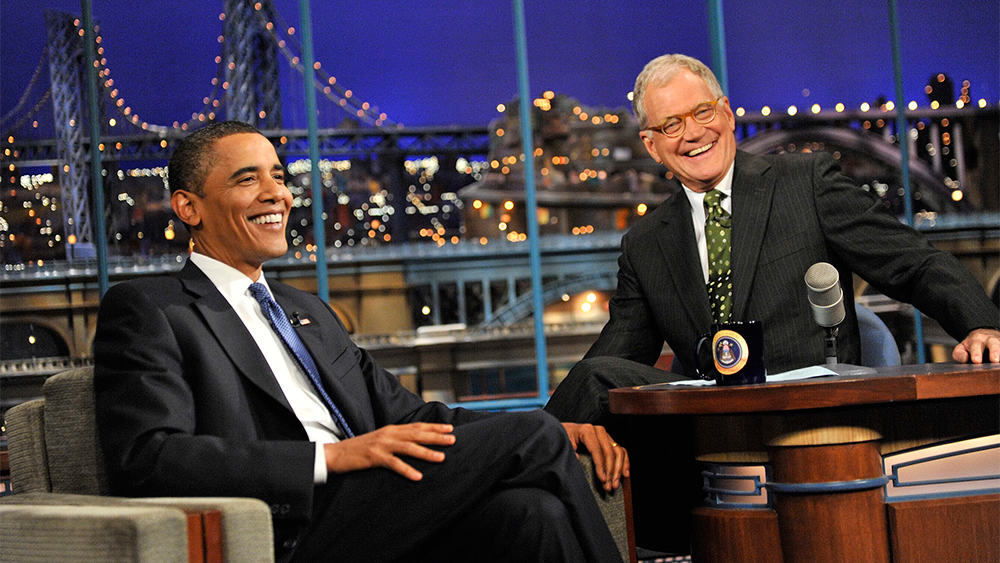 David Letterman is a man that needs no further introduction. The retired host of The Late Show influenced the life and career of hundreds of prominent comedians and entertainers out there, including his Late Night successor Conan O'Brien, his The Late Show successor Stephen Colbert, Jimmy Fallon, Jimmy Kimmel, John Oliver, and Seth Meyers. Talking about Letterman's legacy, Conan O'Brien wrote a touching tribute to his mentor, according to Entertainment Weekly. "Like every comedian of my era, I watched Dave's subversive, untamed morning show with delightful incredulity. The show didn't last long, but quickly morphed into his late night program—and then Dave was really off to the races. Throughout college, everyone my age watched Dave and discussed his show the next day. The late night talk show had existed at that point for 30 years in more or less one form, but Dave and his writers completely re-invented the format. Dave's show was that rare phenomenon: a big, fat show business hit that seemingly despised show business. Dave didn't belong, and he had no interest in belonging. He amused himself, skewered clueless celebrity guests, and did strange, ironic comedic bits that no one had seen on television before. Everything about that show was surreal and off-kilter." Letterman is a comedy legend, and his legacy requires a proper biopic. If movie execs decided to make a biopic about him tomorrow, here are a few casting choices to help them choose which actor to portray David Letterman in front of the camera.
Adrien Brody
Who better portray Letterman's legacy in a fictional biopic than an Oscar-winning actor. Adrien Brody knows how to act, having appeared in films like The Thin Red Line, The Village, King Kong, Predators, and Midnight in Paris. Brody is best known for winning an Academy Award for Best Actor for his role as Polish pianist Wladyslaw Szpilman in The Pianist, having snagged the award at 29, making him the youngest actor to win in the category. Most recently, he played a role in the Wes Anderson film The French Dispatch. Brody is no stranger to biopics, so playing Letterman on screen shouldn't be a problem. Aside from his haunting portrayal of Szpilman in The Pianist, Brody played historian Theodore White in Back to 1942, painter Salvador Dali in Midnight in Paris, and music producer Leonard Chess in Cadillac Records. He has another upcoming biopic, this time about the life of Marilyn Monroe, where Brody portrays a loose version of Monroe's husband and playwright Arthur Asher Miller (referred to as The Playwright in the film).
Andrew Garfield
Another actor who can play David Letterman in front of the camera is Andrew Garfield. The Spider-Man actor has, in recent years, been able to really feature his acting chops, playing various real-life figures on screen. Almost half of everything listed under his filmography can be categorized as a biopic, so as far as playing true personalities is concerned, Garfield has been tried-and-tested. Garfield played Facebook co-founder Eduardo Saverin in The Social Network, army medic Desmond Doss in Hacksaw Ridge, and advocate Robin Cavendish in Breathe. He also played Jim Bakker in the biopic The Eyes of Tammy Faye, portraying the disgraced televangelist at different stages of his life. This means Garfield can successfully play Letterman as well at different periods of his career, from when he is just starting out in comedy to when he was already at the helm of Late Show. Most recently, Garfield portrayed the playwright Jonathan Larson in the biopic Tick, Tick… Boom, a role that drew critical acclaim.
Eddie Redmayne
Eddie Redmayne can play Letterman in a potential biopic. The actor is a biopic veteran, having portrayed real-life figures including filmmaker Colin Clark in My Weekend with Marilyn and Stephen Hawking in The Theory of Everything. He also most notably portrayed transgender woman Lili Elbe in the biopic The Danish Girl. He has since expressed his regret over taking the role, however, saying to The Sunday Times that "I made that film with the best intentions, but I think it was a mistake." Redmayne is currently busy with the Fantastic Beasts franchise, but he is set to appear in yet another biopic titled The Good Nurse, portraying the prolific serial killer Charles Cullen.
Ben Affleck
If we need another Academy Award winner to portray the legendary funnyman, with enough star power to boot, then Ben Affleck is a good choice. Affleck is a Hollywood superstar, and his portfolio speaks to his ability to portray pretty much any kind of role. Affleck has played roles in critically acclaimed films like Shakespeare in Love and Good Will Hunting. While Affleck hasn't done a lot of biopics, the few he has been involved in have been well-received. Ben played actor George Reeves in the biopic Hollywoodland. He also played CIA agent Toby Mendez in Argo, a movie that won multiple Oscar and Golden Globe awards. Of Ben Affleck's performance in the film, Kate Muir of The Times wrote: "Ben Affleck has delivered a knuckle-muncher of a thriller and a satire on Hollywood, both in one unlikely package."
Sacha Baron Cohen
Casual movie watchers only know Sacha Baron Cohen from the Borat films, but Baron has appeared in serious films, such as Les Miserables and The Trial of the Chicago 7. In playing Letterman in a biopic, however, Baron Cohen may have to tap into both his comedy and drama acting chops. Movies that Sacha Baron Cohen has appeared in include Madagascar, Grimsby, Alice Through the Looking Glass, and Luca. He has also played the lead role in the French-produced miniseries The Spy. Baron Cohen's ability to push the envelope has been noted by the New York Times, who wrote: "If you thought the comedian could never do anything wilder than getting Dick Cheney to sign a waterboarding kit for him in his 2018 Showtime series, "Who Is America?" you would be wrong. There's a scene with a top Trump adviser in "Borat Subsequent Movie Film: Delivery of Prodigious Bribe to American Regime for Make Benefit Once Glorious Nation of Kazakhstan" (premiering on Oct. 23 on Amazon) that will leave you gobsmacked."