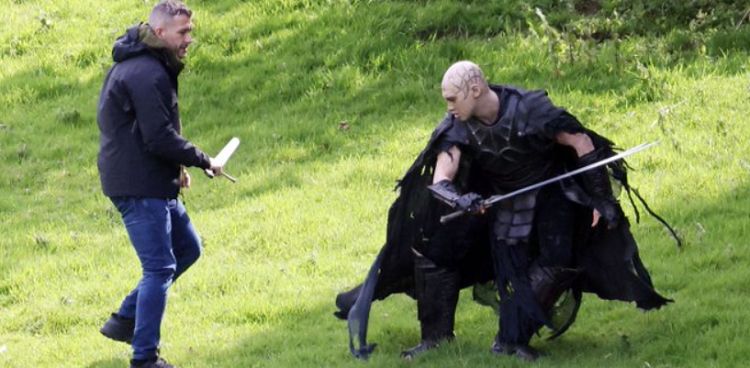 Dungeons & Dragons nerds (myself included) are likely getting excited about this development, but might be a bit pensive as well since back in 2000 another D&D movie made its way to the theaters and the groaning didn't stop for quite some time since in some ways it did resemble what a campaign looks like when playing with a bunch of friends just want to get into it and not worry about the rules. But apart from that, the movie was a mess and the sequels that came after…just don't ask. The set photos below are just a bare glimpse of the site that's being used, Alnwick Castle, and at least one possible action scene that was being rehearsed, but as of now the only real exciting thing to hear is that the movie will be based on the Forgotten Realms world, so it's off to Faerun, and some folks are thinking that the castle being used will be turned into the famed Neverwinter that has been featured in several stories, not the least of which is one that many Forgotten Realms fans might start getting excited about if there's any hint at all that such a thing could happen. If a certain dark elf ranger by the name of Drizzt Do'Urden were to somehow make his way into this movie, it's a very, VERY long shot but people might want to hope, then the internet might explode with fans of Forgotten Realms and R.A. Salvatore, Drizzt's creator, shouting a giant 'thank you' to the heavens.
#dnd movie filming at Alnwick Castle in the UK.

Looks like one of these guys missed his appointment with the wardrobe dept…#dnd5e #dungeonsanddragons #ttrpg #ttrpgsolidarity #ttrpgfamily pic.twitter.com/G7zYKuSpGI

— eighteen wisdom (@eighteenwisdom) June 7, 2021
It's a long story, but Drizzt and his companions, Wulfgar, Regis, Catti-Brie, Bruenor, and his magical feline friend Guenhyvar, would be a welcome sight on the big screen, especially since Hollywood has a very effective way of showcasing elves. That might not happen at all, but if this D&D movie actually manages to follow anything to do with Forgotten Realms in a convincing manner then it might be able to build interest in such a thing since many upon many fans would likely support such a project without fail given that Drizzt is still a huge fan favorite. But anything of Forgotten Realms at this point would be insanely welcome so long it's pulling from the source material and is presenting it in a manner that will appease the fans. D&D fans can be every bit as toxic as any other fanbase, so it's definitely advised that those working on this movie pay attention and get their facts right as much as possible simply because to do otherwise is to invite one of the biggest flops in the D&D world. Considering how the last few movies have gone, the bar is set pretty low, which means that hopefully this movie will sail over it by a country mile and give the fans something that they've been waiting literal decades for.
We wonder what symbols are on these banners. Amaunator's holy symbol? pic.twitter.com/IM3r4FawRL

— Forgotten Realms Wiki (@FRWiki) June 7, 2021
The thing about this movie however is that it really needs to be able to cater to those that don't know the whole history of Forgotten Realms. The books have been around for a while, and by extension so have many of the key characters that have inhabited the pages for a while. Drizzt is just one name that's been around, as there are individuals from every class and race that have made a mark in the Forgotten Realms, and thinking who might be used and who might be left out is a dizzying experience. Characters such as Ed Greenwood's Elminster, a powerful mage, might be left out simply to avoid having him confused or being called a 'knock-off Gandalf'. But it kind of all depends on where the story is going to be set, how many different locations there will be, what the main thrust of the story is, and what the ultimate goal is with this movie, meaning will it seek to outline the Forgotten Realms as they've been seen in the books, or is it bound to be a standalone feature? There are so many questions right now that it's hard to figure out what will really be happening, and the set photos don't give a lot away at this time.
Think I've accidentally stumbled upon a film set at Alnwick castle (those pillars were plastic and plywood) pic.twitter.com/m28k7ntebD

— Paul Eatock (@peatock) June 3, 2021
But one can bet that D&D fans will be getting hyped at this time to see another attempt at bringing the world of Forgotten Realms to the big screen, and with the advances in technology, it does feel as though things might go a little different this time. There are also a few big-name actors that have signed on for the experience, so it's kind of like that we'll see a fighter, or a paladin, or someone of the nobility taking the lead once again, especially since Chris Pine is going to be a part of it. There's a chance he could be something else, but a heroic character feels more likely.