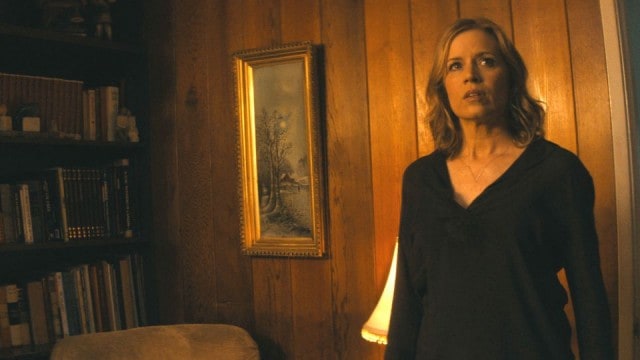 After waiting two weeks because of the Labor Day holiday, Fear the Walking Dead is back, and better than the last episode, for sure. "The Dog," which made me apprehensive purely due to the title, was action-packed, with plenty of creepy, suspenseful scenes.
The episode opens with Travis and his family inside of the barbershop, hiding from the looters of Los Angeles. Chris looks out of the blinds to see the classic zombie appearance we've come to know on The Walking Dead. Chris calls for his dad, but Travis dismisses his son's concerns.
The two families discuss what to do next, posing the important question of "What happens when what's out there gets in here?" Travis is determined to wait it out until the chaos comes to them. Looters break into the shops across the street and next door, causing a fire to break out, and they all must exit the barbershop. The group of them makes a dash out of the shop and into the crowded LA street. Chris sees one police officer, now a zombie, eating another police officer, and again, Travis shields him from the truth.
They make way to Travis' truck through construction zones, and boy there isn't a worse place to be during the apocalypse! Griselda falls behind and a scaffold falls on her. They all rush back to get her and luckily Travis only has to carry her a little before they reach his truck. Griselda's foot is badly injured, and Eliza helps her as much as she can, but insists that Travis stop at a hospital. They pull away and I think there is no way they drive out of LA without a problem, but they do.
They find the nearest hospital, and the chaos that follows was by far my favorite scene of the entire episode. Travis and his family drive by slowly and we see the aftermath of the breakout hitting a hospital. Police in riot gear surround the building, shooting at zombies in hospital gowns. This scene forces us to recall that Rick's first experience with the apocalypse was in a hospital, and because of the nature of the virus, it is likely that the morgues in hospitals were the first to go. Finally, as the truck pulls away from the hospital, Los Angeles goes dark.
Meanwhile, Maddie, Alicia, and Nick settle down to play a game of Monopoly. They lock up the house and proceed like any normal family game night. Maddie is determined to wait for Travis, but the kids wonder how long is too long. They make slight references to what most likely happened with their absent father and his departure.
The blackout reaches their house, and Maddie finds a reason to send Alicia to another room so she and Nick can discuss the situation. Nick, the only person who has any sense in this show, tells Maddie that she has to tell Alicia the truth. Alicia hears another loud noise outside, and it draws all of them to the back sliding door (Fear did this scene perfectly; I definitely jumped because of how slow and eerie it was). They open the door and a bloody German Shepard stumbles in. In this moment, I was so very angry, firstly because now I know Fear is about to engage in the apocalypse-dog trope, and secondly. because they leave the sliding door open.
Maddie sees Mr. Dawson, now zombified, out front, and Nick insists on finding a gun next door for protection. Why in the world would this be a good idea? Yes, let's leave the already safe house to fight the dangerous thing! Sure! No. Let's not. They go anyway, through some very elaborate and unnecessarily noisy maze to get to their neighbor's house.
Nick searches for a gun and finds it, and the dog starts barking in their house again. Alicia looks over and tells her mom that someone is in their house, because, you guessed it, they didn't close the sliding door! Mr. Dawson inevitably kills the dog, just as Travis pulls up in the driveway.
This episode was full of a lot of moments where shouting "No, don't go in there!" would have been very useful. Maybe Maddie doesn't shout; who knows? She cannot have a problem with noise attracting the zombies, because they go through that maze yet again, as Nick discovers that they forgot the rest of the shells in the neighbor's home. Alicia runs back to grab them. Alicia is also the only one who doesn't understand the situation fully, and this is why you tell everyone what you know.
Travis enters the house and finds Mr. Dawson eating the dog, and of course, we have to have a shot of the dead dog (spare no feelings, Fear, by all means). Travis tries to talk some sense into the dead man, and then tries to kill him with his bare hands. Maddie rushes in with the gun, but Travis does nothing useful with the weapon. Daniel grabs the gun out of his hands and shoots Mr. Dawson twice in the head.
Alicia grabs the shells off of the table just as she sees a pair of feet in the hallway, and at least she has the sense to run…but through the noisy maze. Susan, the zombie, follows her and grabs Alicia through the wire. After hearing her screams, Chris runs out back and helps Alicia over the fence. She pushes him off, mad that he helped her.
Alicia looks at Susan reaching through the fence in terror and asks what is wrong with her. Travis tells her that Susan is sick, and Nick walks up to say, "She's not sick, she's dead." Thank you, Nick! Honestly, I am tired of everyone in this show coming face-to-face with these monsters and thinking that these people are anything but dead. How can Maddie confront several of these people and not realize that all they want to do is eat her?
Maddie and Eliza have a small moment where Maddie pointedly requests that Eliza put her down if she ever ends up like Susan. These lines are in the same vein as The Walking Dead, but they don't match up with how Maddie acts around zombies. She seems like a strong woman, but she's still trying to talk to dead people. The writers need to pick one personality for Maddie, because if she keeps switching, I'm not going to believe she understands the threat at all.
Travis wastes his time burying Mr. Dawson in the morning, and he even puts out the trash on the curb. Daniel gives Chris some pointers about the gun, and Travis disapproves. Right, after everything that happened the night before, he doesn't think it would be useful to know how to defend himself. Maddie goes over to Susan, reaching through the fence, determined to kill her so her husband Patrick never finds her in that state. Unfortunately, Travis talks her out of it, which is a fatal flaw. This moment really shows that Maddie is coming to terms with the events of the last two days, but if Travis constantly pulls her out of these thoughts, they could all die as a result.
Daniel, Griselda's husband, is the smartest out of the bunch. He argues with his daughter, Ofelia, on leaving with Travis' family in the morning. He tells them that they do not need to spend time with strangers, and that family is most important in these situations. I like Daniel because of how sensible he is, but he does not know that without proper treatment Griselda will die (as Eliza put it) and that could be his downfall. Ofelia begs her father to go with them because they are good people, and he says, "Good people are the first ones to die," which is the best line on Fear the Walking Dead so far. Sign me up for Team Daniel: he knows what to do when the world ends.
Travis, Eliza, and Maddie all exit the neighborhood with their respective children, and the neighborhood seems untouched. Overhead, a military helicopter echoes loudly. Maddie exits the neighborhood just in time to see Patrick pull up to his house, not knowing his dead wife waits in the yard. Maddie, in her inability to shout "Hey Patrick, wait, don't go inside," drives up to the house and runs inside. She rushes up to Patrick just in time to watch him embrace his dearly departed Susan and then…an army squad rolls in and shoots her in the head. Patrick seems unbitten. The army officers drag everyone away, including Maddie.
Later, Maddie asks the army officers questions to which they don't have solid answers. However, the troops patrol the neighborhood and a plane flies overhead, giving a sense that all is well and the chaos is finished. Daniel watches from a window as a uniformed man sprays a black X on the house across the street and tells his family that "It's already too late."
A lot happened in this episode, and it was, for the most part, an impressive hour of Fear the Walking Dead. I was pretty nervous during the majority of it, when I wasn't I was screaming at the characters for their general nonsense. Fear is fun for the beginnings of the apocalypse, which we never seen in its parent series, but I wonder how far this show can make the zombie apocalypse feel new before it becomes The Walking Dead: West Coast. I thought maybe Fear the Walking would focus more on a Patient Zero plot, but it looks to lead more toward the same feeling as The Walking Dead. With only three episodes left in its freshman season, Fear must make a decision about where it is going, and hopefully, it will be in a new direction we are all still willing to watch.
[Photo via AMC]