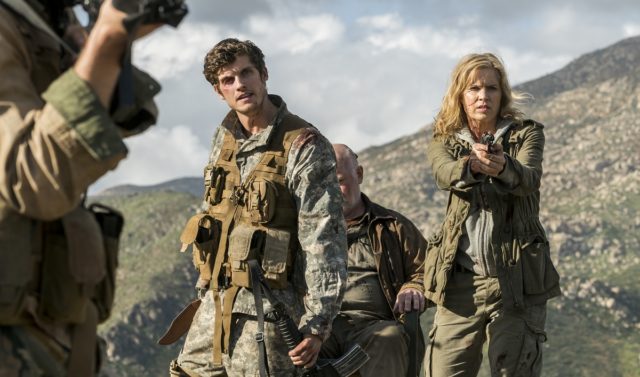 Coming on the heels of the popular show The Walking Dead, this spinoff, of a sort, shows how the infection begins to tear at the fabric of society as one incident becomes another, then another, and then another as an epidemic suddenly begins to take shape and the survivors are left without any clue as to what is happening. Much as it happens in the original show those that survive the sudden plague, or infection, or whatever it is, must find ways to band together and create a level of stability that is constantly shifting in this new and frightening landscape. But there are things about the show and the cast that you might not realize yet.
Let's see how many things you already know about.
10. This isn't the average origin story.
The show obviously starts out as just another drama in which Madison and her blended family are experiencing their usual, run of the mill problems that take up much of their day. To them the world will continue with each passing day even if it gets worse.
9. Fear The Walking Dead is happening at the same time as The Walking Dead, not before.
A lot of people figure that since people know nothing about the infection or virus in this show that the effect hasn't yet hit the US. The truth however is that while it spreads quickly Fear is happening at the same time as it's parent show.
8. The show begins in Los Angeles and stays primarily to the west.
Considering that The Walking Dead stays within a single region for much of the time it's not too hard to figure out why Fear doesn't move much in the first couple of seasons. It's hard to travel when there's a shortage of operational vehicles and a legion of walkers around every corner.
7. Much like its parent show Fear The Walking Dead focuses on characters, not the virus origin.
To be fair The Walking Dead has talked about the cause more often, while Fear hasn't really gone into it as much. In the most recent season it's started to talk about the cause, but without the depth that Walking has done.
6. Strong women tend to dominate the show.
In Fear Madison is the toughest and most dominant woman even if she's outmatched. In Walking Carol, Andrea, Michonne, and Maggie are some of the strongest-willed women around. Both shows are known for their strong women.
5. Family drama is a big part of the show.
In some episodes you tend to see more of the family dynamic and what this apocalypse is doing to their relationship than anything else.
4. The walkers look a lot fresher.
That's another reason why people think that Fear is a prelude to Walking, the walkers are so much fresher and aren't degraded at all. Since Walking has been around longer than Fear though it's only a matter of time until Fear's walkers begin to show signs of wear.
3. There's no general knowledge of walkers.
Not a single person knows anything about zombies in this universe, so the idea of shooting them in the head or stabbing them is not common knowledge.
2. There aren't any Walking Dead crossovers scheduled yet.
It might be something that fans would want but as of yet it's been decided to keep the shows separate so that they can continue to develop their own story lines.
1. Survival will become the most popular thing in the world.
Everything else is essentially on hold, be it sports, entertainment, or even having an active social life. Surviving is the only thing that people on the show tend to think about.
So, how many facts did you know?