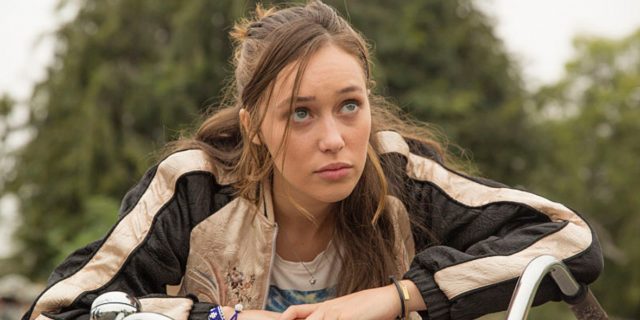 Becoming a successful actor or musician is incredibly difficult. Both of these industries are highly competitive and require exceptional talent in order to rise to the top. While the vast majority of individuals hope to have the talent to achieve success in one of these fields, a select few are talented enough to choose between them. One such individual is the immensely gifted Alycia Debnam-Carey.
Debnam-Carey is best known for her work in notable productions like The 100 and Fear the Walking Dead. She has also appeared in a number of feature films, including Into the Storm. While she has begun to achieve widespread recognition, few people know how talented she is. Here are five of the most interesting facts about Alycia Debnam-Carey.
5. Her mother is also in the entertainment industry
While Debnam-Carey is obviously a natural performer, her affinity with the entertainment industry may have been inherited from her mother. Her mother is Leone Carey, a distinguished television writer. She has written notable works like Do or Die and Home and Away. Given the stresses that one can face as an actor, it is likely a great advantage for Debnam-Carey to have a mother who understands her line of work.
4. She started acting as a child
Debnam-Carey has appeared in some of television's largest productions over the past several years. Her success did not happen overnight, however. She has been developing her skills as an actor for many years, starting at only 8 years of age. When she was only 10, she appeared in her first film, Martha's New Coat.
3. She is highly intelligent
It is a common misconception that successful actors are no more than pretty faces. While looks are certainly important, finding the type of success that Debnam-Carey has enjoyed takes considerable intelligence as well.
Debnam-Carey emerged as a considerable intellect while in high school, achieving top marks in all of her courses. She was even awarded the Premier's Award for scoring 90s in six of her courses.
2. She was featured in a documentary
Although Debnam-Carey has acted since her youth, she debuted in Hollywood years later. This debut was chronicled on the documentary Next Stop Hollywood, a series in which she was the youngest featured actor. It showed Debnam-Carey as she auditioned and landed her first roles in Hollywood, including her role on The Devil's Hand. The documentary series offered an intimate look into how this talented actor first began seeing success in Hollywood.
1. She could have been a musician
Although best known for her incredible acting abilities, Debnam-Carey also has considerable musical ability. In fact, music was once her focus. She graduated from the prestigious Newtown High School of the Performing Arts in 2011, specializing in percussion. She also participated in a unique event in which a group of 40 musicians came together and composed a piece in only two weeks. She nearly decided to attend the Sydney Conservatorium of Music. Luckily for her fans, she decided to pursue acting instead.
Final Thoughts
Alycia Debnam-Carey has emerged as one of the most promising young actors in Hollywood today. However, she actually possesses a wide array of talents and abilities. Although it may be hard to imagine her doing anything other than acting, there was a time when she considered becoming a musician instead. With upcoming film projects and an upcoming fourth season of Fear the Walking Dead, fans have much more to look forward to from Alycia Debnam-Carey.
Save