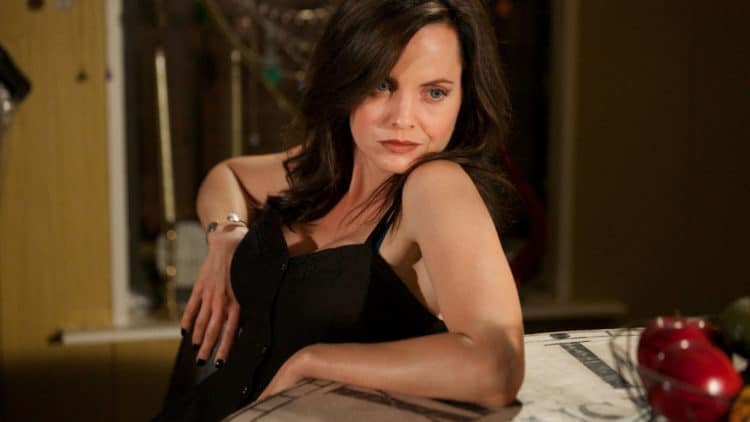 In most instances, people marry someone of a similar age. There are many reasons why people choose to marry someone who is in the same age bracket. For example, there is an increased chance they will mix in social circles, which will give them the opportunity to meet, and it is more likely that they are at a similar stage in life to their chosen partner. Also, people of similar ages often have shared interests. However, these factors are not true of all couples and a large age gap works well for many people. This is true of both members of the public and celebrities as there are many examples of famous people who have chosen to marry someone who is significantly older than them. Here are 20 famous women who married much older men.
20. Bo Derek
Bo Derek is the stage name of Mary Cathleen Collins who was born in Long Beach, California, on November 20, 1956. Her best-known performance was in the 1979 film '10′, although she has also had notable roles in films including 'Tarzan, the Ape Man', 'Tommy Boy', and 'Bolero'. Bo Derek has been married only once and this was to John Derek. She met him in 1973 when she was just 16 and he was 30 years her senior. The statutory rape laws in California meant that their relationship was illegal, and Derek faced prosecution. To avoid this, they moved to Germany as the laws were different in this country. They returned to the United States just after Bo turned 18 and then married in 1976. They remained married until John Derek died in 1998. John Derek had already been married three times prior to meeting the young actress. His first wife was Pati Behrs, to whom he was married from 1948 to 1955. He then married Ursula Andress in 1957 but they were divorced in 1966. His third wife was Linda Evans and he was married to her between 1968 and 1974. Following John Derek's death, Bo Derek has been in a relationship with John Corbett since 2002.
19. Elizabeth Taylor
In her heyday, Elizabeth Taylor was widely regarded as one of the most beautiful actresses in the world. This British actress was born in London on February 27, 1932. Her long career began in 1942 as a child actress and she went on to star in many hit movies. Just a few of the films in which she starred included 'National Velvet', 'Father of the Bride', 'A Place in the Sun', and 'Cleopatra'. Her personal life was just as interesting as her professional life as she had seven husbands, one of which she married twice. Her first husband was Conrad Hilton Jr. She was just 18 when she married him in 1950. She soon realized she had made a mistake and they were granted a divorce just eight months after the wedding. Her second husband was Michael Wilding who was 20 years her senior. They married in 1952 and had two sons together; Michael Howard and Christopher Edward. Sadly, they drifted apart and were divorced in 1957. She next married Mike Todd in 1957 and their daughter, Elizabeth, was born in the same year. Todd died in a plane crash the following year. Husband number four was Eddie Fisher who was already married to Debbie Reynolds when they met. He divorced Reynolds and married Taylor in 1959. Taylor had an affair with Richard Burton and this ended her marriage to Fisher and she married Burton in 1964. Burton adopted her daughter and they adopted another daughter, Maria, together. Burton and Taylor were the biggest celebrity couple of their time and appeared in 11 films alongside each other. Although they divorced in 1974, they decided it was a mistake and remarried in 1975. Sadly, their second marriage ended in divorce a year later. Taylor was then married to John from 1976 to 1982. Her final marriage was to Larry Fortensky and this lasted from 1988 to 1996. Sadly, Elizabeth Taylor died of congestive heart failure on March 23, 2011.
18. Lauren Bacall
Lauren Bacall is an actress and singer who was born in Manhattan on September 16, 1924. She is best-known for her roles in 'Key Largo', 'The Big Sleep', 'Dark Passage', 'The Mirror Has Two Faces', 'Applause', 'Woman of the Year', and 'How to Marry a Millionaire'. She was originally a model but made her debut into film when she appeared alongside Humphrey Bogart on 'To Have or Have Not' in 1944. By the following year, Bacall and Bogart had married. This took fans by surprise as he was 25 years her senior. The couple remained married until Bogart died in 1957 from esophageal cancer. During their marriage, they had a son, Stephen, and a daughter, Leslie. In 1961, Lauren Bacall married actor Jason Robards in Mexico. They had one son, Sam, together. She divorced him in 1969 due to his alcoholism.
17. Jacqueline Kennedy Onassis
Jacqueline 'Jackie' Kennedy Onassis was the wife of John F. Kennedy, the 35th President of the United States. He was 12 years her senior and they were introduced in 1952 at a dinner party. They had many shared interests and began a relationship. They were married on September 12, 1953, when she was 24 and he was 36. The couple had four children together, although two died in infancy. During her time as the First Lady, she concentrated on restoring the White House and focused her efforts on arts and culture. She is considered one of the most popular First Ladies of all-time because of her style and grace and she became a fashion icon of the era. John F. Kennedy was assassinated on November 21, 1963. Following her husband's death, she and her two children withdrew from public view. She was later remarried to Aristotle Onassis, one of the world's richest men from 1968 until their divorce in 1968. She began a long-term relationship with Maurice Templeman in 1980 which later until her death in 1984, but the couple never married. SHe died in her sleep on May 19, 1994, after a battle with anaplastic large-cell lymphoma which was diagnosed after she fell from a horse and the doctor identified swollen lymph nodes.
16. Sophia Loren
Even now, Sophia Loren is often included in lists of the most beautiful actresses of all-time. This Italian actress and singer was born in Rome on September 20, 1934. Some of the films in which she has appeared include 'The Pride and Passion', 'Houseboat', 'It Started in Naples', 'Grumpier Old Men', and 'Nine'. Sophia Loren has been married twice but to the same. When they first met, Loren was just 15 and Ponti was 37. They first married in 1957 but it turned out that Ponti was still married to his first wife, Giuliana. This was because Italy did not recognize divorce at that time. As a result of this predicament, Loren and Ponti had their marriage annulled. However, she was later able to marry him officially in 1966 when she was 32 and he was 54. The couple had two children together who were born in 1968 and 1973. Loren and Ponti remained married until his death in 2007 from pulmonary complications.
15. Annette Bening
Annette Bening was born in Kansas on May 29, 1958. She began her career as an actress on the stage as part of the Colorado Shakespeare Festival Company in 1980. She has since become a famous film actress and has starred in films including 'American Beauty', 'Being Julia', 'The Grifters', and 'The Kids Are Alright. In her personal life, she was first married to J. Steven White from 1984 to 1991. She then married actor Warren Beatty in 1992. At the time of their marriage, Bening was 34 and Beatty was 55. Surprisingly for his age, Beatty had not been married before and had earned himself the reputation of a ladies' man. Bening and Beatty went on to have four children together who were born between 1992 and 2000. The couple are still married to this day. Warren Beatty his known for his roles in films including 'Shampoo', 'Dick Tracy', 'Bugsy', 'Rules Don't Apply', and Bonnie and Clyde.
14. Stephanie Seymour
Stephanie Seymour is a famous model and actress who was born in San Diego, California, on July 23, 1968. Seymour is best-known for her roles in 'Law & Order: Criminal Intent' and the 2000 film 'Pollock'. She has appeared on the covers of many magazines during her modelling career. She first showed signs of an interest in older men when she dated John Casablancas when she was just 16. Casablancas, the head of Elite Model Management, was 42 at that time. She was briefly married to Peter Brant between 1989 and 1990 and the couple had one son together. In 1995, she met billionaire Peter Brant, who was a married father of five at that time. They eventually married in July 1995 when he was 48 and she was 27. They went on to have three children together.
13. Paulina Porizkova
Paulina Porizkova is a Swedish-born actress, model, and author. She is currently best-known for her role as a judge on 'America's Next Top Model'. She has modelled for both the 'Models 1′ agency, which is based in London, and for the Barcelona based agency 'Models'. In 1984, she met Ric Ocasek who was the lead singer for the rock band 'The Cars. At that time, he was already married and she was just 19-years-old. Porizkova was appearing in the band's music video for their single 'Drive'.She finally married Ocasek, who is 16 years her senior, on August 23, 1989. The couple's first son, Jonathan Raven, was born in 1993. Their second son, Oliver Orion, followed in 1998. Ocasek has used his wife as the subject of many of his songs, including 'Friends of P' and 'Paulina'.
12. Julie Chen
Julie Chen is best-known as the host of 'Big Brother', although she is also known as a producer and news anchor for CBS. This television personality was born in New York on January 6, 1970. She is married to the CEO of CBS, Les Moonves. They married in a private ceremony on December 23, 2004, when he was 54 and she was 34. At the time when they met, Moonves was still married to Nancy Wiesenfeld. Chen and Moonves have a son, Charlie, who was born in 2009. The couple remain happily married.
11. Phoebe Cates
Phoebe Cates was born in New York on July 16, 1963. She is a former model, a singer, and a film actress. Cates is best-known for her roles in 'Gremlins' and 'Fast Times at Ridgemont High'. She met Kevin Kline in 1983 when they were auditioning for 'The Big Chill'. They married in 1989 when he was 42 and she was just 26. This was a first marriage for both parties and they have remained married. The couple has two children together.
10. Shania Twain
Shania Twain is a renowned singer and songwriter who is one of the best-selling country music singers of all-time. Twain began a relationship with Robert 'Mutt' Lange after meeting him at Nashville's Fun Fair in 1993. They were married on December 28, 1993. Not only was he her husband, he was also her manager and record producer. The couple had a son, Eja, who was born in 2001. Following an alleged affair with Twain's best friend, the singer filed for divorce from her husband in 2008 and this was finalized in 2010. She later married the ex-husband of her former best-friend with whom her first husband had the affair. Her second marriage took place on January 1, 2011.
9. Mena Suvari
Meena Suvari was born in Rhode Island on February 13, 1979. She is an actress, a model, and a fashion designer. The films for which she is best-known include 'American Beauty', 'American Pie', 'The Rage: Carrie 2′, and 'Trauma'. She is also known for her work as a model for Lancome. She met Richard Brinkerman, who is 17 years older than her, and they were married on March 4, 2000. After five years of marriage, Suvari filed for divorce citing irreconcilable differences. Two years later, she started to date Simone Sestito, an Italian Canadian concert promoter. They were married in 2010 but the marriage was short-lived and they were divorced by 2012.
8. Rachel Hunter
As one of the most celebrated models of the 1990s, Rachel Hunter had men falling at her feet. However, it was ageing rocker Rod Stewart who caught her eye. This New Zealand model was born in Auckland on September 8, 1969, and began her career in 1986. She met Rod Stewart, who is 24 years older than her, in a nightclub in Los Angeles in 1990. They married three months later while Hunter was still only 21. The couple had two children together before divorcing in 1999. Although she has been engaged since the divorce, Rachel Hunter has never remarried. On the other hand, Stewart is considered a prolific womanizer and has eight children with five women. He was married to Alana Hamilton, with whom he has two children, prior to marrying Stewart, and remarried after Stewart to model Penny Lancaster. He also has two sons with Lancaster.
7. Milla Jovovich
Milla Jovovich is an actress and model who was born in the USSR on December 17, 1975. She is best-known for the 'Resident Evil' series of films. Other films in which she has starred include 'The Fifth Element', 'The Divine Comedy', and 'Return to the Blue Lagoon'. Jovovich was first married to Shawn Andrews but this marriage was annulled. She then went on to marry Luc Besson in 1997. At the time of their wedding, she was just 22 and he was 38. Besson had been married twice before he married Jovovich. Their marriage ended in divorce after two years. Since then, Besson has been married to Virginie Silla since 2004 and Jovovich has also remarried. She has been married to writer and director Paul W.S. Anderson since 2009. They met while working on 'Resident Evil' together and now have two daughters.
6. Celine Dion
Celine Dion is one of the most successful singers in the world having sold millions of records to her fans. She could have taken her pick of men, but she chose to marry her manager Rene Angelil. She had first met him when she was just 12 and he was 38. However, their relationship did not begin until 1987 and they were engaged in 1991. They were married at Notre-Dame Basilica in Montreal, Quebec, on December 17, 1994, and later renewed their vows in Las Vegas in 2000. The couples first son, Rene-Charles, was born in 2001. They then had fraternal twins, Eddy and Nelson, in 2010. Their marriage only ended when Rene Angelil died of complications relating to cancer on January 14, 2016.
5. Amy Yasbeck
Amy Yasbeck is married to John Ritter. They met while starring together in 'Problem Child'. When they married on September 18, 1999, she was just 31 and he was 57. Strangely, Ritter had made a joke when they were reading through for 'Problem Child' that Yasbeck was far too young to play his wife, so it seems strange that the couple then went on to marry. They had a daughter, Stella, who was born in the same year as their marriage. The couple remained together and had a happy marriage until Ritter died in 2003. Although Yasbeck had not married before meeting Ritter, he had previously been married. He had been married to actress Nancy Morgan from 1977 to 1994. Other than her role in 'Problem Child', Amy Yasbeck is also known for films including 'Pretty Woman', 'House II', 'The Mask', and 'Robin Hood'.
4. Nancy Kerrigan
Nancy Kerrigan is an actress and former figure skating champion who was born in Massachusetts on October 13, 1969. In 2004, Kerrigan retired form figure skating at the age of 24. The following year, she married her manager, Jerry Solomon, in a wedding that took place on September 9, 1995. He is fifteen years her senior. They went on to have three children together, although Kerrigan has also suffered six miscarriages during their marriage. Although this is Kerrigan's only marriage, Solomon has been married twice previously and has a child from his second marriage.
3. Catherine Zeta Jones
One of the most famous celebrity age gaps is that of Catherine Zeta Jones and her husband Michael Douglas. Zeta Jones was born in Swansea, Wales, on September 25, 1969. She is known for her roles in films including 'The Mask of Zorro', 'Chicago', 'Entrapment', 'Intolerable Cruelty', and 'Traffic'. Micahel Douglas is an even bigger star in Hollywood as his long career in the film industry has seen him performing in films including 'Basic Instinct', 'War of Roses', 'Fatal Attraction', 'The Game', 'Traffic', and 'Wonder Boys'. The couple met at the Deauvelle Film Festival in August 1998. There is exactly 25 years between the couple as they share the same birthday in September. They got engaged on New Year's Eve of the following year and then married on November 18, 2000. Their son, Dylan Michael, was born in 2000 and their daughter, Carys Zeta, followed in 2003.Their marriage has seen ups and downs and they lived separately for some time in 2013 before reconciling in 2014. Michael Douglas was previously married to Diandra Luker with whom he has a son, Cameron.
2. Katie Holmes
Katie Holmes is an actress who is best-known for her roles in 'Dawson's Creek', 'Batman Begins', 'Woman in Gold', 'Logan Lucky', and 'Touched with Fire'. She was born on December 18, 1978, in Toledo, Ohio. She met actor Tom Cruise in 2005 when she was 26 and he was 42. The couple were engaged just seven weeks after meeting and their daughter, Suri, was born in April 2006. The couple married on November 18, 2006. Unfortunately, the marriage did not last and they divorced in 2012. This has been Holme's only marriage, but Cruise has been married two times previously. He was married to Mimi Rogers from 1987 to 1990 and then to Nicole Kidman between 1990 and 2011. With Kidman, he has an adopted son and daughter. Cruise has starred in many films, including 'Top Gun', 'Cocktail', 'Eyes Wide Open', 'Minority Report', and 'Knight and Day'.
1. Calista Flockhart
Calista Flockhart is an actress who was born on November 11, 1964. When she was 38, she began dating Harrison Ford who was 60 at the time. The couple finally married on June 15, 2010. The couple adopted a son together, Liam. While this is Flockhart's only marriage, Ford has been married on two previous occasions. He was married to Mary Maquardt between 1964 and 1979 and then to Melissa Matheson from 1983 to 2004. He has two sons from his first marriage and a son and a daughter form his second marriage. Calista Flockhart is best-known for playing the title character in the 'Ally McBeal' television series. Harrison Ford has starred in many films and is particularly well-known for playing the title character in the Indiana Jones series of films and for playing Hans Solo in the Star Wars series of films.