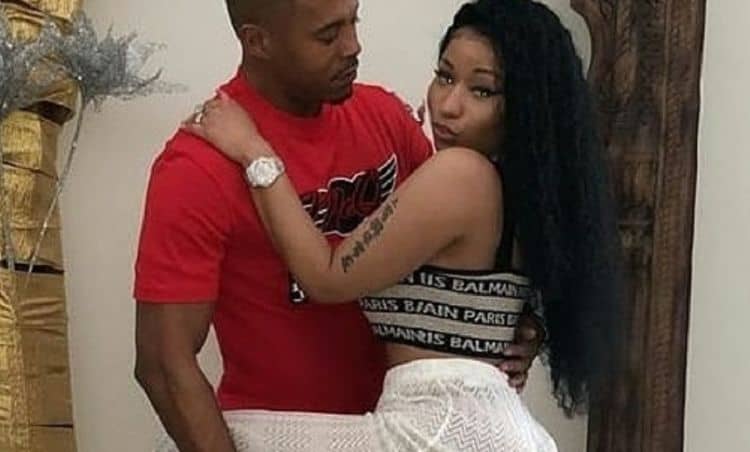 We all know Nicki Minaj. She loves to keep it real, causes some controversy, and entertain us with her colorful lyrics. There is no doubt in anyone's mind that she is one of the most talented people in the music industry, but did you know she's got a lot going on in her personal life right now? For one, she's married. Second, she's having a baby. If you weren't up to speed on the fact that she's been living her life while we've all been focused on world events, it's time we get to know her husband, Kenneth Petty.
1. He's Older Than His Wife
He's not that much older, but there is a five-year age difference. He's 42 to her 37. There is not a problem with the age difference for them, but that's because they are both well above being kids or even teens.
2. He's Her Soulmate
She said in a recent radio interview that she's feeling like he is her soulmate. There's something about him that has her feeling as if she can talk to him and the weight of the world is suddenly lifted from her shoulders. She feels like he's a man who has it going for him as far as making her feel good, loved, and secure. His wife says she's never felt anything like that with another man in her life, and that might make him feel quite good.
3. They've Been Married Since 2019
They announced that they were seeing one another back in 2018. They filed for a marriage license in the middle of 2019, but they let it expire. They actually had to go get a second one, and that's when they tied the knot. They made their marriage official in October 2019.
4. He's Got a Fun Nickname
Kenneth Petty does not go by his real name. He's not Kenny, or Ken, or anything like that. He goes by the name Zoo, but we don't know why. We do now that this is what Minaj calls him, so it must be a nickname he picked up somewhere that has some sort of meaning to it. We'd love to know what it means, if anyone can tell us.
5. He's Got a Record
Kenneth Petty is not a man who is unfamiliar with the law. He has an unfortunate record. We do know that he is a registered sex offender in both New York and California. His first conviction was in 1995 when he was convicted of rape in the first degree after holding a 16-year-old girl at knifepoint and raping her. He was also 16 at the time. His second was when he pleaded guilty to manslaughter in the first degree back in 2006. He spent several years in prison as a result.
6. He Grew Up with His Wife
Did you know that this is a couple who knew one another most of their life? She's been known to say that this is a man she was with when she was a teenager, and that he knows her for who she is and what she's all about. He's loved her before the fame. Before she got the body she has now. He knows her more than most people.
7. He's Got His Wife's Name on His Neck
We all know her real name is not Nikki, but it is Onika. He's got her birth name tattooed on his neck, and trust us when we tell you he went all out. He did not go for a small tattoo of her name. He went large and in charge to show his love of his wife. We suppose no one can miss this tattoo, and that's the point.
8. He Understands His Wife
Someone close to both parties said that his big deal in life right now is that he's just there for his wife. He doesn't want to be famous. He doesn't want to be on social media. He doesn't want the stuff that goes along with her fame, but he just wants to be there for his wife. They have a deep connection. She calls their marriage very calming.
9. They are Having a Baby
The couple announced that they are having a baby in July 2020 on her Instagram page, and they both seem like this is the best thing for them. They are both over the moon. She's always wanted to be a mother, and now she is getting her dream. She and her little family will be happier than ever.
10. His Wife Wanted Babies Right Away
Nicki Minaj did not exactly make it a secret that she was ready to start a family of her own. She was basically one day into their relationship in 2018 when she was ready to settle down, retire from music, and raise a family. She's getting her wish.
Tell us what's wrong with this post? How could we improve it? :)
Let us improve this post!