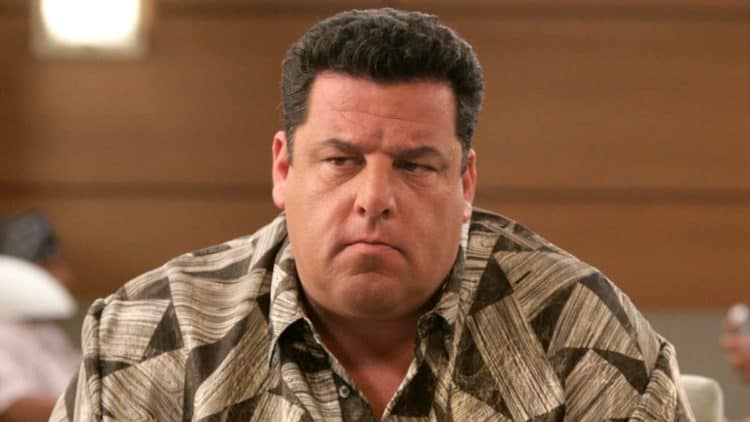 The cameras may have stopped rolling on The Sopranos in 2007, but thanks to streaming services, the mold-breaking TV show is still attracting legions of new fans every year. As one of its breakout stars, Steven Schirripa owes a huge debt of thanks to the show. Prior to being cast as the lovable Bobby Baccalieri, Schirripa was getting nowhere fast with his dream of becoming an actor. Fast forward to 2020, and he's one of the most sought-after, bankable TV stars around. Currently starring as Detective Anthony Abetermarco in Blue Bloods, the actor is living proof that a late start to the game is no barrier to success.
1. He wore a fat suit for The Sopranos
When he first read the script for The Sopranos, Schirripa couldn't help but feel a little offended. After all, being offered a character described as 'a calzone with legs' isn't exactly going to do wonders for your self-esteem. Fortunately, his feelings were soon soothed when the director explained he'd need to wear a fat suit. "I got the role, and I got the script, and then I saw all these references, that Tony (Soprano, lead character) would say to me, 'You're fat this, you're fat that, you're a calzone with legs.' And I'm going, 'I'm not that much fatter than him.' "Then they called me a couple of days before the shoot, and they said, 'Come on down, you've got to get fitted for a fat suit.' So, (for the) first two seasons I wore a fat suit." By season three, however, the star's penchant for hearty portions meant the fat suit could be dispensed with once and for all.
2. He's got beef with De Niro
Robert De Niro may be one of Hollywood's most acclaimed actors, but he gets short shrift from Schirripa. During a brutal interview with Brooklyn radio host Joe Causi in January, Schirripa unleashed a scathing attack on the veteran actor, saying "I don't think he's a good guy, I think he's a greedy b*****d. I've been in his company, not happy," In typical fashion, De Niro declined to issue a response.
3. He's published 6 books
While most of us know him best as an actor, the multi-talented Mr. Schirripa has more than one arrow to his bow. Over the last decade, he's drawn on his habit of playing "goombas' (i.e. stereotypical Italian American tough guys) to create a series of books that capitalize on his public persona. His first, A Goomba's Guide to Life, exposes the mysteries of the Goomba so that "anyone can walk, talk, and live like a guy from the neighborhood". Subsequent releases like The Goomba's Book of Love, The Goomba Diet: Large and Loving It, and Big Daddy's Rules: Raising Daughters Is Tougher Than I Look have continued on the same theme.
4. He's created a line of pasta sauces
What does a food-loving, Italian- American actor do when he wants to bring in a little extra cash? At the risk of stereotyping, he creates a line of pasta sauces, which is exactly what Schirripa did in 2014. Created under the name Uncle Steve's Italian Specialties Group, the line of sauces is vegan, organic, free of additives, made of the finest imported Italian tomatoes, and, according to their creator, "simply delicious".
5. His net worth is $6 million
With a line of pasta sauces, numerous books, and roles in some of the biggest TV hits of the last two decades under his belt, you wouldn't have thought Schirripa would be short on cash at this point. And according to Celebrity Net Worth, he most certainly isn't that. As of February 2020, the actor is worth the very respectable figure of $6 million.
6. He made his film debut on Casino
In the early 90s, Schirripa was working as the entertainment director of the Riviera Hotel and Casino. His work led to cameo appearances in comedy specials from the likes of Drew Carey and Kevin Pollack, and from these, to an uncredited appearance in Martin Scorsese's Casino. It was this appearance that ignited the fire in Schirripa's belly, and soon, he began appearing in minor roles in such films as The Runner and Joe Dirt.
7. The Sopranos was his breakthrough
In 2000, Schirripa landed the role of Tony Soprano's mobster brother-in-law Bobby Baccalieri in The Sopranos. The role proved his breakthrough, and when he left the show after five seasons, he was in hot demand. His subsequent TV appearances have included roles on the likes of Angel, Casino Cinema, Columbo, Star Trek: Enterprise, Hollywood Squares, Joey, Law & Order, Law & Order SVU, My Wife and Kids, Ed, Jeopardy!, George Lopez, Tim and Eric Awesome Show, Great Job! and The King of Queens.
8. He's still best known as Bobby Baccalieri
Over a decade since The Sopranos ended, Schirripa is still best known as Bobby Baccalieri… which is A-OK with him. "Not a day goes by where someone doesn't call me "Bobby" or "Bacala." Not one day since the show," he shared with Esquire "So, I mean, all over the world I'm Bobby Bacala. And I'm okay with that. I don't have a problem with that. The show ended in 2007 and I've been very lucky to work. If it wasn't for The Sopranos–I had no career before The Sopranos."
9. He grew up around organized crime
Had it not been for the influence of his mom, Schirripa's life could have been a lot closer to Bacala's than you'd think. Born and raised in Brooklyn, the actor grew up in a neighborhood where the mob's influence could be felt at every turn. "The mob was everywhere. They weren't bothering a kid but, you know, you minded your business," he told Extra. "There were a lot of those social clubs, bars, and restaurants that were mob-owned, very much so." Despite knowing numerous people that fell in with the mob, Schirripa managed to steer clear, something he's since attributed to his mother's guidance. "'I guess my mother made me go the way I did," he's explained. "My mother was always insisting that I go to college – she was the one that steered things in my house."
10. He's a father of two
In 1989, Schirripa married his partner, Laura Lemos. The couple remains happily married to this day and share parenting duties of their two daughters, Bria and Clara.
Tell us what's wrong with this post? How could we improve it? :)
Let us improve this post!