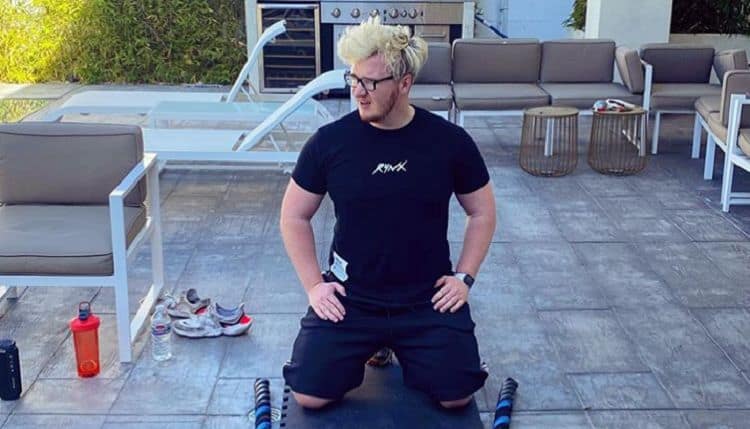 If it seems that everyone is an internet sensation these days, you're not entirely wrong in your belief. There are so many people who are more famous than even some famous people in the eyes of some, despite the fact that there are still so many people who simply do not use online platforms such as YouTube and TikTok and other outlets. Mini Ladd is one of those young men. He's famous — very much so — for his online presence despite the fact that there are people who have never heard of him at all. We have to admit that even we are not familiar with him too much, but we thought we might change that with some new information to share. You're probably at home right now doing very little other than waiting for the quarantine to lift, so let's educate ourselves.
1. Mini Ladd is Not his Real Name
We are certain that you figured that one out on your own, but you honestly never know about names these days. However, this is not a kid whose name is really Mini Ladd. He might use it socially online, but his name is Craig Thompson. We can see why he chooses to use a new name. Craig is common. Thompson is common. It's hard to stand out when your name is the same as so many other people.
2. He's Very Young
Like, really young. He was born in 1995. He was actually born on January 7, 1995. This means he's a mere 25-years-old. And, while we don't want to make it seem like he's super young, he's still really young. Though, at the same time, he's also a lot older than most of the people who currently have similar jobs as he does.
3. He Was Young When He Got Started
When he was 16, he launched his first channel online. He didn't have many followers. He didn't know what he was going to accomplish with his, but he did think that he had a concept that might work for him. He was not wrong about that, either. He had a heck of a concept considering he's nine years into his job and he's got more than 10 million followers across all his channels.
4. He's Charitable
He might be young, but he has a concept that the world only works if you do. The world only gets the help it needs when you go out and you make sure it gets that help. He's someone who might be famous and have a huge platform, but he's not using it only for himself. He uses it to raise money to help build wells for water in some of the poorest regions across the world, which is a huge thing.
5. He's Got a Stadium
Well, kind of. His local UK rugby stadium was renamed for him. It's called the Craig Thompson Stadium thanks to his philanthropic efforts. He's put a lot of work and dedication into helping the world find out that they can help one another provide fresh water, and the city in which he resides has done their own part to recognize how hard he works and how much he has done.
6. He's Not From the UK
He may have lived there and he might be British, but most people have no idea he was actually born in the United Arab Emirates. He was born in Dubai. His mother is from Ireland and his father is English, but they were in the UAE for work when their son was born. He did not live there long, though. He was there until he was approximately 10. That's when his family moved to his mother's native Northern Ireland.
7. He's Been In a Horrible Accident
It happened in 2017. He and a friend were driving when they were hit by a truck that sped through a red light and hit the car in which they were traveling. He spent four days in the hospital with a cracked spleen and other injuries. The friend he was with was placed in a coma for three weeks to help him heal because his own injuries were much more serious.
8. He's Single
He was dating a famous internet star for some time, but they ended their relationship at the beginning of 2020. While he did not say specifically why they decided to end their relationship, they did announce that they were no longer together quickly after they ended things. They were together for a while, but their relationship ended around the same time that he moved back to LA and things in his life changed.
9. He's Working on His Mental Health
Now, we don't know what is going on. Was he diagnosed with some mental health issues that he knows he needs to focus on? Was he in some sort of trouble? We don't know at all what is going on. What we do know is that this is a young man who has had some big changes in his life recently. He announced along with the fact that he was single again, that he is taking some time to work on his mental health as well as his positive future. We'd like to think he's just taking a mental break and focusing on some rest and relaxation and things that will help him in general and not that there is a specific problem in his life.
10. His Hiatus
It was nearly two months that his fans waited to see him return to the internet, but he did not. It took two solid months for him to decide to come back and create new content, and he said it was because he was focusing on improving his life. We feel that. Sometimes life just leaves you feeling uninspired and lacking creativity when you allow it to get a little out of control. He took some time off, he came back, and he's doing well with what he's accomplishing these days. It seems to have worked.