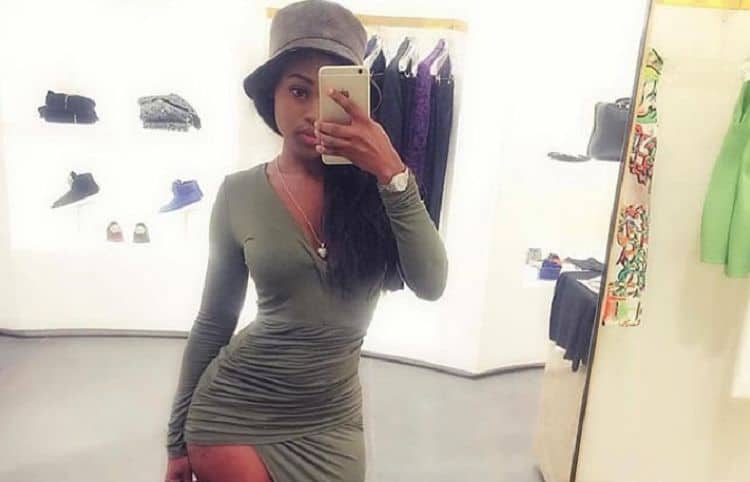 Every few seasons, a new person appears on Love and Hip Hop to shake things up. This season, it's Nikki Natural. Although she isn't an official cast member on Love and Hip Hop: Miami, she's already making her mark on the show. Nikki is currently dating legendary Miami rapper, Trick Daddy, but she doesn't just want to be known for what. She's working on a career of her own, and she's not afraid to do whatever it takes to make a name for herself. We'll have to wait and see how things pan out for her during the rest of the season, but I have a feeling she's here to stay. Ready to learn more about Nikki Natural? Here are 5 things you didn't know about Nikki Natural.
1. She's A Mother Of 3
Nikki Natural is the proud mother of three young children from two previous relationships. Her two oldest children are with C-Ride, who is also a Miami-based entertainer. Her youngest child, Milyon, is from her relationship with T Money, a business owner and the CEO of the Alliance Music Group
2. She Has A College Degree
Nikki Natural is all about bettering herself and her family. A few years ago, she decided to put her work on hold and reenroll in college. It's unclear what she studied or where she went to school, but she did complete her degree in 2018. If things don't work out for Nikki in the reality TV/entertainment world, at least she'll have something to fall back on.
3. She's A Rapper
Is it just me or does almost every cast member in the Love and Hip Hop franchise want to launch some kind of music career? Nikki Natural is no different. She is what most people would consider a 'Soundcloud rapper'. She's released a few songs on the popular streaming platform and uses social media to promote her music. Hopefully things in her music career work out better than some of her co-stars.
4. She Was The Victim Of A Home Invasion
If there's one thing no one can take away from Nikki Natural, it's the fact that she is a survivor. On her personal website, she shares that she and her children were victims of a home invasion a few a years ago. She didn't prove any additional details on the incident, but I can only imagine how terrifying it must have been.
5. Her Nickname Refers To Her Talents; Not Her Body
I know I can't be the only person who thought the 'natural' in Nikki's name was meant to prove the point that her body is all natural. However, that isn't the case at all. Natural refers to the fact that Nikki is a naturally talented artist and entertainer.
6. She Has Beef With Trina
Nikki Natural's boyfriend, Trick Daddy, is a long time friend of fellow Miami rapper, Trina. The two have collaborated several times throughout the years and were even signed to the record label. With that being said, Trina probably isn't someone you want to have a problem with if you plan to be in Trick Daddy's life. Nikki Natural doesn't seem to care though. She and Trina have had a very turbulent relationship. During an episode of Love and Hip Hop: Miami things almost came to blows when Trina felt Nikki disrespected her.
7. She Isn't Afraid To Speak Her Mind
If you couldn't tell from number 6, Nikki Natural isn't the type to bite her tongue for anyone. She has no problem saying what's on her mind and considers herself to be arrogant. Of course, this combination tends to rub people the wrong way so hopefully she can throw them hands, too.
8. She's Friends With Shay Johnson
OG reality TV fans probably remember Shay Johnson from her Flavor of Love days. Now, she's a part of the Love and Hip Hop family and has appeared on both the Miami and Atlanta series. Johnson and Nikki Natural appear to be friends in real life. Nikki even referred to the pair as the "ultimate duo" in an Instagram post.
9. Trick Daddy Isn't The First Rapper She's Dated
Dating someone in the music industry isn't new for Nikki Natural. Before Trick Daddy she dated rapper, C-Ride, as well as music executive, T Money. She also admitted to having a relationship with another rapper named Brisco who was once a member of Lil Wayne's infamous record label, Young Money.
10. Her First Name Isn't Nicole
Remember when Nicki Minaj said "nickname is Nicki, but my name ain't Nicole"? Apparently she isn't the only one. Nikki Natural's first name is actually Neisha. I'm not sure how she ended up as Nikki Natural and not Neisha Natural, but both names have a nice ring to them.