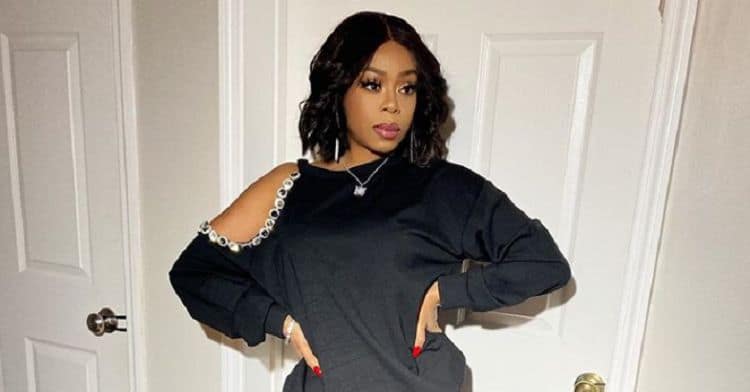 If you're an OG reality TV fan like myself, you probably have fond memories of a show called Flavor of Love. The dating show, which aired for four seasons, featured groups of female contestants competing for a chance to date hip-hop's most well-known hype man, Flavor Flav. Among those to go down in Flavor of Love history is none other than Shay Johnson. Nicknamed 'Buckeey' on the show, Shay appeared on the second season of the show and also went on to appear in the spin-off, Flavor of Love Girls: Charm School. Although Shay's initial 15 minutes of fame was relatively short lived, she popped back into the spotlight as a caster member of Love and Hip Hop. If you didn't have the pleasure of getting familiar with her back in the day, now is the perfect chance. Keep reading for 10 things you didn't know about Shay Johnson.
1. She Was In A Serious Car Accident In 2019
In the fall of 2019, Shay Johnson was involved in a serious car accident that almost took her life. Johnson had to be taken to the hospital for her injuries and both she and the other driver's car were totaled. She suffered multiple bruises, a concussion, and an arm sprain. Although the specifics on the accident weren't shared, Johnson took to social media to express her gratitude that she was able to walk away without any serious injuries.
2. She Has Two Brothers
Shay Johnson has two brothers, Joe and Emjay. Her brother Emjay has been all over the blogs lately due to his relationship with Shay's LHH co-star, Amera La Negra. Joe is a former athlete who earned a PhD and now works as a performance coach and public speaker. Despite what viewers may think, Shay is close to both of brothers and the three of them worked together on speaking engagements and other appearances.
3. She's All About Fitness
A bad breakup can either be the best or worst thing that happens to a person. In Shay Johnson's case, it was the best. After dealing with a major case of heartbreak, Shay decided to focus her attention on health and fitness. Not only did Johnson drop some weight, but she also started helping others. Her efforts eventually became Shay J Fit, a website where she shares tips on eating healthy and getting in better shape.
4. She's Been In Music Videos
Reality TV isn't Shay Johnson's only claim to fame. She actually began appearing in music videos around the same time she made her debut on Flavor of Love. In 2006, she was in the video for Bubba Sparxxx's hit song "Ms. New Booty". She also made a cameo in the video for Fabolous' 2007 song "Baby Don't Go".
5. She Dated Lil Scrappy
Remember the break up that led Shay Johnson down the path of health and wellness? Well the person she ended the relationship with was none of that than Lil Scrappy. Some people remember Scrappy from his hit singles "No Problems" and "Neva Eva" which were both released in 2004. However, younger people probably know Scrappy best from his appearance on the Love and Hip Hop franchise. Scrappy and Shay dated only dated for about a year, but their relationship was heavily followed on LHH where Shay accused Scrappy of being a liar and a cheater.
6. She Has Dealt With Fibroids
Unfortunately for Shay Johnson, she is no stranger to health problems. In 2019, she opened up about her struggle with fibroids and revealed that a grapefruit sized fibroid had been found in her uterus. The fibroid caused serious complications and resulted in Shay having to get a blood transfusion. Since learning about her fibroids, Shay has worked to spread awareness about this issue.
7. She's Originally From Atlanta
Although Shay was most recently a cast member on Love and Hip Hop: Miami she is actually from Atlanta. She was born and raised in The A and was part of the LHH Atlanta cast before deciding to move down to The Sunshine State.
8. She's An Actress
Like many other reality stars, Shay also has aspirations of being an actress. She hasn't landed any major roles yet, but she has been fortunate enough to gain some experience. Shay landed a significant role in the 2016 film, Losing Everything.
9. She's Been Featured On Magazine Covers
On top of everything else she's done, Johnson also has some modeling experience under her belt. She's graced quite a few magazine covers over the years on some big name publications such as Black Men's Magazine and King.
10. She's An Entrepreneur
Say what you want about Shay Johnson, but she is a boss. Her worth ethic and determination are two things no one can take from her. Not only did she turn her love of fitness into a business, but she also launched another business called The Healthy Hand where she sells products for stomach and thyroid pain relief.
Tell us what's wrong with this post? How could we improve it? :)
Let us improve this post!