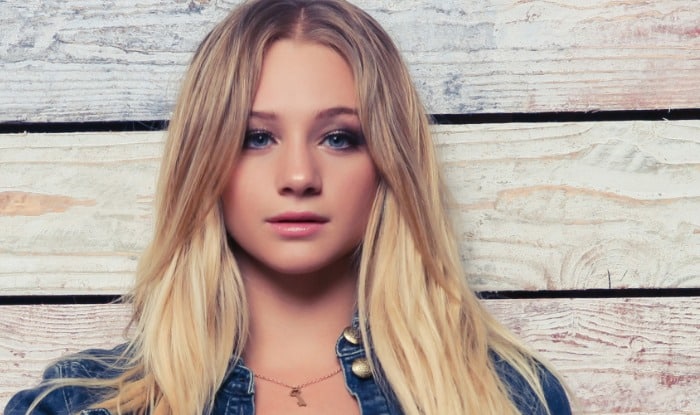 Mollee Gray will be starring in the upcoming Lifetime movie A Night to Regret. When college student Chelsea Bilson (Mollee Gray) meets up with her estranged childhood best friend, Milla (Kristin Pfeiffer), she is unprepared for the events that follow. Without Chelsea's knowledge, Milla installs a webcam and openly shares her life for all the world to see and a watcher quickly becomes obsessed with Chelsea's beauty and naiveté. He soon find Chelsea and will stop at nothing to have her to himself. The film will be part of Lifetimes "Summer Escape" line up and is set to release June 24th.
She is best known for her role as the fun, quirky, and lovable "Giggles" in Teen Beach Movie and its sequel Teen Beach 2, on The Disney Channel. According to The Huffington Post, the films have "the potential to rival the wildly successful High School Musical Trilogy." The sequel follows the characters of 'Wet Side Story' as they are transported into the real world. Brady (Ross Lynch) and Mack's (Maia Mitchell) lives collide once again with the infamous bikers and surfers.
Gray is also known for as a top 8 finalist and fan-favorite on So You Think You Can Dance Season 6. She also made her mark on the big screen with her memorable role as "Sari" in No Strings Attached, opposite Ashton Kutcher and Natalie Portman. Here are some more interesting facts on Mollee:
Has a large social media presence with a verified Instagram of over 304,000 followers, and verified Twitter with almost 44,000 followers.
Has attended A-List events including: City Year's Spring Break Event, OUT Magazine's Power 50 Gala, Teen Vogue's Young Hollywood Issue Party, Radio Disney Music Awards, Dizzy Feet Gala
Recently starred as Courtney in the indie film South 32 alongside Melissa Archer and Sean Kanan. The film won Independent Filmmakers Showcase at IFS Film Festival.
Is the lead for two indie films that are in post production: The Reliant & The Favorite, both casting exclusives posted by Deadline.
Was the lead in the TV movie Double Daddy which aired on Lifetime alongside Brittany Curran (The Magicians). See the casting exclusive with TheWrap.
Has previously presented at the RDMA's, World Dance Awards & Industry Dance Awards
Past TV appearances include: Glee, The Voice, Ellen, Dancing With The Stars, America's Got Talent, High School Musical Trilogy, Big Time Rush, Shake It Up, Victorious, Drop Dead Diva, Best Friends Whenever and Austin & Ally.
We also had a chance to speak with Molly and thankfully she answered these 10 questions from us:
1. What was it like growing up Orem, Utah?
Answer: I absolutely LOVE Utah! I didn't realize how beautiful it was until I left. My favorite part was having all four seasons!
2. How did you become interested in acting?
Answer: I've loved theater and dance ever since I was a toddler!
3. What would you say was your biggest career changing moment?
Answer: My very first really big job…I was a featured dancer in the Disney franchise High School Musical!
4. Tell us about your new role in A Night to Regret.
Answer: I play Chelsea Bilson in A Night to Regret. Chelsea is a strong, intelligent, powerful survivor! She gets caught up in a terrible situation, but is able to use her strength to overcome such a horrifying obstacle.
5. Who is your favorite actor/actress right now and why?
Answer: Reese Witherspoon! I absolutely love her diversity in all of her roles!
6. What's your favorite movie of all-time and why?
Answer: Walk The Line. Johnny Cash and June Carter are two of my all-time favorite artists, and of course Reese Witherspoon plays June Carter.
7. Any upcoming projects we should know about?
Answer: Yes! I have two more projects coming out. The Reliant, a faith based action film, and The Favorite, a film based on true events of a true survivor!
8. What advice would you give to aspiring young actors?
Answer: No matter how many times you get told "no"…if you believe in yourself enough, anything is possible.
9. Who would you like to work with most in the film or TV industry and why?
Answer: Jennifer Lawrence. To me, she is one of the most talented actresses of our generation.
10. Outside of acting, what are you most passionate about?
Answer: I absolutely LOVE to dance! It started my career and will always be a huge passion of mine.