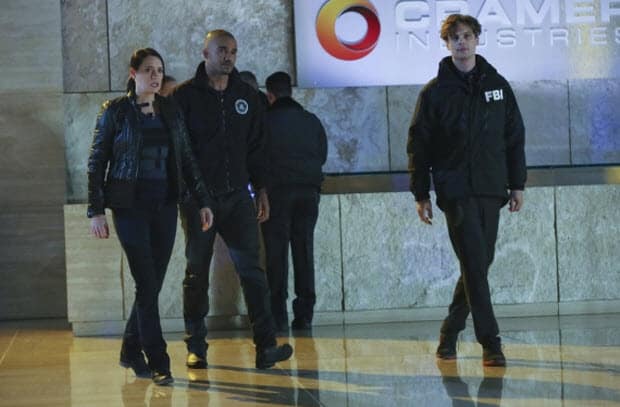 You may not know her face just yet, but you KNOW Erica Messer. The TV vet worked as a writer on small screen faves such as Alias, The OC, and Charmed before finding her way to the CBS suspense thriller Criminal Minds, the show that focuses on the elite team of FBI profilers who analyze the wicked ways of TV's most twisted criminals. There she holds the title of executive producer, Showrunner, and longest serving writer for the entire nine seasons! TVOvermind had the pleasure of chatting with Erica, who dished out some secrets on next week's Criminal Minds 200th episode. Here's what she had to say:
TVOvermind: Congratulations on the milestone 200th episode! What can fans expect from next week's episode?
Erica Messer: They can expect a little mini movie. We have a lot of interesting things going on. We're really following the tale of JJ and what happened to her in her missing year with the BAU, which for us was season six, so three seasons ago, and why she came back to the series more grounded and cautious and stronger and all of these things that have made her the amazing profiler she's become in these last few years. So we do that through present day stakes which JJ is held captive – that's no secret because she was abducted at the end of episode 199 that's already aired – and then through the team trying to fill in the blanks of her past when they weren't with her, they end up solving the present day case and some interesting things happen along the way. They discover she and Esai Morales' character, Mateo Cruz, worked together in a capacity that they didn't know. It was basically a need-to-know operation and it was much more intense than anybody would have ever imagined these two were involved in. It ends up being a really fun journey and exploration of those characters but also of the team and how they work so incredibly well together and when one of them is in jeopardy, it's like, "Look out!" because those guys don't flake!
JJ has dealt with some pretty grave danger before. How does the current situation compare?
Messer: It's interesting because it's on a larger scale; it's a state matter, a big situation, where she and Cruz are being held captive and it's less about her immediate family being in danger the way we've done in the past and more about them losing her and the team losing her. They know she will do anything to protect her country also, so if she's a sacrifice so that millions of other people will be okay, they know that about her and they're afraid for her being held captive too long without them running to the rescue. Thankfully they get there in time. It's different from when her little son is sitting in a room with a psychopath, a different kind of tension.
Can you give us a hint as to who JJ was calling right before she got abducted?
Messer: (pause) Cruz
Ooh, interesting! So Erin Strauss was previously killed off. Will she be coming back in a flashback? How will that work out?
Messer: Exactly! We're doing a flashback structure in this episode that takes us back to basically right after JJ was promoted to the State Department in season six and when we do that, we end up in Afghanistan and Strauss is there and Issai Morales' character Cruz is there and JJ. And it's like, "Wait a minute, what the heck's going on? These three have known each other a long time!" But it was really great to be able to use Jayne Atkinson as Strauss. Obviously we could only do it in a flashback structure, but it was a really great thing to see her again and have her come back as Strauss.
If you could describe the episode in just one word, what would it be?
Messer: Intense
So very Criminal Minds! You've been with the series since its premiere in 2005. What's been the most memorable episode of the 200 to film so far for you?
Messer: Oh wow, that's a good question… I think for me, 200 is amazing and because we've just done it, it's probably got a special place with me right now. But I'd have to go back to 100 because there was just so many things to make that episode happen. It was one of the first times we did any kind of arc with that would have direct stakes against one of our heroes long term, long lasting effects on a hero. It's the kind of story, like we fought to tell that kind of story, so I think for me that probably still is the favorite for so many reasons I wouldn't even begin to get into. It allowed us to have a life changing event for a hero and see how he still functions the next day and was one of the many times that we've been able to add a layer to a character that his only strength in them to the audience and to the team and to the work they do and to the actors who portray them so brilliantly.
Which Criminal Minds character do you most identify with?
Messer: Funny, I think I'm a little bit of all of them. I've got a little smart-ass Rossi in me, I've got a little bit of the serious Hotch, I wish I had more Dr. Reid. I have a lot of useless information in my head, he has a lot of helpful information in his head – I can spout off useless stuff. But probably the direct correlation would be JJ because we're both working moms and the sacrifices we make in terms of that is probably something that I can relate to, just on a personal level, more than anything else.
What would you say is the secret to Criminal Minds' success?
Wow… It's just an amazing recipe of good people, good product, and good process, and actors who have created characters that the fans welcome into their lives week in and week out and the fans who are so loyal and supportive of the show.
–
The 200th episode of Criminal Minds airs this Wednesday, February 5th at 9PM on CBS.
[Photo via Robert Voets/CBS ©2013 CBS Broadcasting, Inc. All Rights Reserved]Criminal Minds
Tell us what's wrong with this post? How could we improve it? :)
Let us improve this post!