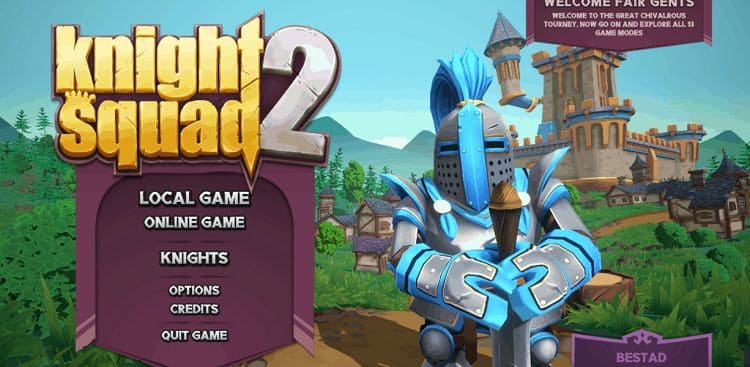 The sequel to Chainawesome Games' beloved 2015 hit, Knight Squad, Knight Squad 2 released for Nintendo Switch, Xbox, and PC via Steam and the Epic Games Store on April 14, 2021. As of now, the game has received very positive reviews and fans of the first game seem to love the sequel. The cartoon Knights that everyone loved from Knight Squad are back and better than ever as you can move around the field, swing your sword, block enemy attacks, grab a bazooka, mount a unicorn, annihilate your rivals and become the champion, according to the game's Steam page. Yep, you heard that right – you can ride a unicorn in Knight Squad 2! So what do you need to know about the game, and is it any good? I got a review copy of Knight Squad 2, so that I could tell you everything you need to know about the game!
Game Modes
Knight Squad 2 has a ton of game modes that you can choose to play from, including:
Capture the Grail

Bring the grail back to your spawn point to score

Capture the Flag

Get the enemy flag and bring it back to your base

Soccer

Soccer! Or Football for some

Gladiator

Stand in the crowded area to earn points

Battle Royale

Be the last man standing to earn a point

Juggernaut

Gain control of the Juggernaut and lay absolute waste!

Domination

Capture and hold colored zones to make points

Crystal Rush

Use drills to destroy the other squad's crystals

Soul Hunter

Slay enemies and bring their souls to your spawn

Race

Run through the track the fastest to win

Minion Master

Slay enemies to build your army and unleash it to destroy the other fort

Payload

Walk the explosive payload to the opponents' side

Painter

Change the floor to your color to earn points
So, yeah, let's put it this way. If you decided to play a single game mode from Knight Squad 2 and devote an entire week to playing that one game mode, it would take you just under 3 months to play each game mode.
Variants
As if there weren't enough options in the game with the 13 different game modes, you are also free to create custom games with almost an infinite number of combinations. You may literally not play the same exact game of Knight Squad 2 – ever.
Presets
You can set and choose between Presets A, B, C, and D. You can mix and match modifiers and item settings between these presets to make your own custom games that are ready to go whenever you want to play!
Bots
If you'd like, you have the following bot options in Knight Squad 2:
Easy
Medium
Hard
Extreme
No Bots
Modifiers
You have a choice of any (or all) of the following modifiers to add to your game:
No Buckler
Slippery Floor
Max Level Items
Exploding Bodies
Random Item Spawns
Item Rate
In Knight Squad 2, you can choose from the following item rates:
Starting Items
You can choose from a wide variety of starting items including:
No Weapon
Sword
Book of Fire
Eagle Punch
Bazooka
Boomerang
Saw Gun
Mines
Drill
Bow
Laser Gun
Lightning Staff
Ice Aura
Shield
Sneakers
Horse
Ghost Essence
Active Items
Alongside starting items, you can choose any number of the following active items:
Horse
Sneakers
Shield
Laser Gun
Saw Gun
Mines
Boomerang
Bazooka
Eagle Punch
Kamikaze
Magic Mirror
Ice Curse
Book of Fire
Ghost Essence
Ice Aura
Lightning Staff
Reset
Knights
There are a total of 15 Knights to play in Knight Squad 2. The first 8, alongside their in-game descriptions, are as follows:
Storm
At first, this Knight might shock you as he wields the power of lightning in his hands. The other Knights are really lucky he never uses that in battle.
Unlock sword: 1000 kills
Solo
When the Minstrel business wasn't so great, he turned to Knighthood. In his head, his sword makes the most metal melodies. We're afraid to tell him.
Unlock sword: 1000 kills
Smash
In a perpetual quest to reach the lowest possible intellect. This Knight has officially been declared to be dumber than a bag of hammers.
Unlock sword: 1000 kills
Skills
If this game had stat points, all of his would be in agility. This Knight handles his sword with such care and skills, it doesn't feel a thing.
Unlock sword: 1000 kills
Shooter
Action is the name of the game. The only thing this Knight prefers to things that go bam are things that go boom. If only he had an actual gun…
Unlock sword: 1000 kills
Shockwave
He names his fists Loud and Heavy. When this Knight walks, you can bet the water in the glass is moving. He is not allowed to board cruise ships.
Unlock sword: 1000 kills
Selfie
His beauty is only equaled by his vanity. This knight is so full of himself; he might implode before his own eyes. #NoRegret #NoFilter
Unlock sword: 1000 kills
Savior
Son of Lady Virtue and Lord Duty, this Knight is the most chivalrous of all. He breathes in epic quests and breathes out glorious achievements.
Unlock sword: 1000 kills
The rest of the knights have special requirements in order to unlock them.
Knight 9
Annihilate another 961 foes and you might be worthy
Knight 10
Slice and dice seven Knights in the blink of an eye
Knight 11 (Salmon)
Main Menu: Up, up, down, down, left, right, left, right, esc, enter
After swimming a mighty river upstream and jumping majestically over a waterfall, this Knight has arrived to the tournament. It's wet and it smells.
Knight 12
Become a legendary Tourney winner
Knight 13
Can you stay in the gold for a whole minute?
Knight 14
Hold a very big gun for a very long time
Knight 15
I see blue, red, green, pink, yellow, orange, purple and white, I see victory.
Is it any good?
Knight Squad 2 reminds me of those old browser Flash games that I would play on my childhood laptop, before I really got into video games. It's a bit of a throwback, and while it definitely takes some getting used to, I have been having a pretty fun time with it. The biggest issue I have with it is that it's supposed to support controllers, but so far it hasn't been doing so. The game will acknowledge that I have a controller connected, but it won't actually accept any input. I'm not 100% sure if this is an issue with the game, or maybe with my PC or controller, but it definitely feels like a game that would feel better with a controller. As of right now, the Battle Royale mode is my favorite mode, however it can definitely get pretty long. For $15 on all platforms, Knight Squad 2 is definitely an easy pick up, especially if you're looking for a party game to play with your friends (perhaps in the middle of a pandemic?)
Tell us what's wrong with this post? How could we improve it? :)
Let us improve this post!