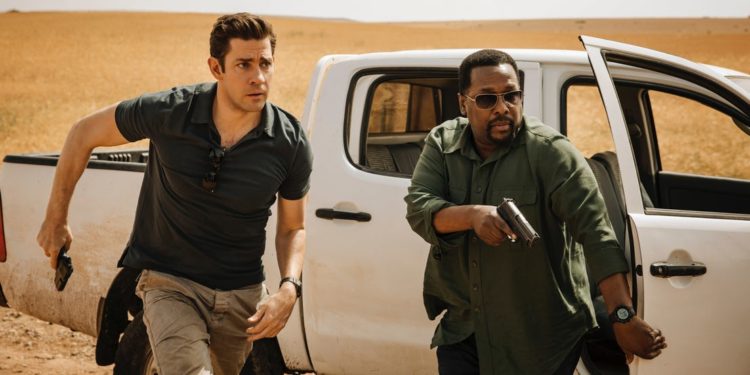 Tom Clancy definitely swung for the fences when he created the character of Jack Ryan, but seeing as how the show featuring the titular character will be getting a season 2 and has already been a well-known and respected figure in modern literature it's safe to say that he hit this one solidly out of the park. So far season 1 seems to have only reaffirmed how much people have really come to enjoy the character and that he's got a lot left to do when it comes to saving the world one fight at a time. As John Orquiola from ScreenRant has shown Jack Ryan is without a doubt one of the most popular characters on Amazon Prime at this moment and is likely one of those that people are going to be talking about for a while since John Krasinski is among the hottest actors in the business right now.
For some folks it's still hard to equate Jim from The Office being an action star, and to be honest it did take Jack a while to get out from behind the desk and really start to become more of a field agent just as it did in the movies that came before. But the transition has been nothing shy of awesome and the fans have been loving it since Krasinski is one of those guys that you might not think a lot about in terms of being an action star, but he's shown that he's got what it takes more than once to be a part of the action genre. Joseph Baxter from Den of Geek! has already let us in on the same clue that a lot of other people have been picking up on by announcing that Jack Ryan season 2 will be followed up by a season 3 since it's already been deemed worthy of keeping around. There are a few shows out there that are considered to be good enough to green-light more than one season in advance but a lot of them thus far have seemed to reach just a little too far and have ended up playing themselves out by the time they finally get around to the number of seasons they were approved for. In fact there have been shows in the past that haven't even reached their lofty goals and had to cancel out before ever getting that far.
Ian Sandwell and Morgan Jeffrey from Digital Spy have been in on the news concerning who's coming back for the second season and so far it seems that the main trio of Ryan, Pierce, and Abby will be making their way back. That seems like a given since you can't really have the show without them at this point and time. But there will be a few new faces that are meant to come on board and shake things up a bit and possibly even it out. So far things have been progressing in a way that have kept a lot of people, fans especially, pretty happy since it seems to keep with the whole idea of who Jack Ryan is and has kept to Tom Clancy's idea that was brought in from his novels. It's great when a director and a show will actually pay attention to the source material since it not only appeases fans, it gives them a much better reason to continue watching since there's no real surprise that they have to worry over coming out of the proverbial left field area that could essentially ruin the whole thing. That's something that a few other shows have done in the recent past and it's been enough to derail them in a way that is hard to come back from. Jack Ryan though is a character and a story that people want to see handled in a manner that's not only realistic in terms of how the story goes, but can adhere to the overall feel of the character that was created a while back by Clancy.
It's still a bit of a mind trip to see John Krasinski step out into the action genre, even with the knowledge that he's tried to break into it before and has actually succeeded in the recent past. Simply watching him on The Office seemed to indicate that he was made more for comedy and drama than anything, but so far he's taken to action as though it's second nature and it's been fun to watch. In many ways it seems like he could possibly be one of the biggest action stars in show business at this time and should be considered for other roles if his time as Jack Ryan should ever come to a close. But while he's there and the show is still a hit it seems that it's best to hope for one season after another to keep rolling on.
Tell us what's wrong with this post? How could we improve it? :)
Let us improve this post!