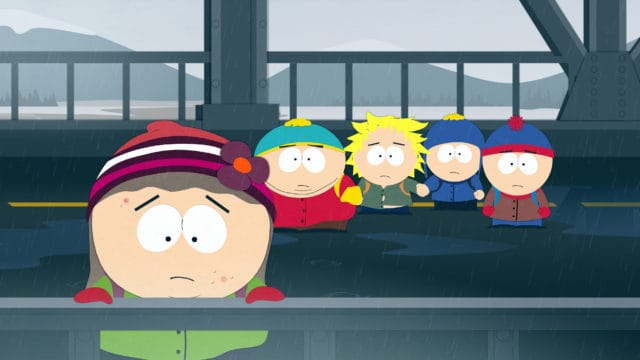 After parodying the sexual harassment in the workplace, the rise in Netflix original shows, and the threat in nuclear war, South Park will tackle getting rid of the president on the season finale this coming Wednesday. Prepare for another half-hour of laughter with Stan, Kyle, Cartman, Kenny, and the townsfolk of South Park on its next episode titled "Splatty Tomato."
"The president has been scaring the children of South Park. [They] claim to have seen Mr. Garrison lurking around town and they're frightened. The town comes together to make the president go away," according to a statement released by Comedy Central regarding on what will happen on the show this Wednesday. You can now speculate on what current events will the show tackle and parody on its next episode.
South Park is created by Trey Parker and Matt Stone and it is currently on its 21st season. The show was launched on August 13, 1997. During the previous episode titled "Super Hard PCness", the show parodied the sexual harassment in the workplace, the rise in Netflix original shows, and the threat of nuclear war. PC Principal falls in love with the new vice-principal. Meanwhile, Kyle realizes how wrong Terrance and Philip is. David Crow of Den of Geek said on his review of the episode, "Overall, it's a fun episode that has a literally explosive finale, however it is on the whole akin to the opening self-deprecation. As with Terrance and Phillip farting on a cow, the show is really missing a step nowadays, and self-aware irony can only paper over this truth so much."
You can watch the episode this Wednesday, December 6 at 10:00pm ET/PT on Comedy Central. All new episodes this season will be available for streaming in HD on South Park Studios and Hulu the day after the premiere.
You can watch the sneak peek of the next episode here.
Tell us what's wrong with this post? How could we improve it? :)
Let us improve this post!