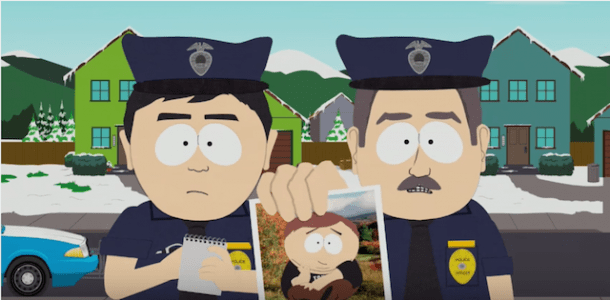 With South Park's creation process allowing Matt Stone and Trey Parker to create episodes the week of their air date, it offers a lot of room to play around with stories and news topics right as they gain popularity, which is why it was no surprise to see the duo highlight the first presidential debate. The show's on the spot creation ensures nothing can escape being a potential satirical victim, which is what helps the show work so well, and even as the past couple of seasons have begun to start incorporating serialized plots, South Park still doesn't fail in cleverly combining their long-term stories with what's relevant in the news.
With Skank Hunt a.k.a. Gerald getting so much attention for his online trolling, other trolls have emerged in the online harassment. Gerald is basically living the life because it seems like he has started a movement of some sorts, but this episode brings his nighttime stress relief back to reality when the Denmark Olympian he trolls commits suicide after the major backlash of trolling she has received thanks to Gerald inspiring others. This is the truth when it comes to trolling though, while it seems harmless and easy to call someone names or make fun of their actions anonymously, in the end they might actually begin to take it to heart. These are the types of stories that South Park really nails in terms of being realistic when getting their point across because although Gerald's trolling montages have been amazing, what he's doing isn't right, and now he's realizing that it's not a game anymore. On top of that, it turns out someone knows that Gerald is Skank Hunt, which has him going absolutely nuts with paranoia. While it was clear this day would come, it's fun watching Gerald's troll mindset react to everything; he never believed he would be caught or have to face any repercussions for his actions but now can't believe how quickly his fun has turned into a nightmare and gotten out of hand. That's the point it seems like South Park is trying to make (so far) with their point on internet culture; that nothing seems bad as long as you're getting away with it, but in the end, is berating someone from the safety of an anonymous handle really worth it?
Meanwhile the town of South Park faces more and more Twitter Suicides each day, and the police are starting to notice it might not all be self-inflicted. It turns out Cartman's sudden departure from the social media site hasn't gone unnoticed, and the South Park police are now investigating the case. This begins to leave the boys freaked out and as paranoid as Gerald is because they realize the mistake they made and now might have to face the consequences; however, it wouldn't be surprising if this kicks of the start of Cartman's revenge plan because it gives him a serious threat to hold over his friends' heads. Cartman's recent sincerity is actually very interesting though, because in a season where the show is highlighting how pretty much everything in the world sucks right now, Cartman might be finding something good.
The plot for this season seems to finally be coming together as well, especially with the focus on the presidential debate that happened Monday night. The show does no favors with their portrayal of either candidate making it pretty clear that both are a terrible option and that neither is concrete in their beliefs to the point where everyone is flip flopping on who should be in office. This is the point of the member berries that pop up within each episode; they poke fun at the type of people who always talk about how much better the past was… "member wheeeeeeen…" is a great reminder of everything that was nice, but as displayed with Randy, the member berries can also spew out some terrible things that were acceptable in the past as well.
Last night's episode was another fun installation to kick the season off, and South Park is finally cluing us in on everything. Randy stumbles on how many member berries are being produced, to the point where it seems like they are being genetically engineered. The best guess is that some "villain" is purposefully trying to focus people on the past so they can manipulate the present, possibly even the election itself. Who else would be our protagonist other than Randy himself? The best side character is hopefully going to sift through the waste and get to the bottom of the conspiracy. South Park seems to express that the world is in a pretty bad place right now with the amount of conflict there is. It will be interesting to see how they rectify that going forward and to discover the creator's thoughts on what might make things better.
Other Thoughts:
Do you think Kenny has been absent through three episodes because Mysterion has taken up the case of Skank Hunt? With the initial thought being that Skank Hunt was one of the South Park boys, it would make even more sense why he took the mystery.
That ending…. "Do you want me to show you?" How long until this poor girl's friendship with Cartman is crushed whenever he acts on the plan you know he has brewing.
How are we going to find him sir? @ WHERE?