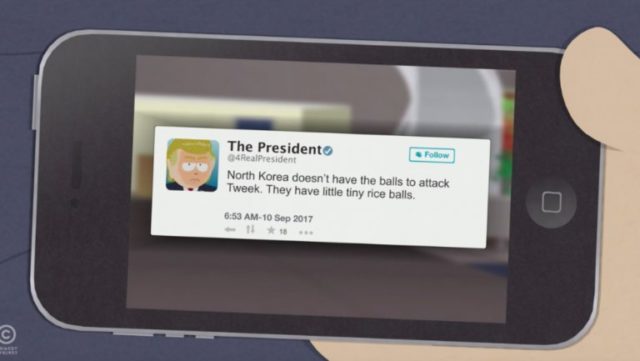 The show South Park has never been one to play it safe. In fact, this is a show that has always taken whatever was going on in the news and then taking it to an entirely different level, often making it a part of the writing and making fun of it in the process. Such is the case with the seemingly never-ending tweets of Donald Trump.
You have to admit, Trump leaves himself open to a lot of criticism through the things that he does and says. In reality, South Park is only capitalizing on this fact in order to give some good laughs to its fan base and maybe even increase that fan base in the process.
The writers have mocked Trump on the show before, through a character only referred to as "the president." The tweets alone provide enough material to write for several seasons. Therefore, the writers at South Park can take their pick between virtually any subject matter and find something that has been tweeted over and over again. Lately, they seem to be taking a lot of material about North Korea and other things like immigration, women's rights, so on and so forth. As previously mentioned, there isn't exactly a shortage of material so they can choose from virtually anything they want.
While most circles would throw a fit about the character itself and the fact that they're mocking Trump, the fans of South Park have long become accustomed to the sort of edgy humor that is frequently featured on the show. In fact, that is the reason that it has been as successful as it has. People that are fans of the show like the fact that the show isn't politically correct to begin with and has no intention of becoming so anytime in the future. They also like that the writers take things from real life and manage to find a way to put it into the show without being too terribly direct about it.
The truth is, people that already watch South Park seem to be enjoying what they are seeing. There probably isn't a great deal of a fan base that would be traditional Trump supporters watching the show anyway, but if there are, they will have to deal with the jokes or find something else to watch. South Park has become something of a perfect example of a show's ability to use criticism and satire in a way that isn't quite direct, yet it leaves no question as to who it is talking about. It is this type of writing that has fans clamoring for more episodes in the first place.
Will South Park's writers continue to mock Trump in the future? It doesn't look like they have any plans on stopping, especially when you consider the fact that what they are currently doing seems to be working. After all, it would be difficult to ignore material this good, especially when it's so readily available for the taking. Therefore, it is unlikely that writers will change their minds. It is equally unlikely that they will run out of material, as each new day brings a plethora of new things they can use.