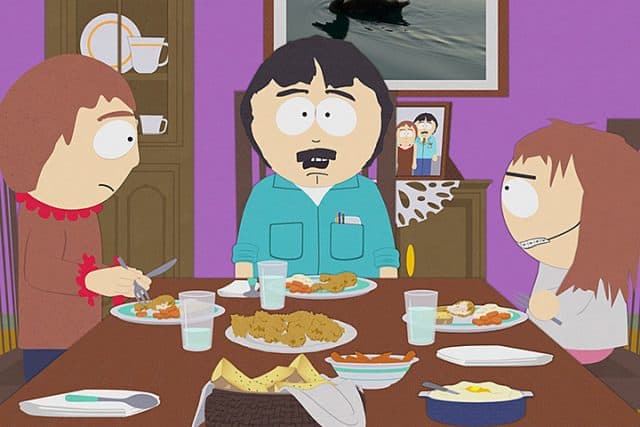 South Park has become well known for the show's ability to be created in such a short time before they are released on air. It's a great ability for a show to have, especially for one like South Park that relies massively on social commentary, because it stays extremely relevant and up to date with current events. South Park has never been a show to shy away from commenting on an election when it rolls around, and Matt Stone and Trey Parker always do a phenomenal job navigating the thin line of inserting political views into their show. This week, the creators had a plan set in place that revolved around Hillary Clinton winning the election, but after the surprise victory from Donald Trump, the writers were forced to completely rewrite everything in less than 24 hours….. "Oh, Jeez." Parker and Stone originally had plans to publish the episode, "The Very First Gentleman," focusing heavily on Bill Clinton and his gentleman's club. Yet, after some reorganization were able to pivot and give viewers their reaction to the election results.
"Oh, Jeez," as simple of a title as it is, fits the episode perfectly and immediately describes the tone that the episode has. While the first impression from the title immediately embodies the genuine shock everyone had at the election outcome, it also seems to describe the panic Stone and Parker probably experienced upon realizing they had to act fast and get an accurate episode put together. The episode title also refers to the phrase uttered a ton by Mr. Garrison himself throughout the entire campaign process, realizing that he has gotten in over his head, but still, more and more people follow him and what he preaches. "Oh, Jeez" has pretty much nailed how each week of South Park has felt this season, reflecting on whatever ridiculous national story is the hot topic and wondering how things got to this point.
The show has been making strong points this season about internet culture and the social issues that have been key issues in the election and everything surrounding it. Last night's episode really honed in on the season's main villains, nostalgia and sexism. The season has explored the topic of internet trolls and how the people who attack other on the internet are sexist and aren't helping anything improve around the world. Yes, some characters like Gerald do it for fun, but that's even worse because it shows that the general public and everyday person are starting to believe it's okay to use the internet as a playground for illegal and negative things. South Park has touched heavily on the trolling aspect of things, but also hasn't shied away from Hillary Clinton's email scandal either, showing that it doesn't matter who you are, this isn't how people should be operating.
On top of this, the show has been discussing the fact that there seems to be a recent promotion of nostalgia around the United States and that it's leaving a weird impact on the country. Season 20 has included some new minor characters in the member berries, who allow the characters to decompress from everything going on in the world today and just, 'member the good times. People always love to cling onto nostalgia because it's comfortable and familiar, but that doesn't mean it's the right thing to do. Stone and Parker have been sending the message that this idea of falling back on what once was is turning into an infection that holds us back as a country. Things are finally becoming more progressive yet 2016 has been putting a pause on everything that the people have fought for and earned. There has been a huge underlying plot to the member berries, but "Oh, Jeez" finally brought some insight into how that plot will impact things by showing that Garrison has been seemingly infected by Caitlyn Jenner, and the nostalgia infection has started spreading. While it's unclear whether or not Jenner is the source of this nostalgia, South Park is trying to say that with things having the ability to influence the presidential election, it's now going to spread like wildfire.
South Park has always operated as one of the most brutally honest television shows that comments on current events. Whenever Stone and Parker tackle politics, they always tend to point out what's real and important instead of touching directly on the candidates or inserting their own political leanings. While they always make sure to have fun parodying political figures, they keep South Park honest. This episode really dials into the fact that people have taken advantage of the internet and it has led us to fallback on the comfort from what people see as more controllable times; times when things weren't as complicated, but times when the world wasn't nearly as progressive as it is now. While "The Very First Gentleman" sounds like a more fun episode focused on a lighter hearted plot, "Oh, Jeez," starts to call out the reasoning behind the results and why people seem to feel the way they do. However, there is still more to South Park's mysterious story this season, and it definitely feels like Stone and Parker have a great message to express.
Other Thoughts:
*Despite South Park's consistent Caitlyn Jenner hit and run jokes, I think they also have done a good job of subtly showing that nobody in the show questions a Trans person being chosen as a VP candidate.
*Gerald calling Kyle as pussy was hilarious.
*I wonder if Caitlyn Jenner is the source of the member berries, getting people to focus on nostalgic times to take the spotlight off herself for being Trans and making such a big and public deal about it.
*I can't wait to find out what Cartman's plan is now that they are at SpaceX. Hopefully he interacts with Musk.
*Bill & Bill's Gentlemen's Club looks amazing.
South Park Season 20 Episode 7 Review: "Oh, Jeez"