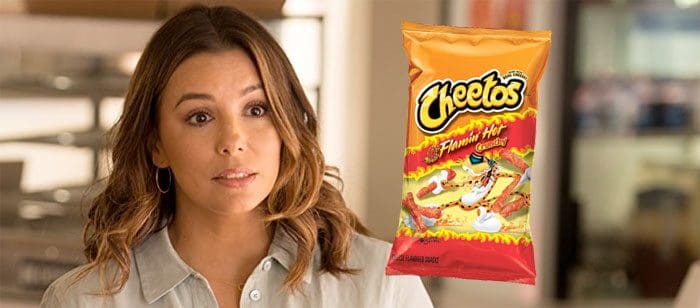 It's hard to tell if Ryan Scott from MovieWeb is just as dumbfounded as I am when it comes to the idea the Eva Longoria is now set to direct a movie about the creator of Flamin' Hot Cheetos, accurately titled Flamin' apparently, or if he's thinking it might be a good idea. Just when you think Hollywood might finally be on to a bit of innovation it becomes embroiled in an idea about a snack food that has been utilized in many movies and shows, but never showcased, usually for a good reason. Apparently the movie will be about the life of the man that created the popular Cheetos brand and how it came to be. And apart from that there's not a lot of information to go on since, well, it's really hard to even take this seriously. Biopics being what they are and all and this idea being worth what it is, it's still hard to finish a sentence on it with anything but a roll of the eyes and a shake of the head to make sure I'm not dreaming.
So far Dave McNary of Variety is saying about the same thing as everyone else as this idea is being parroted and paraded around the internet with little more than praise about how it might be one of the best movies to come along since, well, it's hard to finish that sentence. To be honest I'm not going to fall in line with the others at this point since in all honest this sounds like something that could be more about the fact that Montanez, the man that created the snack, is the son of an immigrant and migrant farm worker and worked menial jobs until coming to Frito-Lay as a janitor, whereupon he somehow came upon the idea for the snack, and voila. The immigrant part seems like it might be highlighted a little more than some might think simply because of the political landscape and how it stands at the moment, as immigration is a hot topic and something that a lot of people feel that it's necessary to play on even as they try to demonize those they think are at the heart of the problem that the US has with their immigration policies.
Seriously, as a movie idea this seems like something that should be shown on Lifetime or Hallmark if they could possibly afford it, since the idea is one that obviously took off and is popular enough with a lot of people, but at the same time is like asking Zombieland to create a spinoff of Hostess and what they've meant to the United States for so long. That's about how sensible it seems, and while I'm definitely one to call out for innovation and originality quite often this seems like a sputtering ground ball when one is calling for a home run. It's kind of hard to be optimistic about this one but part of me is hoping that I'm wrong and this movie won't flop horribly once it's presented to audiences. For a while it was a part of the Disney lineup when they took over Fox, but it was believed that like so many other movie ideas that it was scrapped when they went trundling through the projects they'd inherited to see what they wanted to use and what they didn't.
Eva picked up this supposed gem in the rough and is willing to polish it off and see what she can do with it, but it's hard to believe that she'll get anything but burned on this deal since quite honestly creating a movie based on a video game or comic book is hard enough, but trying to drum up interesting in a biopic that's based on someone that made a snack food, no matter how much money it made, is something else entirely. Again, I hope I'm wrong, I hope this actually does something wonderful and blows my mind as well as everyone else's, but unless my intuition is broken at the moment, and it's entirely possible, this one looks like a non-starter.
Gwen Aviles of NBC News seems to think that it could be a great story since quite honestly it could stand as a big success story thanks to Montanez rising so high based on one idea, but again, if it was a TV movie it might have a chance. If it's going to be anything other than that, huh boy. Optimism is definitely budding where this movie is concerned and while that's rarely ever a bad thing it's sometimes wise to be cautious while moving ahead since there are ideas that seem great but tend to prove otherwise once they're finally realize. Here's hoping I'm wrong, and I'll gladly admit it if I am.