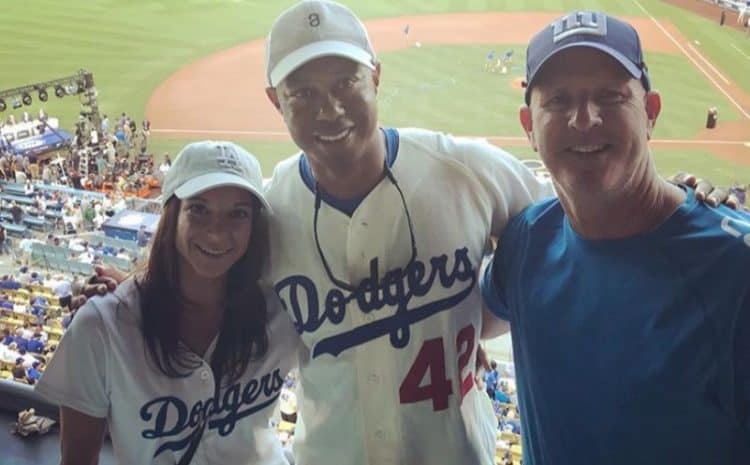 Dating a celebrity is not as glamorous as most people picture it to be. It gets harder when you are just a regular person loving a person who is always in the limelight. Such thoughts never crossed Erica Herman's mind when she decided to go for Tiger Woods. Apart from being Tiger's girlfriend, here are a few more interesting facts to keep you in the know.
1. She might have met Tiger Woods when working for him
Destiny has a path already designed for us, but given that Erica was determined to win Tiger come what may, she might have given destiny a push. Erica, being a restaurant manager with years of experience, may have seen the opening of The Woods as a chance to make her way to her prize. She was the restaurant manager for a few establishments before joining Tiger's restaurant business where their paths crossed.
2. She had had her eyes on Tiger Woods for ten years
Erica may have played a huge role in the crumbling of Tiger Woods' previous relationships because according to her inner circle, she was eyeing the man for close to a decade. Matter of fact is some say she may have started seeing the golfer while he was still married and since Kristin discovered Tiger's affair with Erica in the short time they were together, it is unlikely that Elin did not know; after all, women are accomplished detectives.
3. She has become close to Tiger's children
Since she was set on getting into Tiger Woods' home no matter the cost, it is only fair that she should accept whatever package comes with the man. Tiger's children may have been introduced to several women, and Erica has joined the list. She started playing "mummy" to the kids after the two made their relationship official. Erica has become part of the family, and when Tiger went to the Bahamas with Sam and Charlie, Erica was not left behind. She even accompanies the children as they watch their father play.
4. Erica accompanied Woods to court in May 2017
Erica is ready to stand by her man and weather the storm. Even before we could tell whether she was in a serious relationship with Tiger, Erica was already showing Tiger Woods that he could count on her by accompanying him to court when he was charged with reckless driving in May 2017. Erica loved a man who at the time, was unlovable to many women, mostly because of his serial cheating. Still, apart from being a philanderer, Tiger was abusing drugs, according to USA Today, which he said were to manage his pain. He fell asleep while driving and failed sobriety tests but later disclosed that he was seeking professional help to manage his medication.
5. She is 35 years old (As of 2019)
Erica has managed to keep most of her personal life private considering that even the names of her parents are unknown. At least she revealed her birthday; Erica was born a day after Valentine's Day in 1984 in the USA, which makes her an American citizen. They say age is nothing but a number, especially in matters of the heart and now that she is 35, her boyfriend is 44. Some may say that is a huge age difference, but other celebrities have gone beyond the nine-year age difference; Nick Jonas and Priyanka Chopra have ten years between them.
6. She and Woods made their first public appearance in October 2017
She wore a "player spouse" at the Jersey City golf tournament. Although sources claim that Tiger Woods may not be walking down the aisle any time son with anyone due to his experience with women, Erica is not waiting to cross the bridge when the couple gets to it. She has already dubbed herself Tiger's spouse by putting on a "player spouse" badge that is usually reserved for the wives and partners of the golfers, during the Jersey City golf tournament.
7. She is behind Tiger's comeback
First came the cheating scandals that ended his marriage in 201 then came the hit on his career. Tiger Woods had a future that seemed very unlikely for him to ever make it back to the headlines with positive news. We might have written him off too soon because with Erica by his side he has made a turnaround and for the first time since 2013, Tiger Woods clinched his first major title at the Tour Championship in Atlanta.
8. She was a restaurant manager
Erica had her career in restaurant management long before she met Woods. Before working at The Woods in Florida, Erica was an employee at The Aura Bar and Restaurant in Orlando. She then went on to become the general manager at The Woods restaurant until February 2018. Being in a relationship with your boss has its perks because now she has climbed up the ranks from managing the restaurant to being the director of operations.
9. Her dream holiday destination is Miami
While some of us dream of going abroad may be to see the pyramids of Egypt, Erica is not thinking too far away from home for her holiday. She would want to spend a few days in Miami and maybe enjoy the warm weather and sandy beaches. Or perhaps she is an art lover since Miami is popular for great art. Further, the rich history and kid-friendly activities could make for a favorite destination, especially when Tiger's kids tag along for some family —time away from home.
10. Erica's favorite color is pink
Everyone has a color that has special meaning to them, or maybe you love yours for the psychological effects it has on you. With so many colors to choose from, pink has always been a girlie color, so it is not surprising that Erica loves it. According to color psychology pink is a sign of hope and maybe with her love for the color she brought back hope for the golfer whose star had gone dim. However, although pink also is responsible for alleviating anger and irritation, it is not working in that sense since Erica's critics claim she has an anger management issues that could affect her relationship with Tiger.
11. She and Woods are not afraid of PDA
Some people will wait until they get home to be all over each other but not Erica and Tiger Woods. Whenever they are together, they get their public display of affection moments which cameras are ever ready to capture. Woods even told Erica he loved her in public when he won the PGA title after five years.
12. Her net worth is $500,000
Although she has been labeled a gold-digger, Erica has some money of her own in net assets worth $500,000 as of 2018. However, the amount cannot compare to the $800 million that Tiger Woods has as revealed by Forbes; but then while Erica has had to hold down several jobs to make her money, Tiger Woods made his millions from endorsements, golf course design work and personal appearances.
13. Erica's former boyfriend is Jesse Newton
Erica dated Jesse Newton, who also happened to be her live-in boyfriend for over eight years since 2007. Jesse is the President and CEO of Jin and Tonic Hospitality Group. They were so close that they even ventured into business together, although it did not succeed.
14. She has a debt that might not be paid until 2085
Erica seems like she has a problem with keeping up her end of the deal, especially when it involves money. Tom Morris won a $240,233.08 judgement against Erica and two of her former business partners, Ricky McIntosh and Jesse Newton. Tom had lent them $200,000 to set up five nightclubs in Orlando, but the business failed. Erica ignored Tom's lawsuit and did not pay a penny, but now her wages of $1,586.54 per week are being garnished, and it might take up to 2085 for the debt to be cleared.
15. She was evicted from her apartment in 2014
Erica proved she could be a stubborn tenant when she failed to pay her monthly $1,300 rent on time, causing her landlord to try and evict Erica and her boyfriend seven times between 2012 and 2014. However, they managed to continue staying in the apartment because each time the landlord filed an eviction notice, they would pay the rent and sometimes go as far as paying three months' worth of rent. The landlord, John Strelecky eventually was lucky to get an eviction notice for the couple in March 2014 and they cleared out of the apartment in a few days.
16. Erica didn't pay her taxes
It seems like Erica has trouble keeping up with anything that requires spending money. Erica had to pay federal tax liens amounting to $17,652.53 for the tax period ending in December 2007 while for the December 2008 tax period, she had to pay $2,609.92. Although she was hit with the tax liens on March 11, 2010, they were released on October 29, 2013. In addition to her refusal to pay taxes, Erica did not make the payments for her BMW resulting in Crescent Bank & Trust suing her for a $12,586 debt in 2012. Erica agreed to pay $536.99 but the case was dismissed on 22 January 2014 for lack of prosecution.
17. She allegedly slept with Woods while he was with Kristin Smith
Erica may not be the type to wait around until she has her chance. When Kristin and Tiger Woods were in a relationship, Kristin always suspected of Tiger cheated on her with Erica but he dismissed the claims by belittling Erica. Well, a woman's intuition never lies and eventually, Kristin caught them, leading to the termination of the relationship.
18. She has been labeled a gold-digger
Some will see the best side of people while others will see them for who they are. That said, every person has critics and fans, and Erica's critics can only see her as a gold digger. We cannot judge, but the fact that she once had trouble paying $1,300 rent and could not service a car loan but now lives rent-free in a multimillionaire's mansion and takes trips all over the world does not help her case.
19. She is allegedly controlling
For someone who had been preying on Tiger Woods for almost ten years, it is evident she would not let anything or anyone come between what she has worked so hard to get. Consequently, her critics claim she is a control freak and can get jealous too. She is so afraid of losing her spotlight now that anyone who gets close to Tiger is immediately eliminated. An insider further alleges that Erica has a temper so although they may seem happy in front of the camera, once they get behind closed doors, the picture is entirely different.
20. She is facing a wrongful death lawsuit
A Florida young man, Immesberger, who worked at The Woods Jupiter died when his car crashed. Immesberger's family is suing Tiger Woods, Erica Herman and the restaurant for wrongful death, claiming that they knew the man was an alcoholic yet allowed him to drink at the bar and restaurant. When Immesberger crashed, he was driving at 70 mph in a 55 mph driving zone and had a blood alcohol content level of .256. The amount of damages the suit is asking for is not specified, but if the court rules in favor of the young man's parents, we hope that this time Erica will pay her dues and not wait for her salary to be garnished again. Then again she has a multimillionaire by her side this time.
Tell us what's wrong with this post? How could we improve it? :)
Let us improve this post!